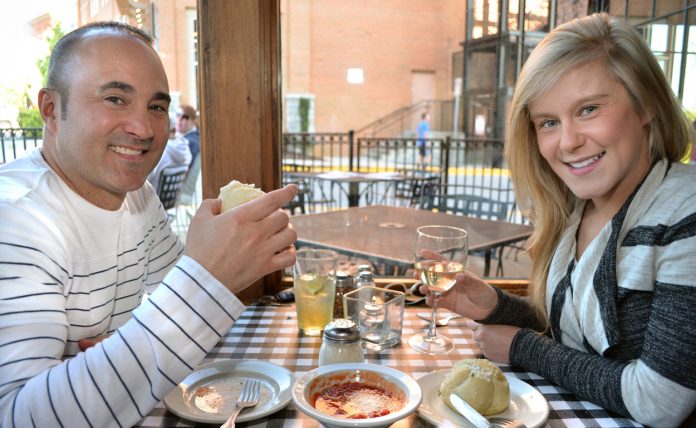 No matter where a business owner decides to open and operate a business, some make it a point to get involved in the community where their business is located. Dick Cunningham, owner of Ippolito's in Suwanee, is one of those business owners that choose to be involved. And it's a two-way street. Cunningham credits Suwanee and the surrounding communities as a big part of the restaurant's success. In fact, he likens the regular customers to an extended family, and said they feel blessed to have such enthusiastic support.
Cunningham and his wife, Penny, opened Ippolito's in the Dean Taylor Kroger shopping plaza on Oct. 31, 2000. Cunningham said even though the initial restaurant location was not in the Suwanee city limits, they participated in all the community and Suwanee Day events. Then in January 2007, they relocated the restaurant to its current location at Town Center in Suwanee. And while the Cunninghams reside in nearby Alpharetta, they are both active in the Suwanee community, where they spend most of their time.
Founded by George and Toni Ippolito in 1989, Ippolito's Italian restaurant offers casual neighborhood dining in a friendly atmosphere and emphasizes excellent service, with a dedicated and experienced staff. Menu items include sandwiches, pizza, calzones, strombolis, and specialty chicken, veal and seafood dishes, all in healthy portions. They also offer a wide variety of wines and desserts, and carryout is available. Cunningham recalled when they opened in Suwanee, Toni Ippolito's father, Bill Simon, was there to welcome them.
"Bill Simon was a resident of Suwanee and a neighbor of then-mayor, Nick Masino and his family," Cunningham said. "Being a very enthusiastic resident of Suwanee and a big fan of Ippolito's, Bill persuaded Nick and Suzanne (the Masinos) to participate in our grand opening and cut the ribbon."
Decorated in traditional Italian décor with the smell of garlic rolls and homemade sauces, the restaurant provides a comfortable and friendly, neighborhood restaurant feel. Patrons can dine inside or dine alfresco on the patio adjacent to Suwanee's premier property, Town Center Park. Ippolito's can also accommodate private parties.
Cunningham said they take great pride in being a good corporate citizen. Over the years, he said, they have been a member of the school board at Walnut Grove, Taylor Elementary and Creekland Middle School, for a total of five years of service. As graduates from the initial Suwanee Citizens Police Academy, the Cunninghams continue to lend their support to each graduating class. In addition, Ippolito's is a member of the Gwinnett Chamber of Commerce, and in
July 2012, the business was honored as the chamber's Small Business of the Month.
"We have been very fortunate to secure the support of the residents of Suwanee and the surrounding Gwinnett communities," said Cunningham. "We feel we have been blessed with an extended family by the support of our regular customers."
Other locations include Roswell, Alpharetta, Kennesaw, Norcross, and Sandy Springs. For more information, visit the website www.ippolitos.net or Facebook.
"We always welcome you to a great meal and lots of fun," said Cunningham.