Lawrenceville's newest brewery is making a name for itself with its authentic reproduction of famous European styles of beer.
By Alicia Carter | Photos by David Rice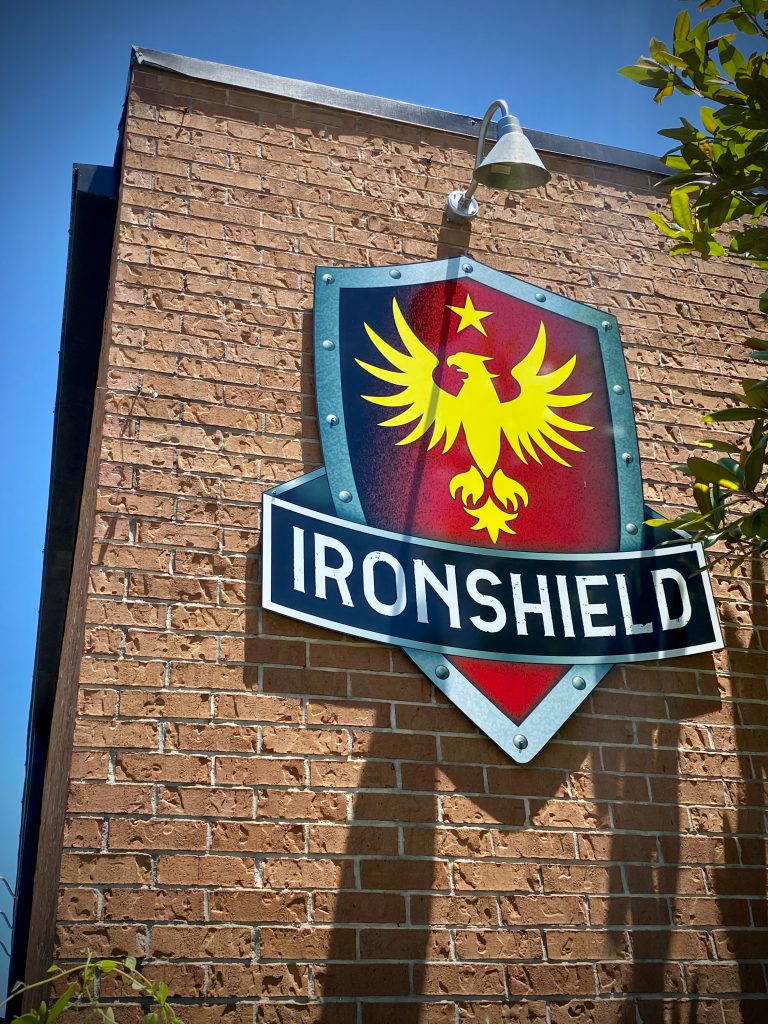 Located just blocks from historic downtown Lawrenceville, Ironshield Brewing has found a home in the building that once belonged to the Gwinnett Daily Post. The history of the building and its evolution into a craft brewery, which opened in July 2020, speaks to both the writer and the beer lover in me. To have been able to see those Heidelberg printing presses in all of their glory would've been a treat, but to walk among the towering two-story tanks that are helping to create Ironshield's next batch of beer is just as fun. Equally as entertained is Ironshield's co-founder and CEO David Rice, who leads me on a tour of the massive 55,000-square- foot building, beginning with the taproom, which feels as though it was plucked from a small neighborhood in Germany, and through the warehouse, home to the brewing, cellaring and packaging operations.
We trek through each section of the building, passing brewers checking on beer and operators readying packaging lines as Rice speaks to the history of the building and the budding future of Ironshield. "People who have owned the building are now regular customers here," he says. "They love seeing the transformation and how it went from what it was and the history of the building to what it is today. They're very pleased that it's a brewery now."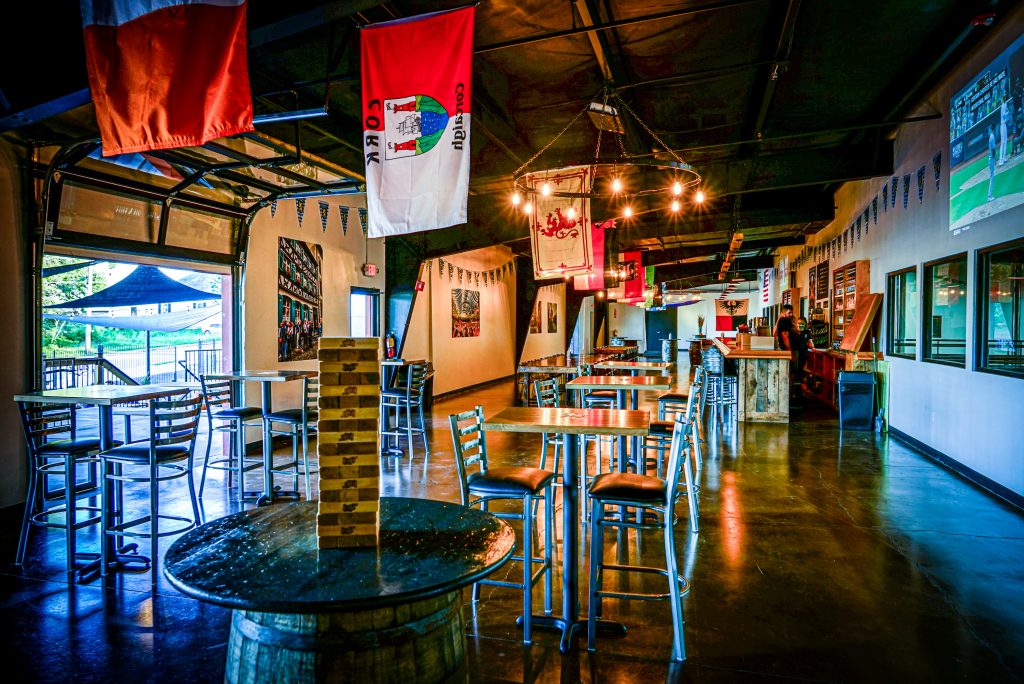 Rice's background in manufacturing for companies like Coca-Cola and Microsoft combined with his love for beer uniquely positioned him to open a brewery like Ironshield, one that emphasizes authenticity through the science of brewing. "With a lot of the breweries there's a lot of hard labor," he says. "People are watching their watch, measuring temperatures and monitoring the process — a lot of brewing with their back. We wanted to put in a system where we are brewing with our minds, so we do a lot on the science side. And that's really to drive the quality and reproducibility of a product."
That reproducibility has come in handy with Big Kettle Brewing, another trademark, which offers contract brewing and packaging services to other breweries. While Big Kettle may currently be their bread and butter, growing Ironshield is a major focus for David and his team, and rightly so. The beer Ironshield produces is not just an homage to those famous European style beers, it's a true reproduction of them and a welcomed addition to our local craft beer scene.
We recently spoke with Rice to learn more about Ironshield Brewing and the craft beer experience it's bringing to Gwinnett.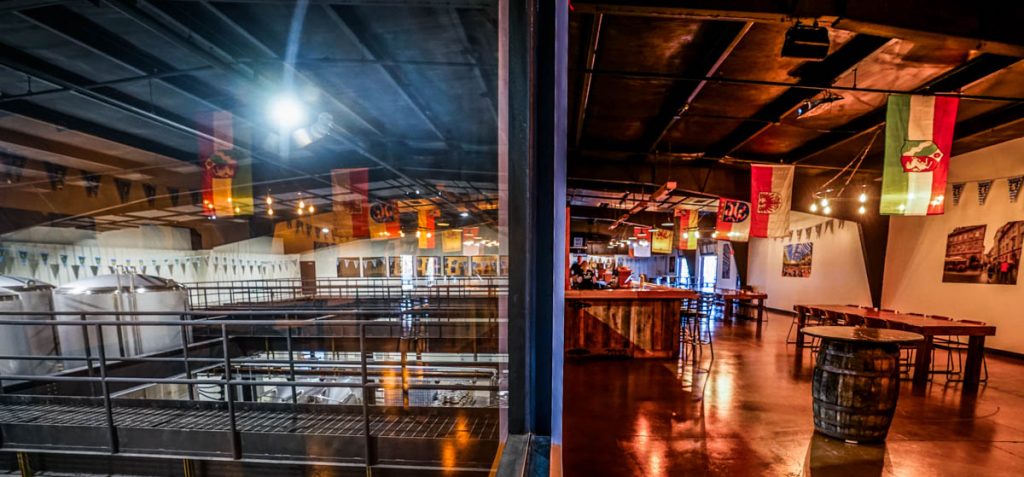 TELL US ABOUT YOUR BACKGROUND AND WHAT LED YOU TO OPEN IRONSHIELD BREWING.
I've got a couple partners in this project. My main partner, Glen Sprouse, and I really came up with this idea a number of years back, so it took time to put together all of the funding. Both of us have backgrounds in manufacturing and the beverage and beer industry.
I spent 13 years at Coca-Cola in the enterprises division. I really loved it there. It was a great place. I never thought I would leave, but then Microsoft made me a deal I couldn't refuse. So I spent five years at Microsoft as a strategist for the consumer goods manufacturing side. I got to work with some of the greatest manufacturing companies in the world through that. But all along, I had this love for beer.
During my Coca-Cola days, we were working on building a giant manufacturing plant down in New Orleans. During that time, there was this guy I kept passing in the hallways, who turned out to be Glen. We were both working on the project and tangentially connected on a couple things we were doing down there. A year later we got invited to a mutual friend's dinner party and it was like, "Hey, I know you!" Then we started talking — we talked manufacturing and engineering, then beer. We realized we had so much in common and we became best friends out of that.
Glen was also part of the lobbyist group that worked to get the laws changed to allow craft beer brew pubs to start in Georgia. He was instrumental in all that happening. He and another guy opened the first two brewpubs in the state. I used to go to his brewpub and drink his beer. I was also doing some competition brewing. It was like, "We both love beer and we both love manufacturing. We've got all this experience. Let's go do this thing!"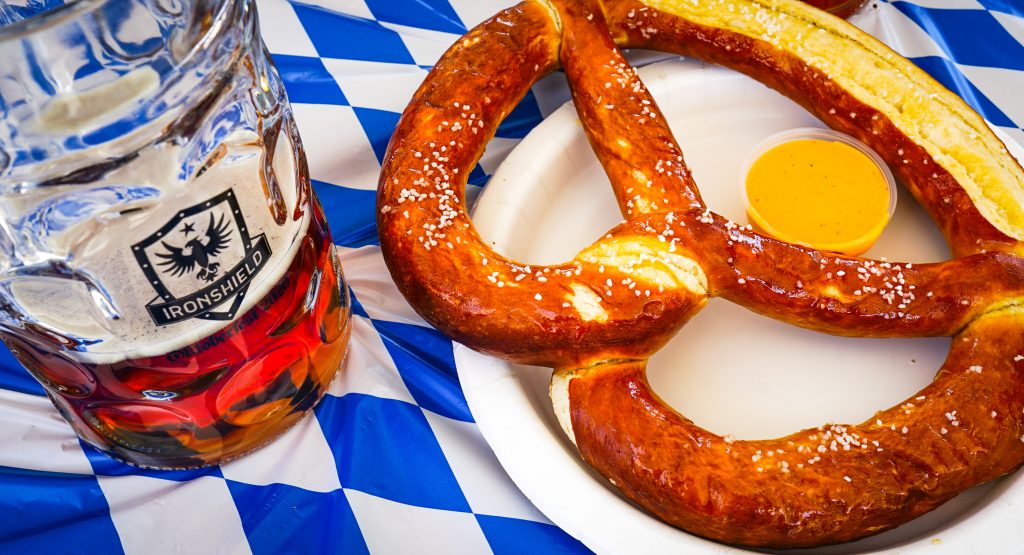 TELL US ABOUT THE BEER IRONSHIELD PRODUCES.
Every brewery has their thing, and our thing is primarily doing European-style ales and lagers and producing those exactly as they would be if you were to have them at those breweries that made those styles famous. When you look at all that we produce and our product line, we're producing all sorts of styles. So, we're not just doing one thing. There are so many different styles and flavor types, and many of those styles come from a geographic region: Germany, Czech Republic, England, Belgium — the list goes on and on. In each of those regions they've got certain agricultural raw material. Those beers became famous because they were delicious and made a certain way with certain processes and with certain raw materials. If you don't use the same processes, if your equipment doesn't have the same capabilities, if you don't use the right raw materials, you don't get what that beer was famous for. We go to great lengths to get the right raw materials. We bring in a lot of hops and grains from Europe and Germany so we can make those beers authentic.
From the get-go, the design of this was to build a bigger brewery and to use some of the very best equipment in the world. We were used to working with Coca-Cola, and they have the best equipment you can get. We knew what that kind of equipment was capable of and how it would function, so we wanted to build a brewery that, by design, could be a contract brewery that could brew and package any style of beer.
TELL US ABOUT BIG KETTLE.
We have two trademarks. In addition to Ironshield, we also have Big Kettle. It's not consumer facing, and we don't advertise it, but we brew beer for other breweries and brands. Today, most of what we're doing is beer and seltzers for other people. Ironshield is our own brand and that's what we're working to grow. Eventually, if Ironshield is really successful, it will take over this whole manufacturing operation.
WHY DID YOU DECIDE TO OPEN IN LAWRENCEVILLE?
We wanted to be somewhere in the metro Atlanta area. The Atlanta metro area is the big rock in the Southeast. In our opinion, it is the place to be to start a brand and to grow that brand. We looked at a lot of buildings but none of them were exactly what we wanted. Then we stumbled upon this building, and we met people with the City of Lawrenceville and it was like, "OK, this really feels like home." We like all the things that are going on here FOOD & DRINK Ironshield Brewing took over the 55,000-square-foot former Gwinnett Daily Post building for its brewing operations. types, and many of those styles come from a geographic region: Germany, Czech Republic, England, Belgium — the historic Lawrenceville Square, the new restaurants, the Aurora Theatre, which is only a block and a half away. The energy here is great. If we had come across this building a year later, we wouldn't have been able to afford it, so the timing was really on our side. The City of Lawrenceville was super supportive through the whole thing.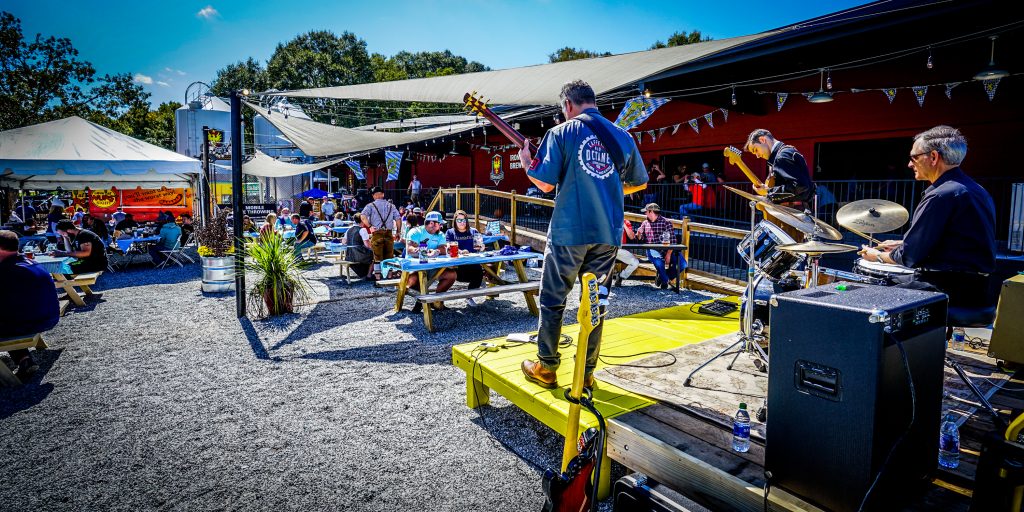 WHO IS YOUR LEAD BREWER?
Our lead brewer Jason Carroll is from Cork, Ireland. He's got a long background, and he was with the craft arm of Guinness in Ireland. He's won best beer in the world [at the International Beer Awards in 2016]. He's also world famous for a product called Jameson Caskmates. He's a super talented brewer.
WHERE DID YOU COME UP WITH THE NAME IRONSHIELD?
We feel very strongly about those who serve. If you look at police, fire and military, and first responders on the medical side, there's a lot of people who have done a lot of good things for us as a nation. Most of those folks who are first responders, they wear a badge. So, the shield is representative of that. Ironshield is a nod in that direction — those are the causes that we really support. We support veterans, local law enforcement, and the local medical staff who are out on the front lines. We also try to do events and fundraisers to help those who serve.
SINCE THIS IS OUR FALL ISSUE, CAN YOU RECOMMEND A FALL BEER?
The obvious choice is Oktoberfest. That's in the tank right now. It was a hit last year. We went through all the beer that we had reserved for our taproom in just three and a half hours.
WHERE CAN PEOPLE FIND IRONSHIELD BEER OUTSIDE OF THE TAPROOM?
We are in distribution across Georgia and we're trying to grow that footprint. That's our mission — to satisfy more thirsts.
Ironshield Brewing is located at 457 N. Chestnut St. in Lawrenceville. The taproom is open Wed.-Thurs., 5-9pm; Fri., 4-10pm; Sat., noon-10pm; and Sun., 1-6pm. For more information, visit IronshieldBrewing.com.