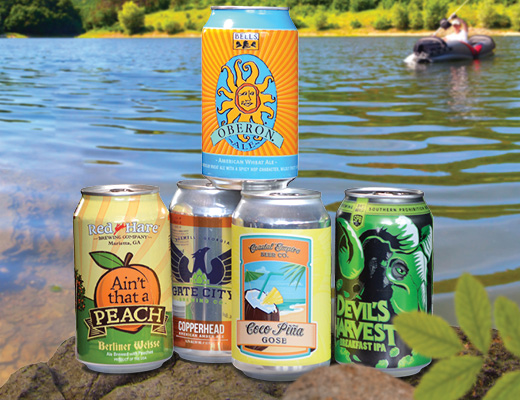 No doubt that summers in the South are a lot of fun, but they are also really hot! With the Georgia heat coming at us in full force these days, we asked our friends over at Beverage SuperStore Suwanee to give us tips on what to fill that icy cooler with.
Here are the criteria we're looking for in a good summer brew:
Lower ABV (alcohol by volume). Because high alcohol and hot weather activity are a dangerous mix.
Thirst quenching and refreshing. As much as we enjoy the bitterness of IPAs and the roasted chocolate notes of Stouts, we're not about to drink three of those under the hot sun.
Good variety. Something to please every picky tastebud at your backyard BBQ.
Available in cans. Because they are lighter to carry, they get colder faster, stay cooler longer and can be sipped poolside or in other areas where glass bottles are not permitted.
Red Hare 'Ain't that a Peach Berliner Weisse,' 3.9% ABV
Brewed in Marietta, Georgia, this tart Berliner Weisse is brewed with fresh peaches, pilsen, wheat and 2-row malted barley with a dash of German Hallertau hops.
Bell's 'Oberon Ale,' 5.8% ABV
Brewed in Comstock, Michigan, this American Wheat Ale is quintessentially characteristic of summer. It is fermented
with Bell's signature house ale yeast, mixing a spicy hop character with mildly fruity aromas. This summer classic is
also available in mini kegs at Beverage SuperStore.
Coastal Empire 'Coco Piña Gose,' 4% ABV
Brewed in Savannah, Georgia, this is a tropical take on the classic sour German Gose style brewed with pineapple, coconut and pink Himalayan sea salt.

Southern Prohibition 'Brewing Devil's Harvest Breakfast IPA,' 4.9% ABV
Brewed in Hattiesburg, Mississippi, Devil's Harvest is a golden, crushable IPA with a ghostly hue. By only using whirlpool and dry hopping techniques, they have cut down the bitterness while raising the aroma of this session beer.
Gate City 'Copperhead American Amber Ale,' 5.2% ABV
Brewed in Roswell, Georgia, Copperhead is a wonderfully balanced American Amber hybrid that pairs a nice, malt body with the perfect amount of Northwest hops, putting a modern twist on a traditionally West Coast style.
So, here's to popping a top and pretending like it's not 90 degrees outside!