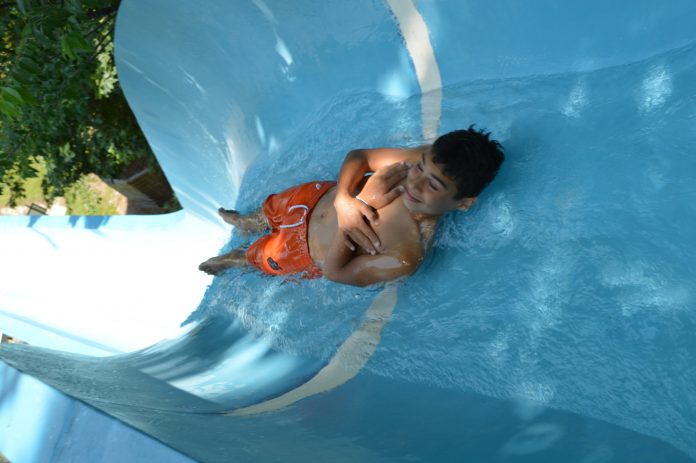 Not all communities can boast about being just minutes away from a premier water park and a world-class resort. But residents of Suwanee and the surrounding area can… Splash Into Summer at Lake Lanier Island's Resorts LanierWorld!
With just a short drive to LanierWorld, area residents are just a stone's throw away from a day of some serious fun in the sun at a park that features thrilling water attractions, beach amenities, live performances and food. This year, in addition to more than a dozen wet and wild water attractions, a beach with a lifeguarded swim area, a nautical obstacle course, Coca Cola® Floating Stage, a lakeside miniature golf course, carnival rides, regular concerts and a slew of restaurants and food stands, LanierWorld is proud to introduce the following for the 2013 season:
Funtime Players and the Funtime Band: "The Boardwalk Comes Alive" daily with the help of these talented street performers. In addition to regularly scheduled live performances on the NEW Boardwalk stage, the Funtime Players will frequently enlist the aid of LanierWorld guests for interactive theatrical vignettes as they travel from Family Fun Park to Big Beach to Sunset Cove and
back.
Newly Expanded Boardwalk: The boardwalk at Big Beach is not only bigger – it's BETTER with the additions of the Dockside Bar, the Boardwalk Stage, more carnival games, and several new food outlets, including the Sunset Cantina and the Scoop Shack.
Full-Service Beach Amenity: This new exclusive access stretch of beach boasts umbrellas, reclining chairs, and a private swim area – as well as a team of servers who are eager to deliver an ice-cold beverage or tasty treat right to a LanierWorld guest's lounge chair. Seating is limited and availability will be on a first-come-first-served basis. Guests can also reserve their lakeside lounge chair online for a nominal fee prior to arrival.
Wake the Lake Cable Park: Through the use of an utterly unique pulley system, everyone from beginners to experienced daredevils can wakeboard, water ski, kneeboard or tube safely without the use of a boat.
Tranquility on the Water: This revolutionary floating spa docked at Sunset Cove offers the ideal opportunity for guests to send their cares and woes floating away on a lakeside breeze.
Kate Davis, marketing and public relations coordinator at Lake Lanier Islands Resort, said they expect around 300,000 to 400,000 visitors during the 2013 season. "Our season pass sales have been consistent with a slight increase over the past few years," Davis said. "Our biggest draw to the park is that we are able to accommodate and provide a unique experience for all different ages."
Kid-friendly attractions include the Big Beach Aquatic Adventure and movies on the beach and in the wave pool, and all of the water attractions. And for adults, there is floating spa docked at Sunset Cove offers the ideal opportunity for guests to send their cares and woes floating away on a the night life with entertainment on the new Sunset Cove stage and the Coca Cola Big Beach stage. "Overall, we are able to provide an experience that is enjoyable for a range of ages, which keeps our guests coming back time and time again," Davis said.