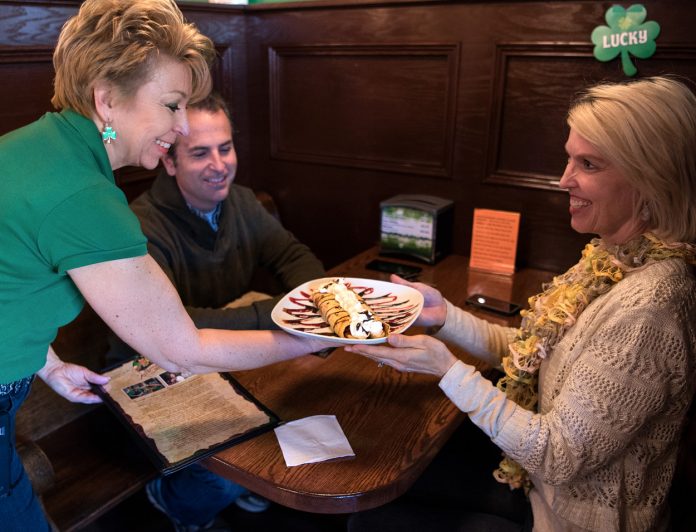 Combining two ultimate comforts: alcohol and ice cream, Daddy O'Brien's Irish Ice Cream Pub and Eatery (affectionately known as Daddy O's) in Sugar Hill has mastered the art of boozy desserts
By: MICHELLE FASIG | Photos by: KARL LAMB
Daddy O's – the new local Irish pub style restaurant is a place where you can literally get carded for your cone. Patrons 21 and over can try delicious flavors such as Crown me with Bacon, a mix of bacon, maple Crown Royal and candied bacon, or the 2014 Iron Scoop competition winner, Kentucky Salted Caramel, a blend of Kentucky bourbon and caramel. Each flavor is a unique, homemade creation straight from the mind of Owner, Frank O'Brien. "He's a mad genius," said wife Lori O'Brien. "There is no rhyme or reason to his insanity, he is just constantly thinking of new flavors." With a line-up of flavors like Bailey's Irish Pistachio, The Nutty Irishman, and Drunken Oreo boasting an average ABV of 3% per scoop, there is no reason your "night out" can't also be delicious.
NON-ALCOHOLIC DESSERTS
➽ While Daddy O's has become well known for their outstanding adult desserts, they also offer a wide variety of non-alcoholic ice cream suitable for every member of the family. In fact, before they opened their brick and mortar location, Daddy O's had won eight national awards from the National Ice Cream Realtors Association (NICRA) for their homemade flavors. In 2016, they even scooped the coveted Flavor of the Year award for their Harry Potter inspired Butter Beer ice cream!
For those who can't decide which of their delicious flavors to try, they offer a flight sampler- a small serving of four different ice creams on a wooden paddle. When groups come in, it's a fun experience for each person to get a paddle and try as many different ice creams as possible. For those who are feeling even more adventurous, Daddy O's also has the Mother Lode challenge; 12 scoops of ice cream with ALL of the toppings and a slice of chocolate cake on the bottom. To win the Mother Lode challenge, contenders have to eat the entire sundae in 15 minutes. To date, only 4 people have won and have earned their spot on the wall of champions.
A PASSION FOR ICE CREAM
➽ Daddy O's was created from a passion project by Owner, Frank O'Brien. For years Lori and Frank have run Atlanta Special Events, a corporate event management planning company that provides ice cream carts for community and corporate events.
One day Frank realized that while the store-bought ice cream they were serving was delicious, he believed he could create something better. And so, the beginning stage of Daddy O's was born. Now three years and over 100 flavors later, DaddyO's finally opened their first location, which has become popular for their innovative and delicious creations.
When Frank and Lori were faced with the task of designing their first store, Lori had one question for her husband, Frank. "What is your dream of what you would like it to be?" Frank, inspired by his Irish heritage and love of community, decided to design Daddy O's as an Irish pub. "At pubs, everyone is family, locals can come in, hang out and feel loved," Lori explained. And the attention is definitely in the details at Daddy O's. From the second you walk in, you immediately feel as though you are transported to an authentic Irish pub. From the 100-year-old solid oak church pews, to the authentic Jack Daniels whiskey barrel tables, to the beautiful stained-glass windows above the bar, every detail tells a story.
AUTHENTIC IRISH FARE
➽ Food, wine and specialty cocktails are also menu standouts at this Irish pub. Lori prides herself on making homemade, authentic Irish fare and either creates the recipe herself or uses recipes passed down by her family. "It's like going to dinner at your mom's house," Lori says. "The New England clam chowder takes half a day to make, the shepherd's pie is baked to order, and our crepes are light and flavorful." Specials change every week with delicious fare like the Guinness Irish stew served with homemade Irish soda bread, or the pulled pork crepe with BBQ drizzle. Keeping with their love of Irish heritage, every 17th of the month they serve their Saint Patricks Day special, a made-from-scratch corned beef and cabbage dinner that has customers coming in droves to taste.
Daddy O's also offers a wide variety of delectable breakfast options on the weekend, such as homemade Belgian waffles, eggs, biscuits, sweet crepes, and Poffertjes – mini Dutch pancakes topped with choices like strawberry, whipped cream or powdered sugar.
This Irish pub is the kind of place that makes you want to kick back, relax, and eat some delicious food while you are at it. This family-friendly eatery may have just opened, but judging by their sweets, treats and delicious food they are going to be a mainstay in the Sugar Hill community, and we could not be more excited to welcome them! ■
---
DADDY O'BRIEN'S IRISH ICE CREAM PUB
5910 Suwanee Dam Rd / Sugar Hill, GA (678) 765-9633