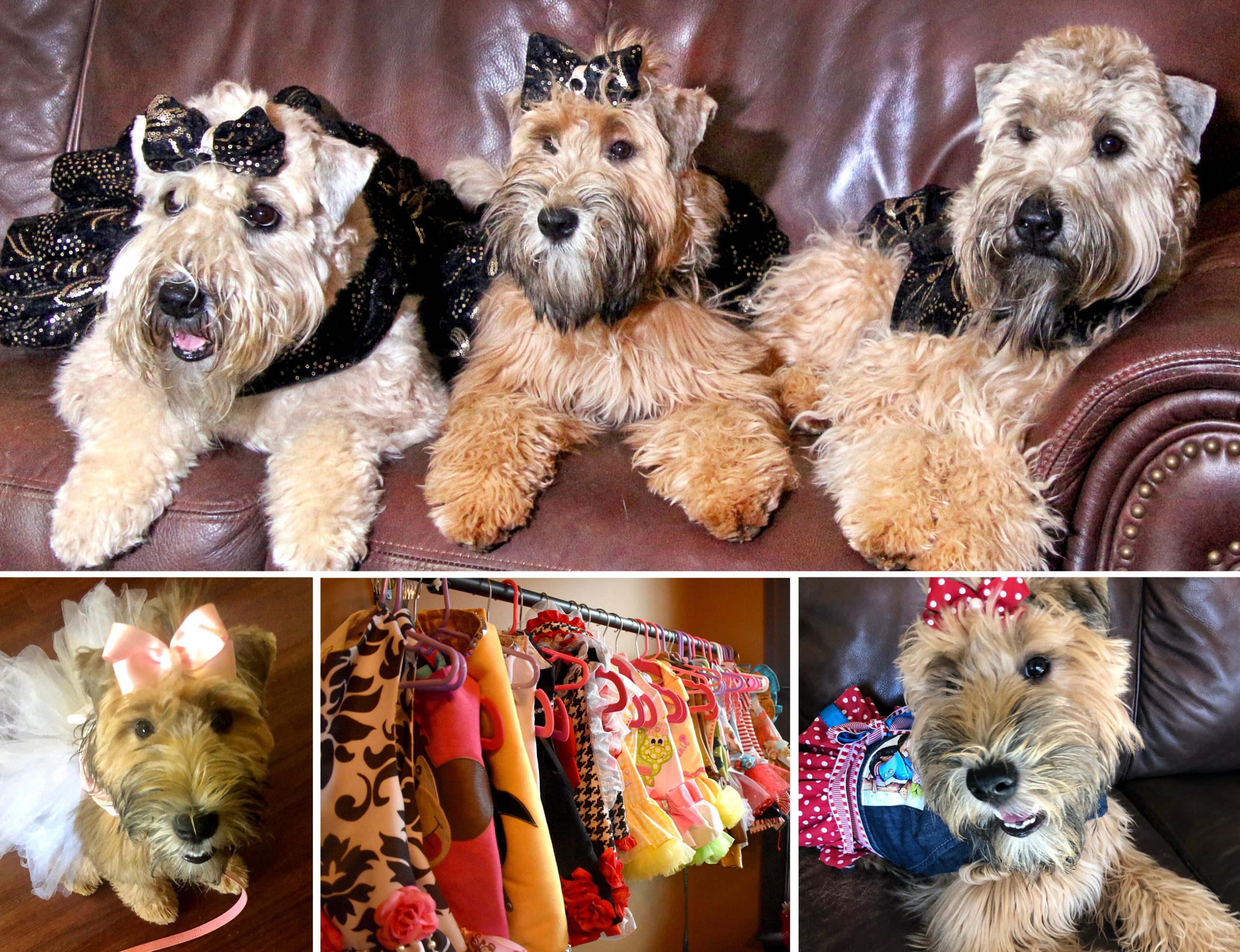 Suwanee's most fashionable pups have graced stages nationwide to help raise money for less-fortunate animals.
By: Lizzy Kidney | Photos by Julie Perdue and Sandy Thompson
Hashbrown, Tater Tot, and Sweet Potato are living the sweet life in Suwanee. The three soft-coated Wheaten Terriers, also known as "The Spudnicks" after their owner, Sandy Thompson's propensity for potato puns, are the area's premier canine fashionistas. In fact, they have their very own dedicated closet at the Thompson home filled with doggie couture, sunglasses, bows, and other ready- to-wear delights. And while these well-dressed pups have been making waves on red carpets across the country since 2011, they are best known here in Suwanee for being strong advocates who dedicate their time to raising money for charity and underprivileged animals — and for being pretty darn cute, too.
It all started in 2004 when Sandy met an adorable Wheaten Terrier at Riverside Pizza, the local restaurant she owns with her husband, Al. After instantly falling in love with their "wheatie greeting," Sandy was placed on a waiting list and two years later was able to adopt their first Wheaten Terrier, their beloved French Fry (who sadly passed away in 2017). But the puppy love didn't stop there, and soon Tater Tot, Hashbrown, and Sweet Potato were welcomed into the family.
The Thompsons aren't the only ones who've fallen in love with the Spudnick crew. Classy Doggie Designs owner Linda Higgins noticed the family after she found Tater Tot through her Facebook's Cutest Puppy Contest in 2011. As a designer for the El Paseo Fashion Week the following year, Linda invited Sandy and the Spudnicks to travel to California to take part in a doggie couture fashion show for charity. Since then, French Fry, Hashbrown, Tater Tot, and Sweet Potato have graced fashion show stages nationwide to help raise money for numerous organizations, including Nashville's Agape No-Kill Rescue, Marietta's Cobb County Animal Shelter, Palm Desert's Humane Society of the Desert, the Gwinnett Women and Child Abuse Shelter, the North Gwinnett Center for the Arts, and the Atlanta Ronald McDonald House.
"Designers request our dogs because, like humans, not every model is a size two and not every dog is five pounds," Sandy says. "Their medium-build size showcases their designs on stage, and the audience loves them. You never know if they will give a front row guest a big wet kiss or jump off stage to greet someone they want to play with."
The group has also participated in multiple contests here in the local community. Tater Tot won Paw Vogue's 2013 Fashionista Award and Red Bandana's Cover Calendar Contest in which she helped raise $1,600 for Friends of DeKalb Animals. French Fry and Tater Tot were chosen by Wheaten Rescue Group as the Cutest Wheaten Terriers in 2014, and in 2015 Tater Tot was deemed Kissable's Best Kiss. And you may recognize their adorable faces because French Fry, Tater Tot, and Hashbrown have all previously graced the pages of Suwanee Magazine as winners of our Cutest Pup Contest in 2014, 2016, and 2018, respectively. In keeping with their charitable nature, they have donated all of their winnings to the Georgia SPCA.
It's no wonder they've captivated audiences time and again. With their high energy, playful spirit, and charitable hearts, we have no doubt The Spudnicks will continue to rock their inner-fashionistas to raise funds for charitable organizations for many years to come.
The Closet!
The trio not only rock doggie couture on the runway but also stay well- dressed on casual days. When Suwanee Magazine recently visited Sandy and The Spudnicks, they were dressed impeccably. From head to paw they proudly sported coordinating denim shirts and overalls. Tater Tot and Sweet Potato wore pink and black zebra skirts and had their fur tied up with adorable black-and- white polka-dot bows.
When asked for doggie fashion advice, Sandy says the best way to turn your dog into a fashion-forward trendsetter is to start as a puppy so they become adjusted to wearing clothes, hair bows, and other accessories at a young age. "Most people mention their dogs hate wearing clothes or that they aren't behaved enough to pose for pictures or walk a runway," Sandy says. "In reality, all it takes is a little positive affirmation and a whole lot of love."