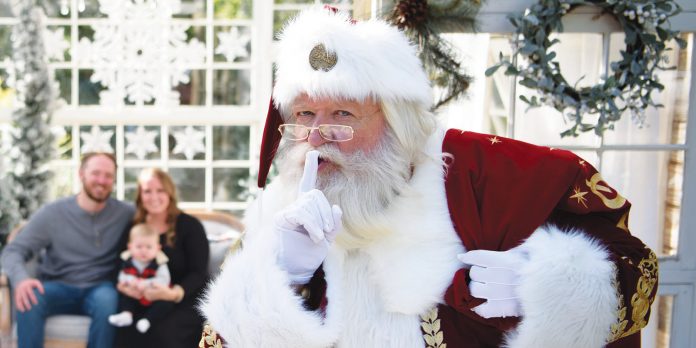 By Natalie Garrett, Suwanee Magazine's official party queen
Despite my adoration for all of the holidays and grand celebrations throughout the year, I must admit that I hold the deepest connection with Christmas. Every aspect of this season — including the completely predictable, yet debatably wonderful marathon of Hallmark movies – brings me so much joy and exhilaration. Perhaps it's due to how Christmas was made so special in our home growing up, or maybe it's just ingrained in my DNA. Either way, I'm especially excited for the holidays this year because it will be my baby boy's FIRST Christmas! My handsome Harrison joined us back in April of this year, and I'm just exploding with anticipation to begin seeing Christmas through his eyes. Being the planner that I am… I've been brainstorming some traditions to initiate this year with my new family of three. After all, it's within these moments and memories that make the holiday truly magical. So, if it's also time for your family to adopt a new tradition, check out this compilation of my favorite ideas and decide which one fits your definition of Christmas the best!
Christmas Eve Box
Nothing says 'bursting at the seams' quite like a child on Christmas Eve. They're probably running wild, amped up on adrenaline and sugar cookies, and keeling over with curiosity from the neatly wrapped gifts under the tree that have been taunting them for days. Bedtime? Ha! Who could sleep at a time like this? Enter: the Christmas Eve Box. A gift the kiddos are allowed to open early… one that welcomes the opportunity to wind down and savor another moment before the big day. You can get as creative as you'd like, but I recommend including some new pajamas to wear that night, a new book to read together, and a late-night snack to share during storytime, such as popcorn. *Disclaimer: Unfortunately, I can't promise this will help them sleep any better, therefore, please still be prepared for a possible way-too-early wakeup call.
Christmas Light Scavenger Hunt
Some might squeal with excitement, some might roll their eyes and sigh, but let's face it – the family drive around town "ooo-ing" and "ahh-ing" at the most embellished and illuminated houses is a standard American tradition that will never cease. Some traditions, however, are deserving of a fresh twist (you know, just to make sure everyone's fully engaged in what I like to call "forced family fun time," wink wink). So this year, as you're coasting through neighborhoods and pointing out the window, consider turning this family affair into a scavenger hunt. Head out with your list of all the spectacular ornamentation you'll be searching for and let the races begin! A sample scavenger list could include an inflatable snowman, a manger scene, icicle lights, a projected scene, Rudolph, candy canes, and much more.
Secret Gift Wrapping
You've been there… hours upon hours are invested in shopping, wrapping, topping with matching bows, and finalizing with a hand-written name tag… all to be ripped into shreds in a matter of minutes. Is it worth it to see the elated, smiling faces when they open their gifts? Of course! But, who's to say parents haven't earned the right to bask in all of their efforts a little more? Ponder on the idea of this plot twist… DITCH the traditional name tags. You can enhance the suspense by leaving your children wondering not only what each gift is, but WHO each gift is meant for. How is this feasible, you might ask? There are two ways to approach this:
1. Put an ornament in the bottom of their stocking that coordinates with a fictional name on their gifts. For example, a snowman ornament could pair with the name "Frosty" written on all of their gifts. Once they figure out the association, they'll finally know which gifts are theirs.
2. Don't mess with name tags AT ALL. This is your easy way out! Use one single wrapping paper design for each child's gifts. Cut a square of their dedicated wrapping paper to include in their stocking so they can discover on Christmas morning which gifts are theirs to unwrap.
Gift of the Five Senses
I'm always looking for out-of-the-box ideas when it comes to gift giving. Sure, I want to find the best present for each person on my list… but I often find myself searching for a way to take it a step further. Sticking with a theme like the five senses could be an amusing way to not only help guide the gift hunt, but make a game out of it as the littles try to guess which gift is paired with each sense. Here are some examples to get you started:
SEE: Tickets to go see a movie (or a Fandango gift card to hold on to!)
HEAR: Headphones or Bluetooth earbuds
TOUCH: Plush blanket, soft pillow, or fuzzy pullover
TASTE: An assortment of their favorite snacks
SMELL: Bath set with bubbles, soap, bath bombs, and lotion
*Bonus: this can be just as enjoyable for adults, too! Think concert or sporting event tickets for sight, a cookbook or grilling gadget for taste… the list is endless!
Stockings Stuffed With Hope
I'm not sure how it's possible, but I'm convinced that each year passes by more quickly than the one before. As the years begin to blur together and it's sometimes difficult to recall all that happens within those speedy 365 days, it can be special to pause and reflect a little deeper… and this tradition does just that! It's actually more fitting to kick off at the end of the season, but sets you up for part two, which will be at the start of the next year's Christmas season. Let me explain:
As the holidays come to an end and you're getting ready to pack away the stockings, give the kiddos a chance to write out (or write for them) their hopes for the next year. This list could consist of goals they want to achieve, memories they want to make, or tasks they want to accomplish. Silly or sentimental, whatever comes to mind! Then, stuff these lists down into their stockings. When Christmas rolls around again and it's time to hang the stockings back up, you're presented with the perfect opportunity to think back on the year and celebrate all of the successful moments.
12 Days of Christmas Treats
We all know the classic tune that ever-so- faithfully leads us back to a partridge in a pear ockings Stuffed with Hope: tree time and time again. But, what if that partridge was actually in a Christmas tree? A Christmas Tree Cake, that is! Do I have your attention now? Hear me out… 12 Days of Christmas, but a version filled with holiday treats. Begin on December 14th and indulge through December 25th where the countdown ends with the beloved Little Debbies in everyone's stocking.
Here's a cheat sheet for some 12 Days of Christmas Treats inspo:
12 drummers drumming = Drumstick ice cream
11 pipers piping = "piping" hot apple cider
10 lords a leaping = British teacakes
9 ladies dancing = Ladyfingers
8 maids a milking = pepermint milkshake
7 swans a swimming = hot chocolate with swans swimming atop (aka mini marshmallows)
6 geese a laying = Palmer gold foiled chocolate Easter eggs
5 golden rings = Mochinut donuts
4 calling birds = Rice Krispy treat balls shaped into a bird's nest
3 French hens = French macarons from TADA
2 turtle doves = Dove chocolate candy
1 partridge in a pear tree = Little Debbie Christmas tree cakes