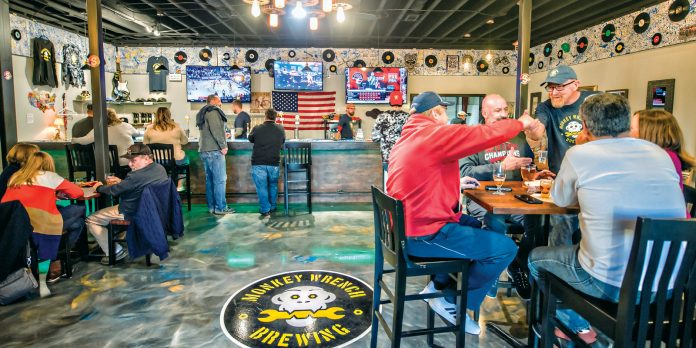 Suwanee's latest brewery is throwing a wrench in the Georgia craft beer scene.
By: Lizzy James | Photos courtesy Monkey Wrench Brewing
Years in the making, it took founder and brewmaster Wayne Baxter blood, sweat, and plenty of beer to bring his dream of opening a Suwanee brewery to fruition. Since fall of 2011, he has carefully marketed the Monkey Wrench brand, attended festivals throughout the Atlanta metro area, competed to win multiple homebrew awards, and spent hours working to perfect his "wrenched-up" homebrew recipes. We caught up with Wayne at the recently opened Monkey Wrench Brewing, to learn more about the craft brewing experience they are bringing to Suwanee.
HOW DID YOU GET INVOLVED IN THE CRAFT BEER INDUSTRY?
I had been homebrewing for years and years, and began traveling to different breweries to learn more about the industry. After visiting over 250 breweries, I loved how the craft beer industry was very fun and collaborative. I finally decided to put my marketing degree, entrepreneurial spirit and 18 years of homebrewing into action! I began volunteering at local beer fests to learn more about the craft beer industry in Georgia. I always joke that I have a PhD in starting a brewery because I dedicated so much time to listening to others and educating myself.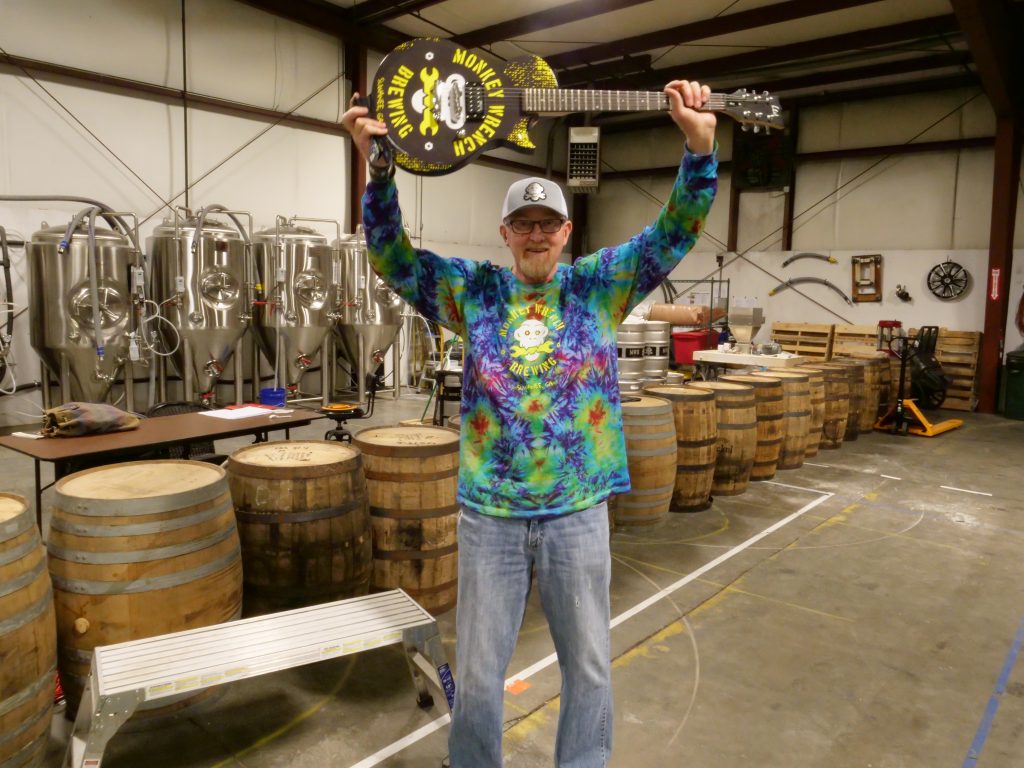 WHAT MADE YOU DECIDE TO OPEN A BREWERY IN SUWANEE?
When we decided to bring a brewery to Georgia, we looked at over 50 locations. I have done business with my software company in Suwanee for over 20 years and knew it was a great community. We attended Suwanee Beer Fest and found that everyone was so supportive and excited to have a local brewery. In 2019 we were finally able to share our brews at the festival and we had followers who were so happy to try our beer! We ended up finding our current location and knew it was the perfect place.
TELL US THE STORY BEHIND THE NAME MONKEY WRENCH.
My home brew buddies would give me a hard time because I had a tendency of not following the recipe guidelines 100 percent. I'd basically "throw a wrench" in the recipe by adding additional hops or putting my own twist on it. I also used my tool room as my bar, so the peg board full of hammers and wrenches kind of inspired me also.
WHAT SETS MONKEY WRENCH APART FROM OTHER LOCAL BREWERIES?
We try to be as authentic as possible. There are a lot of different beer options out there so we try to create different beers that are more unique to Monkey Wrench. We really try to put our own spin on classic recipes. For example, with our radlers we try to add stand-out flavors such as our lemon mango. We also have local art available throughout the taproom and are both kid- and dog-friendly.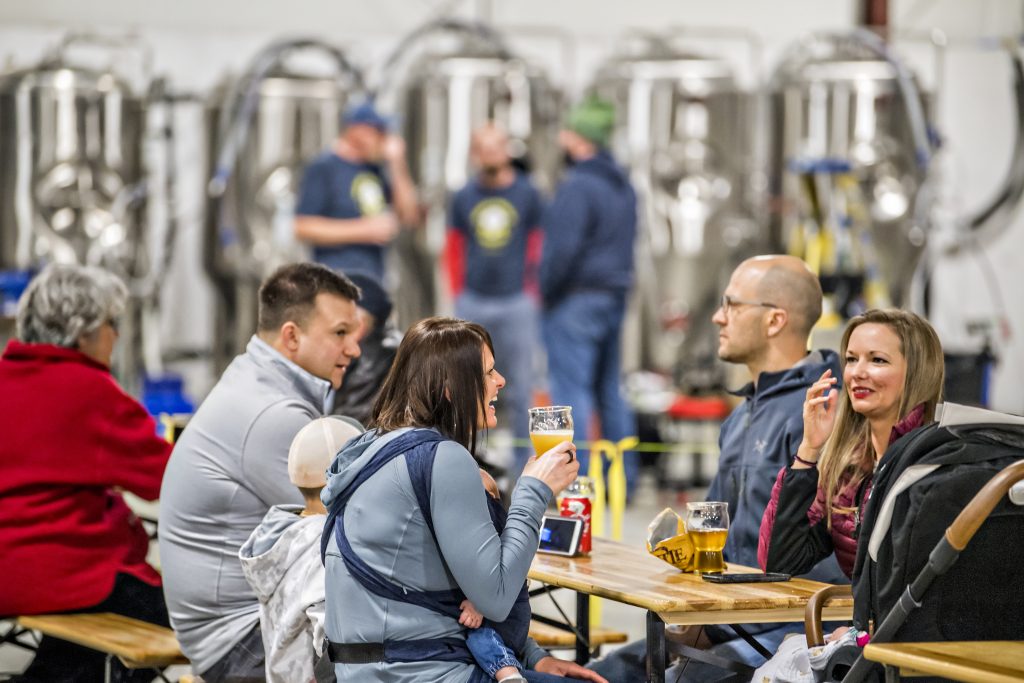 HOW HAS THE RESPONSE BEEN SINCE OPENING?
The response has been great. We had the taproom officially open for about eight weeks and then COVID hit. We immediately had to switch to offering to-go growlers only and the community really embraced us. For 10 weeks, people from the neighborhood across the street would come over and buy growlers to take back home with them. Many would bring their kids in strollers, and oftentimes have the kids walk home so they could fit more growlers in the strollers! For reasons like this, we like to call ourselves the neighborhood brewery. The surrounding neighborhoods have really kept us alive during difficult times.
TELL US A LITTLE BIT ABOUT YOUR HEAD BREWER.
When we first got started, my homebrewing buddy Mike Brannan came in and helped us brew a lot on the weekend. However, in order to keep up with demand we decided to bring our current head brewer, Matt Williams on board. Matt has been in the craft beer industry for over 20 years, and has over 10 years of actual brewing experience working at places such as Grumpy Troll Brew Pub in Wisconsin, Dogwood Brewing Company, Five Seasons Brewing, and has even done consulting for multiple breweries on a project basis. He is a very talented brewer, and we currently have 12 beers on tap with four more to expand to in the near future.
WHAT ARE SOME OF YOUR TOP SELLERS IN THE TAPROOM?
We currently have five IPAs on tap and all of them are really popular. Our No. 1 seller is definitely our Brighter Future New England IPA. This juicy, hazy NEIPA uses a new whirlpool hop technique that offers lush, fruity, hoppy notes. Another best seller is our Wayne's Wheat American wheat beer. This one features a crisp honey flavor with a bit of malty sweetness. And finally, our Suwanee Creek Kolsch has become very popular among members of our cornhole league. This traditional European beer is Saaz hop driven with a clean, refreshing finish.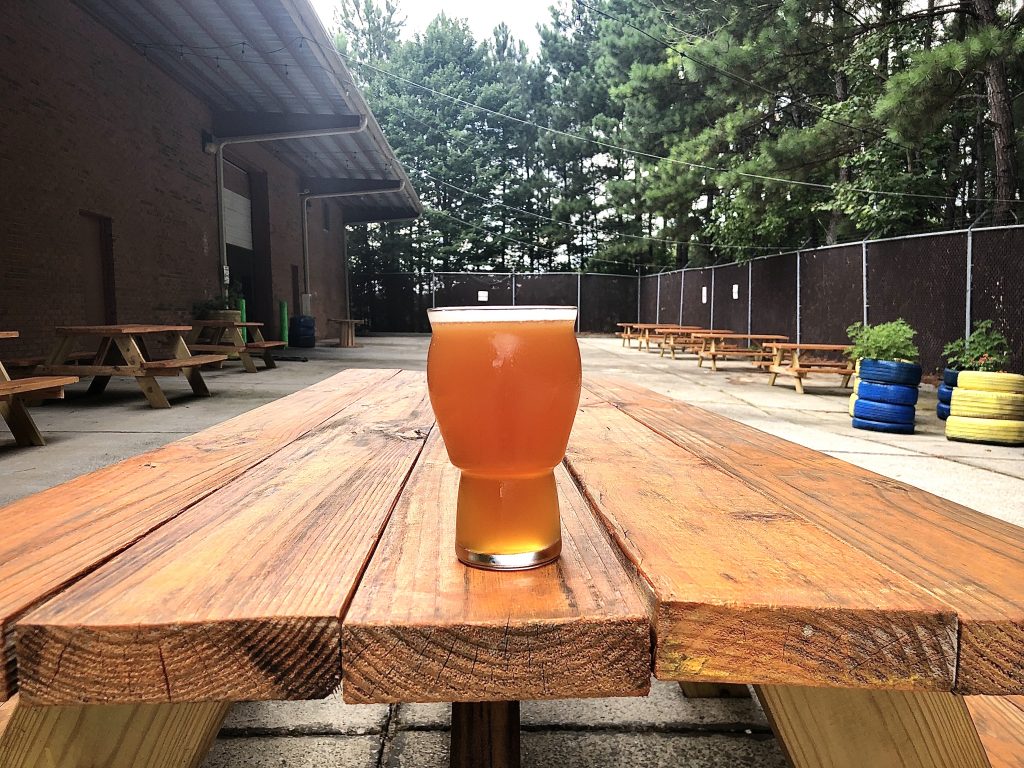 WHAT EXCITING THINGS DO YOU HAVE PLANNED FOR THE REST OF THE YEAR AND 2021?
Since we have such a big event space and outdoor area, we are looking to host some car and motorcycle shows in the near future. Once things return to normal, we also plan to add more tables and do bigger events out in our 6,400-square-foot beer garden. We have a corn hole league every Tuesday and Thursday with the guys at Peachstate Cornhole that will be picking back up in the fall as well. As far as longer term plans, we will be expanding from a three- barrel brewing system to a 20-barrel brewing system next year.
Monkey Wrench Brewing is located at 3425 Martin Farm Road in Suwanee. For a complete beer list and to stay up to date on everything Monkey Wrench, visit MonkeyWrenchBrewing.com.