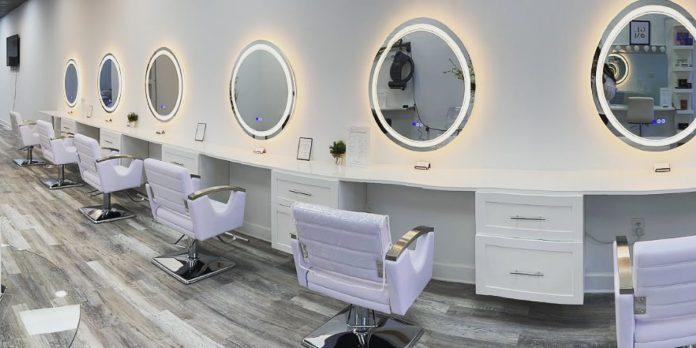 K Beauty Studios Salon is a brand-new full-service salon located in Suwanee that was designed to provide the best services possible in a clean, contemporary, and sophisticatedly beautiful atmosphere. K Beauty's guests enjoy use of their state-of- the-art equipment for hair and skin treatments. The salon provides guests with top-notch service and the best products on the market, such as the Goldwell Color and Hair care line. Guests enjoy having the convenience of multiple services all in one spot, including hair, makeup, lash extensions, facials, and waxing services. The salon caters to all hair and skin types, and is staffed with licensed hair stylists and estheticians whose skills and experience provide clients with the best service possible.
K Beauty's booking process is very convenient for guests: They can book online, call, text, and walk in to schedule an appointment. All guests are greeted by a friendly K Beauty team member upon arrival and will be catered to throughout their service, such as enjoying a glass of wine with their service. The salon also has family- friendly kids hair services and men's cuts available.
K Beauty Studios Salon celebrated its grand opening in March, and the team is so excited to be a part of the Suwanee community. "We truly do appreciate the outpouring of support that the community and neighboring towns have shown to K Beauty Studios Salon in such a short time," says Kim Richards. "We look forward to growing here in Suwanee and can't wait for you all to come for the service and leave with experience!"
K Beauty Studios Salon is located at 3255 Lawrenceville-Suwanee Road in Suwanee. For more info call 678-765-2755 or visit KBeautyStudios.com.