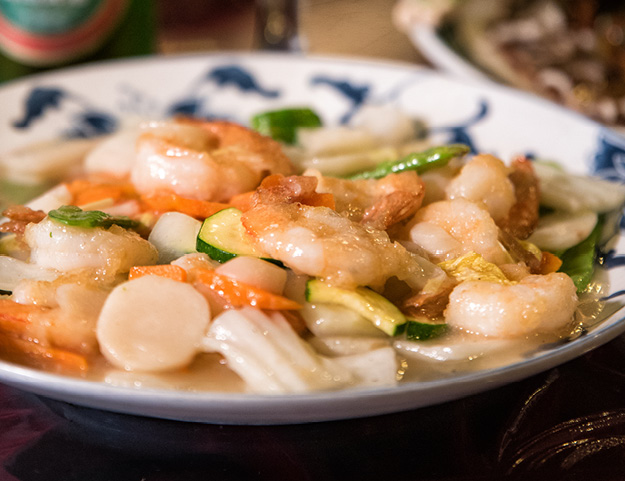 Peking Restaurant celebrates 10 years serving an impeccable dining experience of traditional Mandarin and Cantonese food to the Suwanee community.
By: LIZZY KIDNEY | Photos by KARL LAMB
For the night when you don't feel like cooking, and you want something fresh and delicious that doesn't break the bank- Peking Restaurant is the perfect solution. Offering take-out, delivery, and dine-in services; this restaurant located in Suwanee is celebrating 10 years and has become well known for their delicious Chinese food.
On a typical day at Peking Restaurant, you can find owner and operator, Sonny Wong, with his hands in all facets of the restaurant. Whether he is making in-house sauces or bringing your children lollipops after their meal, Sonny makes sure each of his guests have an impeccable dining experience.
Sonny brought Peking Restaurant to Suwanee in 2007 where it quickly became a local favorite. Open seven days a week, Peking Restaurant has the reputation for serving traditional Mandarin and Cantonese food at a very affordable price. "Here you would pay half the price for a traditional meal than you would at other name brand Chinese restaurants," said Sonny. "I have built relationships with all of my customers over the last 10 years and we truly love being able to serve the Suwanee community."
Restaurant ownership runs in the Wong family and has had a large impact on the way Sonny Wong operates his business. After watching his father open one of the first ten chinese restaurants in the metro-Atlanta area in 1970, and learning how to cook from his father-in-law back in Hong Kong, Sonny has been able to provide four different counties with a traditional, family-oriented restaurant experience.
"I make all of my sauces in-house myself, do not use any MSG in any of my food, and my chicken broth is freshly made from chicken bones," Sonny points out as he excitedly heads to the kitchen and returns holding a bottle of cooking wine. "This is unavailable in Atlanta, so I have it shipped directly to the restaurant from California to add to my chicken broth and certain sauces."
Along with serving traditional food, Sonny prides himself on having a family-like relationship with not only his customers, but his employees as well. In the kitchen, you will find two chefs who have been with him for over 30 years, and in the front of the restaurant you will find the same wait staff that he has had since 1980.
"I am glad most of my customers know me by name," Sonny states. "My customers can call or talk to me anytime if something is wrong and it lets me know that they care and love this restaurant just as much as I do."
Mention you are going to Peking Restaurant and frequent customers will quickly tell you to try the Mongolian Beef, General Tso's Chicken, or the number one family favorite, Sesame Chicken. Sonny also swears by their 8-spice Fried Chicken Wings. But, if you are looking for a more traditional Mandarin or Cantonese dish, Sonny recommends you try the Jum Bon Soup, a spicy noodle soup served with shrimp, scallop, pork and vegetables.
"I truly want to thank the Suwanee community and my customers for being so loyal," says Sonny. "I want them to know that when they are hungry and do not feel like cooking, that I am always there for them."
This authentic, family-friendly restaurant has been a Suwanee mainstay for ten years now and no doubt will be a favorite for generations to come.
Visit Peking Restaurant at 360 Peachtree Industrial Blvd., Suwanee, Ga 30024.