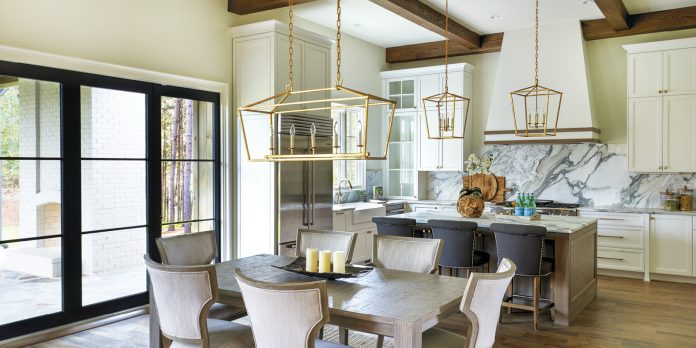 Turn your living space into the oasis of your dreams.
By: Angela Veugeler
With the stay at home orders being put into effect across the country this Spring and many people moving to long-term telecommuting, people have found themselves spending a lot more time in and around their homes. From working from home to supervising digital learning to finding things around the house and in the yard to do to entertain their kids, many families are realizing it is time to give some TLC to their abode… and transform it into a more functional space or perhaps create a space that they simply would love to spend time in instead of feeling confined. Other families have decided it's the perfect time to move to a new, perhaps quieter area and are opting to build their dream home from the ground up. Here are some tips from local experts on how to create a space you love to call home.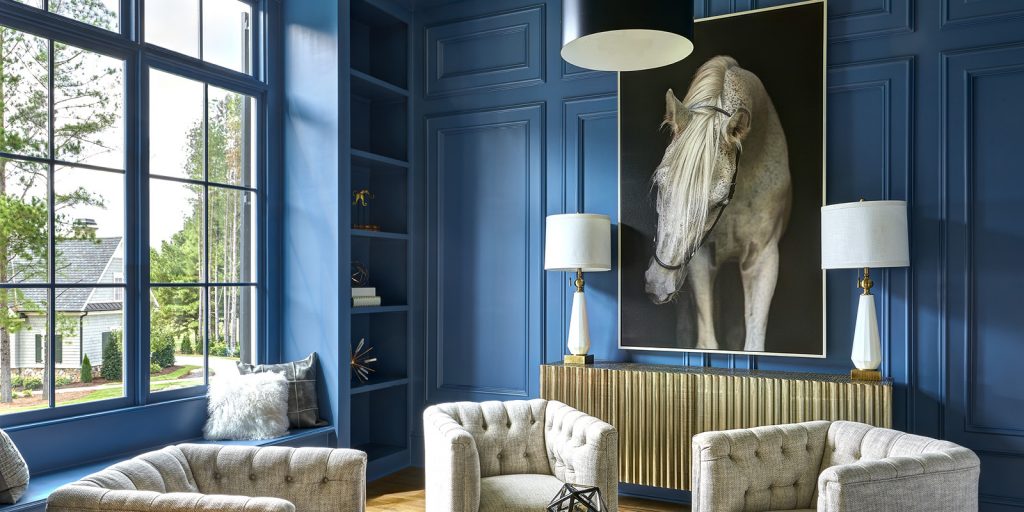 Design your one-of-a-kind home
While custom building a new home is a big undertaking, for some this is the perfect opportunity to build a dream home to suit their lifestyle and needs. For those permanently working from home, the only real requirement may be a decent internet connection. This could be the time to make a move to a quieter setting further away from the city or closer to family. With over 50 years combined experience, Henderson Kelley specializes in custom home construction and large scale renovations in Suwanee and throughout North Atlanta, with clientele also in the mountains of North Carolina.
While many new homes and large scale renovations they are working on include space for working offices, home gyms and home school rooms, the team at Henderson Kelley suggests the possibilities are endless. "Items normally offered in vacation properties can be part of your home life such as porch beds, fire features, outdoor living and summer kitchens for grilling and gathering", shared Principal Lila Kelley. "Building from scratch gives you the chance to tailor the space to your current needs including efficiency of new windows, mechanicals and countless options." The workmanship of many innovative artisans and collaborations with their design partners completes the ingredients to provide a stunning home with timeless appeal. If this is the time to build your forever home, it's important to work with experts like Henderson Kelley to guide you through the process.
For more information about Henderson Kelley, LLC, visit HendersonKelley.com or call Lila Kelley at 678-230-1426.
---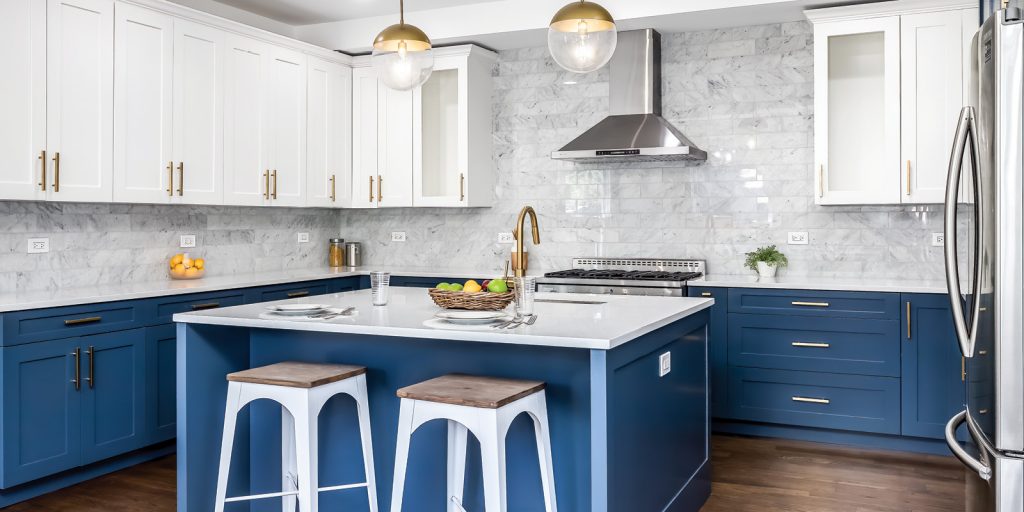 Bring a fresh new look to your home with paint
Painting the interior or exterior of your home is a great way to bring a fresh new look and feel to your home. If your home was painted years ago, chances are it is starting to look a bit dated and may be time for a change. So what is trending now? According to Sandy Zimmerman of Zimmerman Painting, "The recent trends of the gray & white combination are on the gradual downturn for 2021. Decorators are turning to a warmer pallet with champagne and blush tones. While wood stained kitchen cabinets can be timeless, painted cabinets are trending toward darker, richer colors such as navy blue, dark greens and dark grays with brushed gold accents.
Founded in 1995 by Jamey and Sandy Zimmerman and known for their service and reliability, Zimmerman Painting offers residential and commercial painting, staining, pressure washing, dry wall repair and cabinet painting and resurfacing. They provide color consultation for customers who need some guidance. "When deciding on paint colors, paint samples are a must. Be sure to paint a sample of each contending color on the wall in different areas of the space in both direct and indirect sunlight. Also, keep in mind that wet paint will dry darker", shares Sandy. A change in paint colors can be an affordable way to really transform and modernize the look and feel of your home.
For more information about Zimmerman Painting, visit ZimmermanPainting.com or call 770-560-7155.
---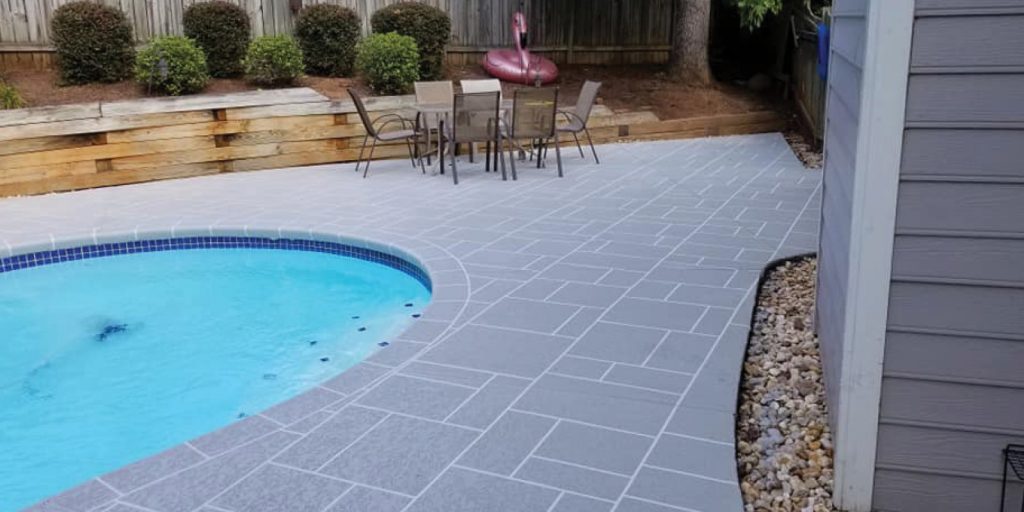 Revitalize concrete surfaces for a whole new look and feel
Whether you are wanting to resurface a worn-out pool deck, spruce up the basement or garage floor or upgrade your cracked driveway or patio, decorative concrete can help you take these areas to a whole new level. Founded in 1991, Creative Concrete Resurfacing uses a concrete overlay system. They go over the top of existing concrete to give it a fresh, clean look with some design elements. "Our process covers spalling concrete as well as cracks in concrete. We treat cracks with a urethane and epoxy fill then hide the cracks in a design element we call scoreline. It can be used as a cooling feature around pool decks or patios or just giving it a more pleasing look", shared Creative Concrete Resurfacing founder Calvin Erickson. Light gray tones are very popular right now, or even whites on surfaces around pools and patios. Creative Concrete serves both residential and commercial customers and prides themselves on maintaining a vision and promise of service and dedication with every project they work on.
For more information on Creative Concrete Resurfacing, visit CCRAtlanta.com or call 770-381-7398.
---
Give your backyard living space a makeover
With opportunities for travel, sporting events, cruises, and other similar activities limited by Covid, the outdoor living lifestyle has become a priority expenditure for many consumers. The outdoor living area becomes a natural retreat for homeowners to gather and socialize more safely with family and friends. According to Lee Recchia of American Casual Living, an outdoor furniture showroom in Buford with design specialists to help you realize your backyard vision, "Like the indoors of our homes, we seek style, comfort and function in our outdoor living areas. We are seeing a greater emphasis being placed on the 'at home lifestyle' and the quest to enhance comfort, design and the utility of all parts of the home, including the outdoor living area. People gather where they are most comfortable, and we are fortunate to live in a part of the country where an inviting and comfortable outdoor living area is a year-round destination."
Founded in 2009, American Casual Living is a family business owned by Suwanee residents Lee and Maureen Recchia. With a passion for creating comfortable, year-round outdoor living areas for family fun, entertaining friends, or for quiet enjoyment and relaxation, the Recchias share current trends in the outdoor living industry. "Bringing indoor comforts to outdoor living is definitely a theme that has grown with improvements in outdoor fabrics and construction materials. What is possible indoors is in large measure also possible outdoors. For example, hearty acrylic fabrics are fade resistant and can be easily cleaned with any cleaning agent, including bleach! Furniture construction materials offer durability and longevity. Both offer quality and performance, and equally important, they offer styling flexibility – from traditional to transitional to modern. While, linear, modern designs are growing in popularity, traditional designs are enduring and always in demand. Outdoor accessories are also in strong demand, including day beds, outdoor kitchens, in-pool loungers, adirondack chairs around fire pits, outdoor lighting, unique shade products, outdoor misting fans, outdoor rugs, and many more. Accessories serve to complete the outdoor living area, and in many respects, mirror what is available for the indoors."
When considering redecorating your backyard space, the Recchias recommend starting at the end, or with the big picture. "What is your vision for the space, with emphasis on 'your.' How do you plan to use the space? What 'outdoor living' components are important to you? Envision placement, positioning, navigability? Search for inspiration in your environment, social media products, stores, friends and neighbors, hotels where you may have stayed, destinations you may have visited, and any other source of guidance. We hear it all too often sadly – I didn't leave enough room for the grill island, or for the larger scaled furniture, or the fire pit, etc., and this can be avoided with a vision of the end product and some advance planning."
American Casual Living is located at 1955 Mall of GA Blvd. in Buford. For more information visit AmericanCasualLiving.com.
---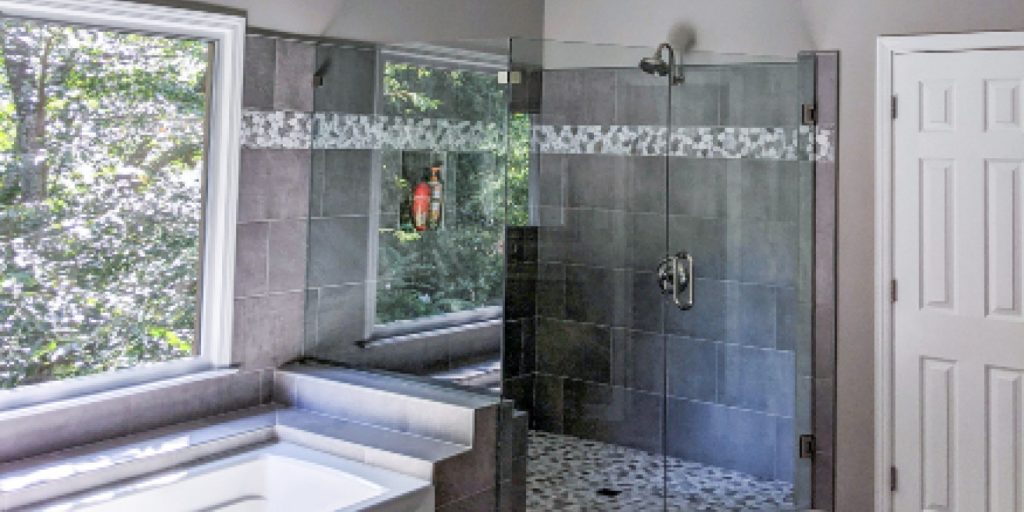 Redefine your space and take care of repairs at the same time
As a homeowner, there are times when your living space is ready for an update. Or, maybe it seems like everything is falling apart and major repairs are needed. Whether you are ready to bring a new vision to life or need a handyman to repair a variety of miscellaneous things including drywall repair, painting touch ups, wood rot, plumbing, electrical and more, The MRS has you covered. The name stands for Maintenance and Renovation Services in Georgia, and the woman- owned company was founded by Debra Weeks-Alexander, who has more than 35 years of experience in the renovation and repair business. Since the onset of the stay at home order, Alexander has found that many of her customers are noticing rotted wood and their tired bathrooms and kitchens. Not only can The MRS fix the rotted wood issue, but they can help customers with full bathroom and kitchen renovations. When asked about current trends, Alexander shared, "Current trends include warm colors such as taupes, beiges and blues are returning. Shaker cabinets are still in." She suggests hiring a contractor with good communication that will give regular progress reports and estimated completion time up front. Another tip: "Hire an insured contractor that carries the proper general liability insurance."
For more information about The MRS, visit TheMRSGa.com or call 770-837-3324.
---
Get your home ready to sell
Sometimes investing in home renovations just isn't enough — you may need a whole new change in scenery! If you've been considering downsizing or selling your home, now is an excellent time to do it. With low inventory and record low interest rates, most homes are selling nearly immediately after listing. If you're thinking of taking the plunge, a professional realtor can help walk you through what is needed to get your home ready to sell.
A Gwinnett real estate professional for nearly 20 years, Susan Zanders of Susan Zanders Real Estate says that selling your home in the current market could be a good financial move. Even if your home isn't "show ready," that shouldn't deter you from listing. "In a market where house inventory is low your home will sell," Zanders says. "Throwing money in a complete makeover isn't necessary." Minor updates can make a big impact, such as a fresh coat of paint. "Go white and bright and then accent with color," she says. If you do plan to invest in renovations before selling, Zanders advises not to go the expensive route. Instead invest in affordable updates that will still make a big difference, such as new hinges, door knobs and light fixtures. Another tip is to spruce up your deck to make the most of your backyard as a usable outdoor living space.
Most importantly: clear the clutter. "Declutter your home of things that aren't being used," Zanders says. "Excess large pieces of furniture make a room look smaller." Gather everything that isn't being used and have a yard sale or donation. In fact, there are many organizations that will come pick up unwanted clothing, furniture and other home goods. A little bit of effort can go a long way in landing your new dream home.
For more information about Susan Zanders Real Estate, visit SusanZandersRealEstate.com or call 770-289-4604.
---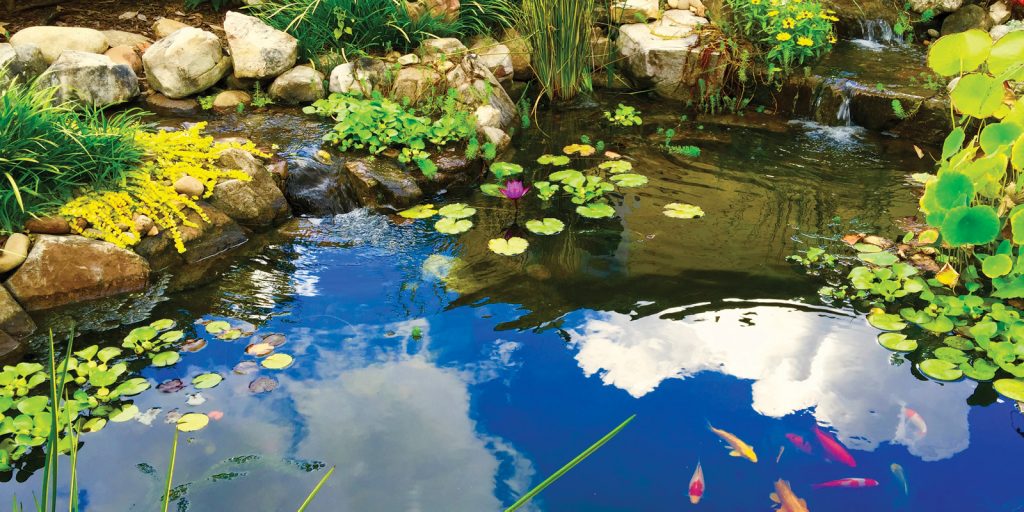 Create an outdoor oasis with a custom water feature
Adding a pond or waterfall to your backyard can transform a regular yard into a relaxing sanctuary you will enjoy spending time in. A water feature can bring tranquility to your yard and help your family connect with nature while at home.
According to Jeff Krenner from Paradise Ponds and Waterfalls in Buford, more and more homeowners have contacted them to create medium sized backyard fish ponds with water features. "These water features can fit in almost anyone's backyard and provide a great water feature experience. Some current industry trends we are seeing are the pondless waterfalls, sometimes called disappearing waterfalls. They provide all the sights and sounds of waterfalls without the maintenance that is involved with a fish pond. The water simply recirculates from an underground reservoir and is pumped back up to the start of the waterfall."
A professional can work with you to design a water feature that will enhance your outdoor space and will help determine the best location and size for your new water feature. Krenner is a long time fish hobbyist and pond owner and has been installing and maintaining water features for 20 years.
Paradise Ponds and Waterfalls is located at 5500 Silk Oak Way. For more information, visit ParadisePondsAndWaterfalls.com or call 404-519-8870.
---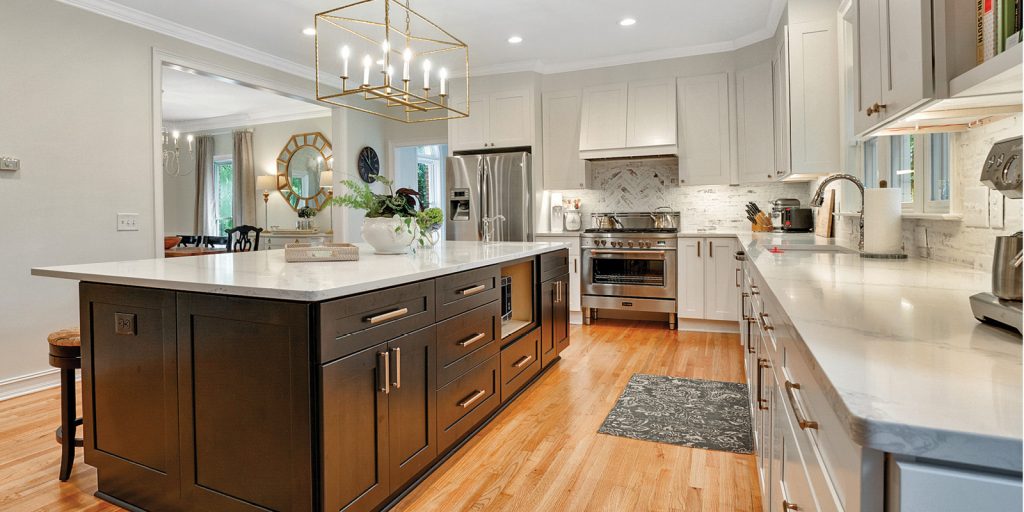 Remodel the most used room in your house, the kitchen
A large, modern kitchen with a layout designed for both cooking and conversation can be a wonderful thing. Kitchens are the rooms most commonly upgraded since they typically serve as the central gathering area of the home. Whether you're looking for small or grand kitchen remodel ideas, there are several things to consider. First is choosing a trusted contractor. Rockwell Kitchens has streamlined the kitchen and cabinet renovation process, priding themselves on being transparent and straight forward. They work with contractors, builders and homeowners from design and selection to installation.
According to Joe DiGiovanni from Rockwell Kitchens, "Current trends include more color
and organic textures or at least pops of them incorporated into the overall design. For counters we are seeing quartz, quartz & quartz, especially the ones that mimic Carrera marble and some even more bold like Calcutta. Additionally, open walls with shelves or floating shelves are very popular as long as you are willing to give up the storage space." When considering a kitchen remodel, DiGiovanni recommends having a clearly defined budget along with a vision of the direction you want to go with the overall design. "In this day and age, you can research every idea online to come up with what works for your style and budget. Most importantly, have fun with it and make it your own!"
Rockwell Kitchens is located at 1009 Industrial Court, Suite A, in Suwanee. For more information, visit RockwellKitchens.com or call 678-765-8108.
---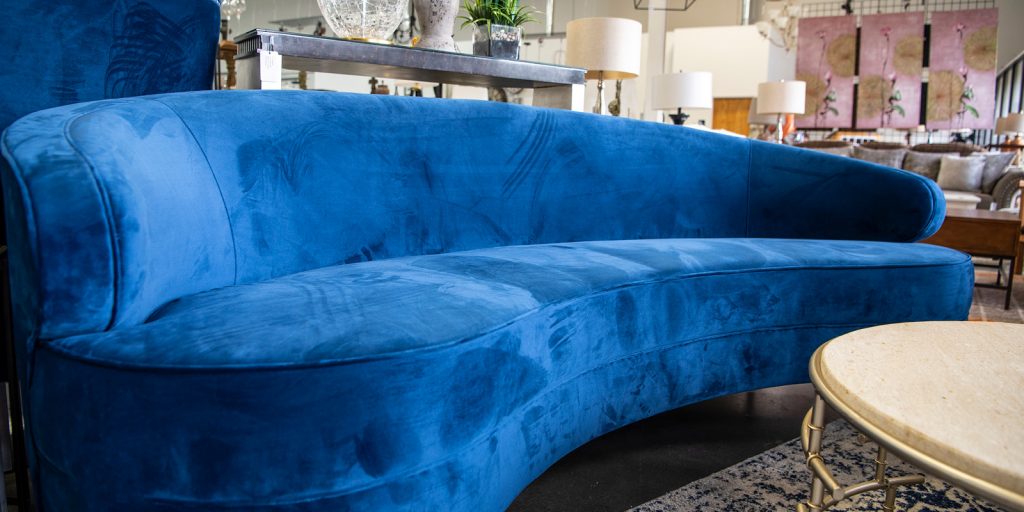 Freshen up your home with new furniture and accents
A budget friendly way to freshen up your living space is to replace or add some key furniture or accent pieces in your home. From throw pillows to accent rugs, simple touches can give your home an updated feel. If you haven't heard of C.C. Liquidations Home Furnishings & More, you just discovered a hidden secret! The 17,000 sq. ft. showroom offers new furniture, rugs, décor and more from famous online retailers at 20 – 70% off retail prices and with inventory constantly changing.
According to C.C. Liquidations, a current trend at the moment is the color navy. "Add an accent chair in navy, introduce a new rug with navy into a room and include navy throw pillows & décor to set the new trend", shared Kim Douglass of C.C. Liquidations. "Natural items blended with neutral upholstered items, introduce live edge end tables with your sectional, bring in wicker chairs to your conversation area, add a rattan chair in a guest room. Simple decor items that bring a pop of color can enhance your space while brightening your room – floral prints are on trend in fabrics, pillows & decor items. Looking for the quickest way to refresh a room? Add an area rug! An area rug can define a space, add color and refresh the current design. Change accent pillows and add a throw to enhance a beloved sofa. Use a dining table as a desk to enhance your workspace. Replace over-sized sofa & love seat combinations with a clean line sectional to optimize family room space," said Douglass.
C.C. Liquidations Home Furnishings & More is located at 105 Satellite Blvd. N.W., Suite A, in Suwanee. For more information, visit CCLiquidations.com or call 678-541-5515.