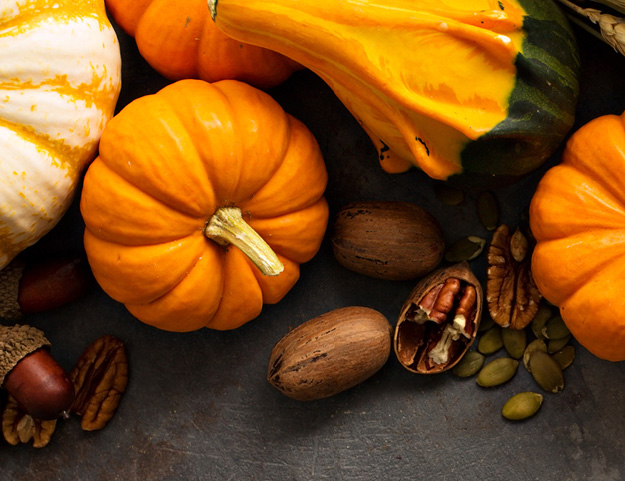 In honor of Fall, Fit Mom shares seven amazing health benefits of the versatile squash.
By: RUTH UNGERER, aka FIT MOM
Of all the seasons, fall is my favorite: cooler weather, football, leaves falling, delicious food and pumpkin everything! I have to admit, I may go a little crazy incorporating this superfood into my daily menu. But, with good reason! Did you know that as great as pumpkin tastes, it also packs a ton of nutritional benefits, too. Be sure to check out my favorite, healthy, delicious pumpkin recipes too.
Pumpkin May Reduce the Risk of Cancer
Like carrots, sweet potatoes and butternut squash, pumpkins contain that rich orange color which is associated with beta-carotene, an antioxidant that may play a role in cancer prevention. Food sources seem to be more effective than supplementation, so look for those bright orange veggies and try using them as a savory side.
Pumpkin Helps Keep Your Skin Glowing & Looking Young
The same free-radical neutralizing powers of carotenoids in pumpkin that may keep cancer cells at bay can also help reverse UV damage and improve skin texture. It's also packed with vitamin C, which promotes collagen production.
Pumpkin Aids in Weight Loss
One of the key factors in weight loss is consuming plenty of fiber. With 3 grams per one cup serving and at only 49 calories, it will keep you feeling satiated without the extra calories!
Pumpkin Seeds Can Help Your Heart
Nuts and seeds are naturally rich in phytosterols which reduce LDL, the bad cholesterol. They are also loaded with antioxidants and are a great source of magnesium, zinc and fatty acids – all of which keep your heart healthy.
Pumpkin Seeds Can Boost Your Mood
Pumpkin seeds are rich in the amino acid, tryptophan, which the body uses to produce serotonin and melatonin – the hormones that help you sleep and increase happiness.
Pumpkin Helps with Post-Workout Recovery
A cup of cooked pumpkin has 25% more of the refueling nutrient potassium than a banana. Extra potassium helps restore the body's balance of electrolytes after a heavy workout and keeps muscles functioning at their best.
Pumpkin Keeps Your Eyesight Sharp
A cup of cooked, mashed pumpkin contains more than 200% of your recommended daily intake of Vitamin A!
For some delicious, pumpkin-filled recipes, visit: suwaneemagazine.com/pumpkin.
Ruth Ungerer, aka Fit Mom, has been training women in the Lawrenceville area for the past 16 years! Her passion is connecting with women, teaching them how to live a healthy lifestyle and empowering them to be the best version of themselves. She trains her clients both locally and online, providing them with dynamic workouts, a detailed meal plan and tremendous support, so they are equipped with everything they need to be successful.