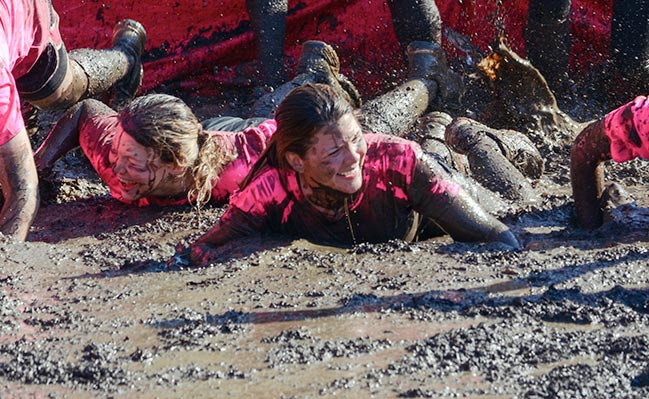 BY: Angela Veugeler
Ready, set, get dirty! The Dirty Girl Mud Run took place on Saturday, April 12 in Buford at Lake Lanier Islands Resort for the second consecutive year. Originating in Wisconsin, there are now Dirty Girl runs in 25 different cities throughout the United States.
The theme of The Dirty Girl Mud Run is to provide an inspirational and encouraging event that empowers women. The event is for ladies only and consists of 10 to 12 obstacles set throughout a 5k course. Some of the obstacles consist of "Pretty Muddy Stuff" (a mud pit), the "Get-a-Grip" rope climb (sponsored in Buford by Fruit2O), and "Down and Dirty", where ladies crawl under a series of nets in the mud. All of the obstacles are optional and the event is not timed.
According to Becca Bijoch with Lola Red PR, "the event is about creating a day that encourages women to get out there and do something unexpected with their friends and loved ones. At the end of the day, they'll leave with a sense of accomplishment and a day of fun they'll never forget." The average Dirty Girl Run has 5,000 attendees, with over 17,000 attendees participating in the 2013 Wisconsin run – their largest event to date.
There are many stories of cancer survivors that come back year after year to take part in the Dirty Girl Mud Run. One participant, Casssie Brown, and her team have all been affected by cancer. She and her best friend had breast cancer, another friend had melanoma, a friend's spouse passed away as a result of cancer and another friend is currently fighting cancer. Another participant, Brenda, is an active military member who was diagnosed with breast cancer in April 2012. Her cancer kept her from deploying and she underwent a double mastectomy last April. April 2014 marks her one year "cancerversary". Prior to being diagnosed, Brenda was a runner and invited to participate in the Dirty Girl by a coworker.
Cost to participate is $65 to $85/person, depending on when you sign up (the earlier the cheaper). The Dirty Girl events donate a portion of the proceeds to breast cancer charities. Since its beginning, Dirty Girl has donated over $475,000 to breast cancer charities and will donate at least $125,000 in 2014 to Bright Pink alone. Bright Pink continues to encourage young women to be proactive with their health as the only national non-profit in the country dedicated to the prevention and early detection of breast and ovarian cancers in young women. In Buford, local Paul Mitchell students were offering free hair braids and pink hair extension for a $5 donation that went to Bright Pink, and at each 2014 event, 300 free registrations are reserved for cancer survivors.
According to the website, Dirty Girl made its debut in 2011 in 3 cities: Milwaukee, Denver, and Buffalo. The mud was abundant and the laughter contagious.  Women were ready to forget about their deadlines and "to do's" for one glorious day.  They gathered their gal pals and rejoiced in finally being the ones to soak up the sideline cheers!  Yes, the Dirty Girl nation was born.  Never before had there been an event devoted solely to women, welcoming ALL fitness levels. For more information on Dirty Girl as well as upcoming events, visit godirtygirl.com.