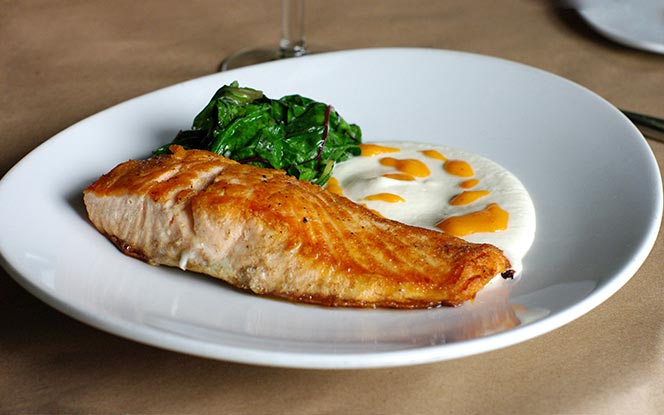 Fine dining restaurant in nearby Buford celebrates 15 years
BY: Tana Christian Suggs
While many restaurants may come and go, there's been a mainstay in downtown Buford. Aqua Terra Bistro has been a local, fine dining establishment for almost more than a decade. In fact, come September the restaurant will celebrate its 15th anniversary.
Laurie Attaway, owner of the restaurant, said she decided to open Aqua Terra Bistro because she didn't want to have to drive to Atlanta to visit a nice restaurant and opened the doors in historic downtown Buford.
Attaway described the restaurant as "European Fusion food."
"We go all over the board from lamb to duck to filets to scallops to seafood," she said and added that they change the menu about every six weeks. The new items are always fresh and seasonal, but they always keep the staples on the menu such as the Seared Scallops, which Attaway said has been a menu staple for 13 years. The scallops are served with orecchiette pasta, baby spinach and an exotic mushroom truffle cream sauce.
Another longstanding favorite is the French Country Salad, which is mixed field greens, gorgonzola cheese, bacon, apples, walnuts, and red onions tossed with a warm apple-cider vinaigrette dressing. There's the filet served over whipped potatoes and topped with a ragout of exotic mushrooms, onions, and tomatoes.
And when you visit the restaurant, Attaway said patrons will want to try the warm, crusty bread served with tasty and tangy dipping sauce made of sundried tomatoes, onions, balsamic vinegar and a few other secret ingredients – a dipping sauce so delicious Attaway said they sell it by the quart.
In addition to the menu items, they always offer daily specials that can be found on the restaurant's Facebook page.
"The menu is unique," Attaway said. "I think you can come here and be assured no matter what's on the menu, it's going to be high-quality ingredients, fresh, and always good."
As for the ambiance Attaway described it as upscale, yet casual.
"You can be just as comfortable in a dress as you are in a pair of jeans," she added.
It's a place many flock to when celebrating a special event such as a birthday or an anniversary. And Attaway said the restaurant has been Voted Best of Gwinnett Most Romantic Restaurant since 2002. They offer wine dinners once a month. And for those looking for a place to hold a special gathering such as a corporate party or a rehearsal dinner, Aqua Terra Bistro has two event facilities.
Attaway said restaurant patrons come from Buford and surrounding areas including Suwanee, Alpharetta, Roswell, and even Gainesville.
"We've got a pretty wide radius of where our customers come from," she said. "And we have people that have been coming here since day one. We have a pretty loyal following, I would say."
Attaway said she likes being involved in the community raising funds for Eagle Ranch, the children's home in Flowery Branch, and Attaway, who has a heart for animals, said she is also looking to partner with the Georgia SPCA in Suwanee in the future to raise funds for the organization.
On being a restaurateur, Attaway said she loves what she does, adding that her father owned restaurants, so she's been in the business since she was born.
"It's in our blood," she said. "My sisters work here, my brother in law works here. So it's a big family place."
For more information about Aqua Terra Bistro, visit www.aquaterrabistro.com