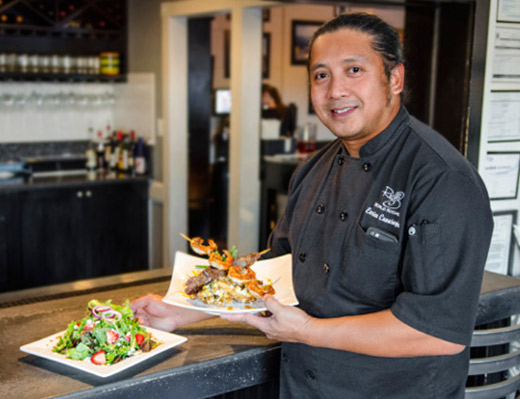 By: Michelle Fasig
Chefs Rico Cunnington and Jorge Gonzalez pull from their Filipino and Mexican backgrounds to unlock a world of international flavors in downtown historic Buford. Rico Cunnington, Owner and Chef at Rico's World Kitchen, opened his restaurant over eight years ago. A small space tucked inside a strip mall, across from the Gwinnett County Tag Office, with room for only four tables. "It was really just an opportunity that fell into our laps," Rico explained when asked how he made the decision to first open the doors. "We were able to get in there and get our feet wet."
Growing up, his years of experience working alongside his mother, Nett, lovingly referred to as "Ma," in their catering business quickly paid off. Within three years, Rico's World Kitchen had outgrown their space and moved into a larger location in downtown historic Buford. Rico's World Kitchen has now become a well-known staple on the Atlanta culinary radar. Inside of this gas-station-turned-restaurant, Rico is still putting his creative spin on "world comfort cuisine" and serving what many arguably consider some of the best dishes in Metro Atlanta. With combinations such as the fried green tomato salad with smoked applewood bacon and homemade celery seed dressing, or the smoked mojo pork with guava BBQ, it is evident why Rico's World Kitchen has amassed such a large following.

"The thing we center our cuisine around is international comfort food. There are certain dishes that have traditional elements and we stay true to those things. Outside of that, it is wide open. We look at what makes this dish a comfort food and how can we spin it." explained Rico.
Rico and his culinary counterpart, classically trained chef, Jorge Gonzalez, enjoy experimenting with bold flavors in the kitchen. Pulling from their Pilipino and Mexican backgrounds to unlock a world of international flavors. "We do like to learn traditional techniques so we can expand on them. We hand-batter everything from the beginning. All of the dressing and sauces are made in house; we even grind our own meat. It starts with quality. We take pride in that and it makes a difference," Rico shares.

Meanwhile, Rico's wife, Katie and his mother, Nett, are responsible for baking some of the most delicious sweet treats in and outside of the perimeter. Crowd pleasers, like the key lime avocado cake and the chocolate pecan "Wild Turkey" pie, are guaranteed to delight even the pickiest palette. "We have three kids, and at least one picky eater. They are all three, food critics at this point, "Katie laughs.

A lasting local favorite, Rico's World Kitchen shows no sign of slowing down in their success. While their goal is to provide an environment that feels more like a kitchen then a restaurant by dishing out inventive comfort foods, they still manage to keep their customers on their toes by changing their special menu daily. Fans of their Facebook page point out favorites such as the She crab soup and the firecracker alligator tail tossed in sriracha aioli as "must haves." Additionally, within the next few years Rico hopes to open a new location in Dacula."The Brunch Apothecary, " Rico says, "all brunch, all day."
To all this achievement, Rico credits his mother who still works with him side by side in the kitchen. "It was her Lumpia that started it all." Referring to his childhood, Rico recalls, "When other kids had to clean their rooms and do chores like that, I had to roll egg rolls. If I don't have to roll another that's okay!"
But, he points out, as said by Brillat- Savari, the famous gastronome, "to invite a person into your house is to take charge of his happiness for as long as he is under your roof." And that, at the heart of the business, is what Rico's World Kitchen is; a neighborhood establishment serving up plates certain to make you happy.