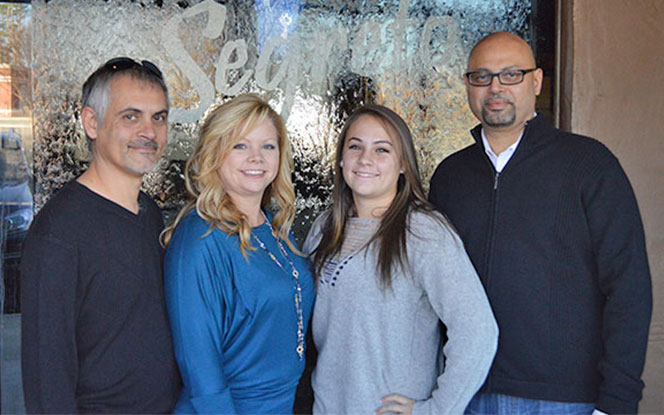 Suwanee's New "Secret Kitchen"
By: Tana Christian Suggs
When thinking about Italian cooking, one often thinks of a large family gathered in the kitchen sipping Chianti, stirring specially made sauces that are filled with the family's secret ingredients that have been handed down from generation to generation while the pasta simmers to a perfect al dente. After all, it has been said the kitchen is the heart of the home, so what better place for the family to congregate than the warmth of the kitchen while engaging in meaningful conversation over the aroma of fresh garlic and basil.
Now, Suwanee has its own "secret Italian kitchen."
Segreto Cucina Italiano, which translates to the "secret Italian kitchen," is located at 3370 Lawrenceville-Suwanee Road. Restaurant owners Robert and Wanda Mason and their two daughters, Britney and Brandi, opened Segreto Cucina Italiano in July 2013 with Nick Patel serving as Operating Partner and General Manager.
"We purposely call ourselves a Kitchen rather than a Restaurant," Patel said. "While in Italy, the best food I had came from the kitchens of friends and family."
Patel described the restaurant as "casually" upscale with accommodating, welcoming, and friendly service, featuring modern Italian cuisine including a few classic American-Italian dishes.
"We take our inspiration for the food, décor, and style from modern Venice, Italy," he said. "Venice is not just canals and Gondolas. It has a rich history and holds many a mystery. Venetian ships ruled the waterways, and in doing so, Venice became a major hub for trade and commerce. Venice has always been at the crossroads of art, music, food, wine, and business. We strive to make Segreto the same for Suwanee."
Patel explained that when it comes to the food, Segreto Cucina Italiano is unique in that it comes from the heart using quality local and imported ingredients.
We are not the typical Italian restaurant," he said. "We have a modern healthy approach to Italian cuisine. We were looking to bring Italian fare to a place where you can eat it almost every day, not just once a month."
After surveying the area and visiting numerous Italian restaurants, Patel said they found that not one restaurant was doing what the Masons and Patel wanted to do so they started to do their "thing." "And after speaking with numerous guests we've adjusted our 'thing' to include dishes that they wanted to see us do…Now we proudly serve 'Classico Americano' dishes. Chicken and Veal with your choice of Parmigiana, Marsala, or Piccata Sauce served with Cappellini. And of course we've added our own little secrets to make them 'ours,'" Patel said.
Popular menu items include the pastas that are either fresh or imported directly from artisan pasta makers in Italy. To complement the pasta, the restaurant also offers fresh sauces, including the Segreto Sauce, which Patel said is by far the most popular. Stuzzis, which is a three meat ball (named for the three meats: beef, veal and hot Italian sausage used to make them) and chicken parmesan sliders, marinated in buttermilk, that according to Patel "brings out our southern roots," are among the most popular dishes served.
Other favored menu items include The Fico di Parma flatbread with Fig jam, Buttermilk Bleu Cheese, and Prosciutto di Parma, and the Short Rib Risotto, which is Chianti braised beef short rib with caramelized Cippolini onions and the Risotto itself is finished using the braising liquid to give it depth and richness. And then the Sea Scallop Risotto with three perfectly seared Fresh Wild Atlantic Jumbo Scallops with a Saffron and English Spring Pea Risotto finished off with Calabria pepper oil. The vast wine selection also sets Segreto Cucino Italian apart from other area Italian restaurants.
"We didn't want to just put together a wine list but wanted to create a wine program," Patel said, adding that they wanted to take the pretense out of wine to make guests feel comfortable ordering wine. "We are constantly educating our staff and giving them all the information so they can guide our guests in the right direction," he said. "We also have monthly wine dinners with new wines and special menus. Our next one is January 10, 2013."
The knowledgeable staff can guide guests through the menu for a full dining experience. Nightly events include Two-For-One Tuesdays featuring 2-for-1 food and drink specials, Wine-down Wednesdays Wine Club featuring half price wines by the glass, Thirty-Something Thursdays $30.00 couples dinners, Flycats Fridays featuring The Flycats Jazz Trio, Sommelier Saturdays, a wine tasting and light food pairing from 1 p.m. to 3 p.m. every other Saturday and Tuscan Brunch Sundays featuring $2.00 Mimosas and $3.00 Bloody Marys. Patel said they also plan to add Movie Mondays…Dinner and A Movie featuring old, Italian movies and classic Hollywood movies played on big screen televisions, additional nights of live music, and they plan on putting together cooking classes as well.
Segreto also offers full on and off-site catering. Since the Masons already own successful businesses in Suwanee, they said it was an easy decision to make Suwanee the location for their new restaurant venture.
"Suwanee is a great city for small businesses and local support for local business is really high," Robert Mason said. "We felt that by opening Segreto in Suwanee, we would benefit from the local support and bring Suwanee something it hasn't seen – a restaurant that is food-focused, chef-driven, and provides the highest level of service without any pretense."
And they have been pleasantly surprised by the wonderful reception they have received so far from Suwanee residents and guests from around the area. "Everyone has been so supportive and encouraging," Patel said. "We are so grateful for the kind words and wonderful reviews we have gotten.
Please keep them coming and please…Shhh…Tell Everyone."