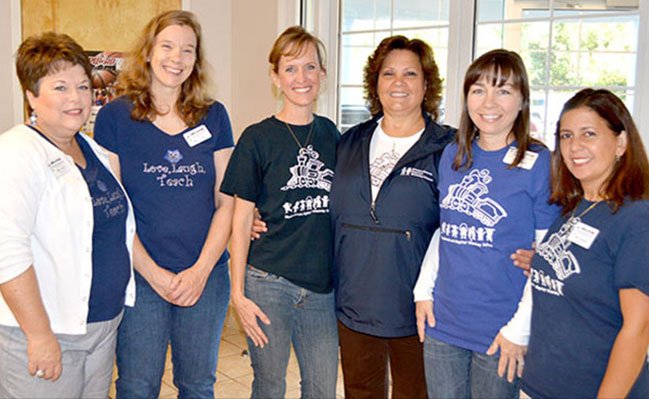 "Love, Laugh, Teach"
BY: Angela Veugeler, Executive Editor
It's Monday morning and we pull into the carpool line at Shadowbrook Baptist Weekday School. After getting up at 5am to get ready for work and get our 3 kids ready for school, I'm thinking of our staff meeting and all of the things that I have to get done that day. In the backseat, our five year old is almost bouncing out of his booster seat with excitement.We pull out the sight words for some last minute practice before getting to the front of the line.
When we get to the front, his teacher Ms. Jana greets us with a warm and excited smile. Our son is smiling his head off at this point and gives Ms. Jana an enthusiastic greeting as she helps him out of the car to join the assistant teacher Ms. Marsha and the other children. I then hand her our two year old, who is new to Shadowbrook this year and has already started reaching for her with open arms.
I forget about work for a moment and my heart fills with gladness as I think about how blessed we are by this school. I have that same feeling every time I walk into the school and especially when I watch one of the performances the children and staff work so hard on. They sing sweet songs I didn't even know they knew about God, and it is such a strong reminder about what really matters most in life. S
Something very important to me as a parent is that my children love learning. There are many years ahead of us in school and if they don't enjoy it, it's going to be a much harder, longer road. The foundation for this is set in preschool and the staff at Shadowbrook have certainly given my children a love for learning.
Shadowbrook starts as early as 15 months and goes through Kindergarten. If you walk into the school, you may notice many of the teachers wearing shirts with the Bible verse on the back, "Train up a child in the way he should go, and when he is old, he will not depart from it." –Proverbs 22:6. New this year, the teachers also have shirts with owls and the school's motto, "Live, Laugh, Teach." As a parent with 3 children that have attended, I can confirm that in our family's experience, that quote and Bible verse sum up the heart of the school.
Many of the staff have been there 10 years or more. Director Carol Fisher has been with Shadowbrook 15 years this coming Spring, first as a teacher and then in 2004, Fisher was promoted to Director.
When asked about the vision of the school, Fisher shared "To continue to learn and improve as much as we can, and be able to give to the children and their families a loving, caring Christian environment."
Shadowbrook does just that, and has a lot to offer academically as well. They offer Art, Music and Movement, Spanish, and Chapel in addition to the regular age-appropriate curriculum. The school hosts many family oriented events and programs throughout the year such as "Tailgate with Dad's", a Thanksgiving luncheon, Christmas program, Spring show and "Munchies with Mom."
According to Fisher, parents often share that it is "a very welcoming environment", and that "they've always felt the love and laughter." The school's goal is to help children in "not only learning academics, but learning the basis of Christianity, and learning about Jesus."
If you'd like to tour the school, Shadowbrook invites interested families on Monday, January 13th and Tuesday, January 14th at 10am. Registration for fall is open to the public on Friday, January 24th at 10am. For more information, call the school at 770-945-3549, or email Carol Fisher at cfisher@shadowbrookchurch.org. ■