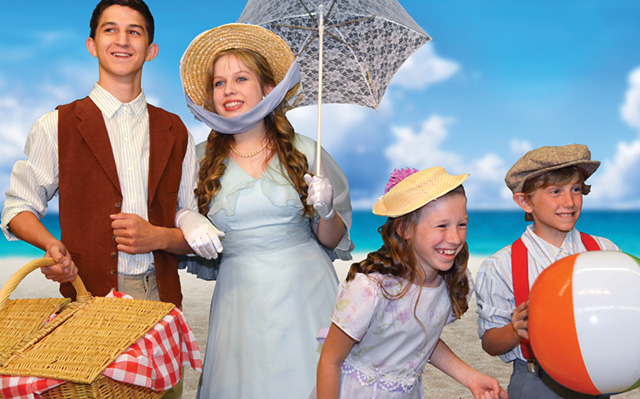 It's time to gear up for another exciting performance. On July 24th and 25th, Suwanee Performing Arts (SPA) will be bringing Ian Fleming's CHITTY CHITTY BANG BANG to Town Center Park. This marks the ninth annual Broadway in the Park. SPA will also be producing THE FINISH LINE, an original one act musical that tells the story of racing-fanatic Penelope as she finds true love in 1917 London.
Based on the beloved 1968 film version of Ian Fleming's children's book, CHITTY CHITTY BANG BANG the musical follows the zany adventures of inventor Caractacus Potts (played by Gabriel Ferrari), his beloved Truly Scrumptious (Natalie Minter), Caractacus' father (Christopher Miller) and children Jemima (Charlotte Wearne) and Jeremy (Luke Wilborn) in the magical flying car of the title, as they outwit a child-hating Baron and Baroness and their Child-Catcher henchman.
THE FINISH LINE, written by SPA founders Berneta Bock Davis and Patricia Etherton with original music composed by Elise Etherton and arranged by Kai Bassett, tells the story of Penelope, a young lady coming of age in 1917 London. Penelope has a passion for all-things racing and no interest in landing a husband, much to the dismay of her family who is actively trying to marry her off to a suitable young man. While commiserating with a friend in his auto repair shop, she meets a kindred spirit – a handsome American fella – who has been working under a car. This is the story of young love and destiny flying in the face of conventional norms.
Broadway in the Park is a family-friendly free event, and is scheduled to begin at 7:00 pm on July 24th and July 25th in Suwanee Town Center Park. Reserved premium seating/tables for Corporate and Patron Sponsors or general admission "sitting-room-only" space near the front of the stage is available for a tax-deductible donation to SPA. More details about the reserved premium and up-front seating can be found at SuwaneePerformingArts.org or by calling 678-482-6333.