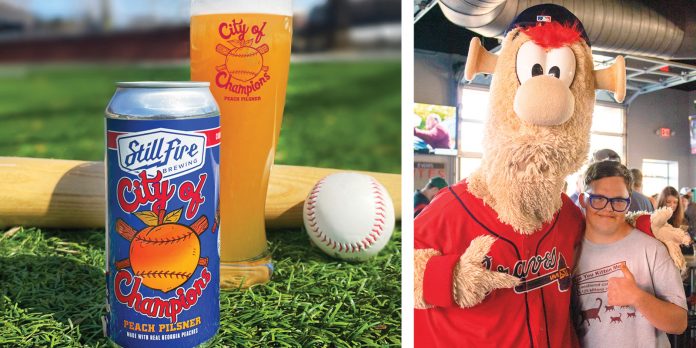 On Friday, April 1st, StillFire Brewing celebrated the most exciting title run in recent memory with a special release party for its newest beer: City of Champions Peach Pilsner. Hundreds of baseball fans descended on the Suwanee brewery to witness a live radio broadcast from StillFire's taproom by Chuck and Chernoff of 680 The Fan and to have their picture taken with Blooper, the ultimate hype man and official mascot of Atlanta's World Champions. Plus, the authors of the new children's book Night 6 of the Series were on hand for an exclusive book signing. A limited edition City of Champions glass was made available for purchase along with 4-packs of the special beer. Party attendees who purchased a glass or a 4-pack were entered in a raffle to win 4 tickets to an Atlanta Braves home game.
City of Champions is a peach Pilsner that is softly bittered in the Bohemian tradition. European barley lends a smooth malty palate while Nelson Sauvin hops balance with hints of grape and gooseberry. The final ingredient is all Georgia – hundreds of pounds of fruit that add a delicate touch in a way only peaches can. The 5.7% ABV beer is now on tap and limited 4-packs are available for purchase.
---
NEW BEER RELEASES AT STILLFIRE BREWING:
Vinny the Elder Double IPA
9.3% ABV
Brewed to honor Brew Master Phil Farrell's late brewdog buddy Vinny. Farrell combed the archives back when Vinny was just a little fuzzball for the prototype of many Double IPAs he brews today. Like its namesake, Vinny the Elder is a 9.3% ABV that is a big dog in a small package. American pale and caramel malts create the perfect foundation to showcase the resin, pine, and grapefruit deliciousness that come from classic "C hops" grown in the Yakima Valley. The explosion of flavors and aromas transition to a classic Double IPA lingering bitterness with a touch of malt. ON TAP NOW.
Our Little Secret Altbier
6.7% ABV
In Altstadt (old town) DÜsseldorf, there is only one beer: Altbier. Like its gold cousin in Cologne, it is an Ale femented at cool temperatures then lagered to smooth it out. Dark amber color with a smooth, chocolate finish, servers will keep full 200ml "stanges" in front of you until you tap out by placing a coaster over your glass. If you know a brewer once a year they will bust out their Secret/Special (Sticke) Altbier that is stronger and more flavorful. StillFire used all German ingredients from Bamburg and lagered Our Little Secret for 6 months. ON TAP NOW.
Extra Suwanee Bitter ESB
6.2% ABV
StillFire Brewing's English Strong Bitter (ESB) has a taste of West London in every sip. A Silver medal winner from the 2019 Can Can Awards, the brewery brought back this ale from their first year by popular demand. Authentic English malt, Kent Golding hops and yeast reward the drinker with a fragrant balance of herbs and slow malted barley. The London yeast in contrast adds a fruity counterpoint of complexity that makes the beer so delicious. The finish is firm yet smooth, making it a very quaffable pint. ON TAP NOW.
Azalea Shandy Mocktail
3.5% ABV
Just in time for golf season, StillFire's new Augusta-inspired Shandy Mocktail is the perfect beer after hitting the links. More famous than the pimento cheese sandwiches in Augusta are the Azalea cocktails. This drink gets its name because the pink color matches the flower that is most associated with Augusta National Golf Club. StillFire's version is a Blonde Ale Shandy made with a careful mix of lemon, pineapple, and lime juices. A small touch of Grenadine adds a pink hue to complete this refreshing, fruity Shandy that is the perfect club selection on a sunny day. Best of all, the gentle ABV allows you to knock a few back and still eagle the 510 yards of the Par 5 #13 Azalea at Augusta. ON TAP NOW.
HopNoxious Double IPA Ver. 3.0
10.24% ABV
The 3rd incarnation of StillFire Brewing's most popular beer returns May 7th. This once-a-year beer is a hopalicious beast of an IPA that is bursting with crazy amounts of grapefruit, orange, pine and apricot flavors with an old-school, West Coast-style hop punch. Surprisingly balanced, the delicious drinkability of this beer belies its massive 10.24% ABV. If you love a great beer, this is one you simply cannot miss! Plus – StillFire Brewing is so obnoxiously obsessed with this beer, they are throwing a block party in honor of its release. The HOPNOXIOUS BLOCK PARTY will feature live music all day Saturday, May 7th starting at 1 p.m. with headliners Interstellar Echoes (Pink Floyd cover band) and more. Tickets available in the taproom or online at BigTickets.com for this event. ON TAP AND AVAILABLE IN 4-PACK CANS STARTING SATURDAY, MAY 7TH.
Strawberry Breaking Blonde Blonde Ale
5.3% ABV
StillFire Brewing took their popular blonde ale, infused with real strawberries, and released it last spring. The response to the smoothie-like beer was so overwhelming, they decided to release it in cans this season. Just in time for Mother's Day, the fruity flavors of this easy-drinking beer are the perfect gift for the mom in your life. ON TAP AND AVAILABLE IN 4-PACK CANS STARTING SUNDAY, MAY 8TH.