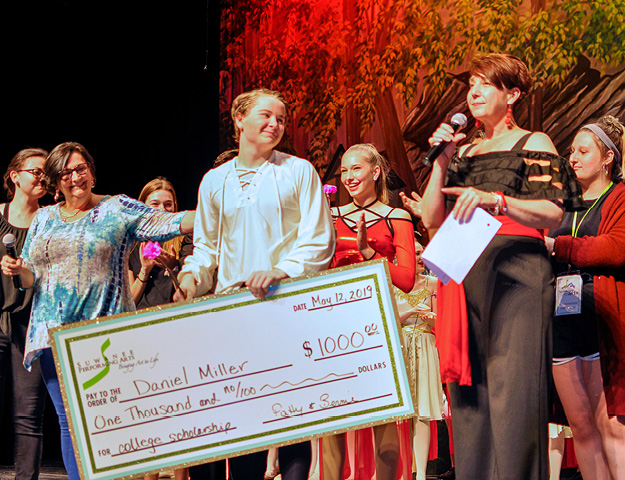 Local student Daniel Miller has dedicated much of his time to the Suwanee Academy of the Arts' internship program for technical theatre. He has created lighting designs, programmed boards and assisted with training teammates on top of performing with the Suwanee Ballet and as a lead in the Community Art Players' productions. "Daniel is the first one to the theater and often the last to leave," says Elise Etherton, director of the AIM Program. "He is an amazing asset to each production that he is involved with." All of his hard work did not go unnoticed as Daniel was recently surprised with a college scholarship after his last performance.
Through the help of donations, Suwanee Performing Arts, a Suwanee Academy of the Arts affiliate, established a Technical Theater Scholarship in Daniel's name. He marked the first-ever recipient of the Daniel T. Miller Scholarship for Technical Theater and was presented with a $1,000 college scholarship on stage. Suwanee Performing Arts will continue to collect donations for the scholarship fund in hopes of rewarding this technical theater scholarship each year.
If you would like to contribute to the fund visit SuwaneePerformingArts.org and click the donate button.