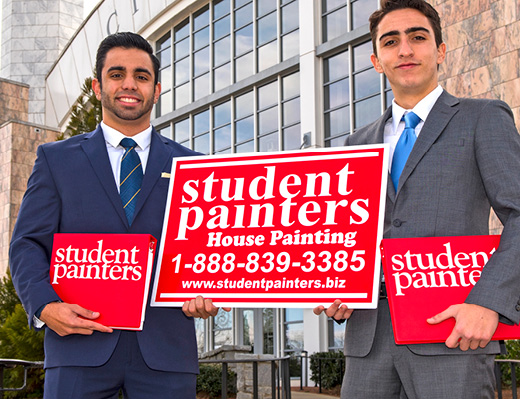 BY: RACHEL PILLOW
Young Entrepreneurs Across America "Student Painters" program offers students unique opportunity to operate their own painting business.
When most people envision a summer internship, they imagine that they'll be making photocopies, going on coffee runs and answering phones. Such is not the case for college students in the Young Entrepreneurs Across America "Student Painters" program. These select students from across the US have the unique opportunity to literally run their own business: from hiring a marketing team to managing budgets and salaries, they are exposed to the ins & outs of being a true business owner.
Young Entrepreneurs Across America was established over twenty years ago with the mission of "developing exceptional young people into successful entrepreneurs through proven systems and field training." They do this by literally teaching undergraduate students how to run and manage a small business, in effect, making them more attractive to full-time employees and better preparing them for the real world post-graduation.
This is the first year that Young Entrepreneurs Across America will be training and operating in Gwinnett County. Georgia Tech student, Anthony Perez and Georgia State University student, Alvaro Galvez, are excited to bring this program back to their hometowns of Suwanee and Duluth. As Branch Managers in Gwinnett County, they will operate their painting businesses in the 30024, 30097 and 30043 zip codes. "Bringing our business back to our hometown makes such a difference – we're interacting with people that we grew up with," said Perez.
The painting season is from May – August, but the Branch Managers are already gearing up for the season through intensive business training seminars and hiring their marketing teams and painters. Perez and Galvez are recruiting high school and college students for their marketing teams, and are in complete control of the hiring process." Many of the painters that join the team are experienced residential painters, however each painter hired must go through a complete Sherwin Williams training program.
Branch Managers must also complete the training program so that they know how to effectively manage their staff and address any questions, comments or concerns out on the field. "Sometimes customers are a little skeptical about using a student service," admitted Galvez, "But we just have to reassure them – we have an A+ rating and are accredited with the Better Business Bureau and offer 1-2 year warranties for every paint job." Backed by Sherwin Williams training and resources, and over 2 decades of proven processes, the Student Painters program has proved itself as a reputable service. "One of our jobs as Branch Managers is to deconstruct any stigmas that are associated with the word "student" in Student Painters," Galvez continued.
"This is the most direct, practical experience you'll get while you're in school. I get to choose how much time and effort I put into this," said Galvez. During the busy summer season, students in the program put in 40+ hours of work each week, but the potential outcome is well worth it. The average profit for each sector is around $50,000 for the 3-month season. If Branch Managers can generate over $70,000 then they are awarded with a celebratory trip to Jamaica. As "owners and operators" of their businesses, Branch Managers must learn how to manage the cash flow effectively. It's entirely up to us what we want to pay our employees," explained Perez.
Most Branch Managers never dreamt of painting as a career choice, but students in the program all have similar goals of learning to operate a business and this offers them that unique opportunity. "No matter what the service is, the skills we learn here can be applied across multiple levels," explained Perez. "One of the reasons I joined the program is so I could own my leadership skills and see if a managerial position real is for me," he continued. "Whatever I end up doing, this experience will give me a lot of insight into what I want to do and how I will accomplish it," said Galvez.
For more internship inquiries about Young Entrepreneurs Across America, visit yeaainternship.com. For a free estimate or information about Student Painters in your area, contact: For 30024 and 30097 zip codes: Anthony Perez at 678-481-0231 or anthony.studentpainters@gmail.com. For projects within the 30043 zip codes: Alvaro Galvez at 404-547-0276 or alvaro.studentpainters@gmail.com.