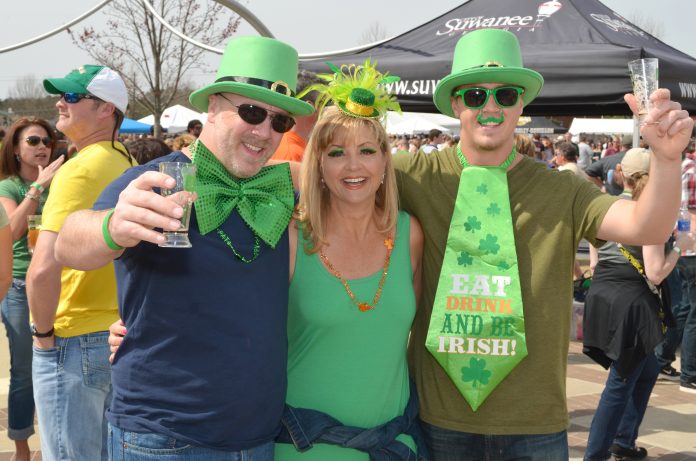 BY: Rachel Fasig
Nearly 6,000 beer lovers will flock to Suwanee Town Center Park on Saturday, March 14th for the 5th Annual Suwanee American Craft Beer Fest, presented by The Fresh Market. Suwanee Beer Fest has become widely known as one of the premier craft beer events in the Southeast. With unlimited sampling of over 300 craft beers, it has become a destination for beer enthusiasts nationwide! Named "Best Festival in Gwinnett" by the 2014 Gwinnett Daily Post Reader's Choice Awards, the event organizers and their community sponsors are committed to making the 5th annual festival the best one yet. 
The stakes have been raised with the addition of Suwanee Beer Fest's inaugural Brew Battle! Powered by DraftServ Technologies and sponsored by The Fresh Market and Spectrum Packaging – this epic showdown will feature 10 Georgia breweries, each vying for the title of Brew Battle Champion. Ten local breweries were invited to put their best beer forward as nearly 6,000 Suwanee Beer Fest attendees will decide who reigns supreme.
But, these local breweries aren't the only ones going head-to-head on March 14th. Sponsored by Brew Depot, the Suwanee Beer Fest Home Brew Competition includes over 100 home brewers and 250 different beers this year! The "Best in Show" home brew winner will be crowned onstage during the event. That is, if Atlanta's award–winning 80s tribute band, Mad Margritt and Chicago's very own Fulkinetic, don't burn it down first with their awe-inspiring rock & roll antics!
The Suwanee Beer Festival is dedicated to supporting and celebrating the American craft beer culture while also giving back to the community. As tradition holds, a large portion of total proceeds will benefit Kingdom Kids, a local nonprofit organization that grants wishes to children with life-threatening illnesses. For more information and to purchase tickets, visit suwaneebeerfest.com. This event sells out each year, so don't wait! Follow "SuwaneeBeerFest" on Facebook, Twitter and Instagram for regular updates.
WHAT TO EXPECT AT THE 5TH ANNUAL SUWANEE BEER FEST:
■ Unlimited samples of 300+ American craft beers!
■ Debut of seasonal and hard-to-find brews
■ Cooking with beer demos + samples by The Fresh Market
■ Inaugural Brew Battle powered by DraftServ – 10 LOCAL BREWERIES FACE OFF and YOU can help them win!
■ Gwinnett Cornhole Tournament with awesome beer swag prizes! Sign up at suwaneebeerfest.com
■ Irish beers in celebration of St. Patty's Day
■ Live music from Chicago's Fulkinetic and award-wining 80's Tribute band, Mad Margritt
■ Professional Irish Dancers
■ Beer flavored ice cream and desserts
■ Backyard games including beer pong and more!
■ Great food including pizza, brats, sausages, hamburgers, tacos, bbq & more!
■ Basketball game coverage available at "Game Day in the South" tailgate set-up
■ The 4th annual Home Brew Competition hosted by Brew Depot
■ Popular vendors providing special deals and samples
■ AND MUCH MORE!