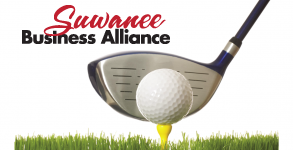 By: Ed Szczesniak
President, Suwanee Business Alliance
Phil Mickelson, Tiger Woods, Cristie Kerr, Sergio Garcia…No, you won't see them at the Suwanee Business Alliance's annual golf tournament. But you will see Richard Trice, Monty Montgomery, Sandy Richardson and John Miles! And just who are they?
They're Suwanee business folks who love to have fun, play something that "sort of" resembles golf and raise money for some great people in our own backyard who could use a little help.
On April 24 the Suwanee Business Alliance will hold the 11th Annual Charity Golf Tournament. This tournament raises funds for a variety of causes in our own community and is one of the most fun local events of the year. Where else can you join your neighbors (the fun-loving ones), play hooky on a Tuesday, on a great golf course, enjoy some wonderful food, very cold beverages, win some great prizes, and do it all while helping your neighbors?
The organization uses the proceeds from the event to help other local organizations like Annandale Village, the Quinn House, GaGa for TaTas, the Foster Children's Foundation, Toys for Tots, North Gwinnett Schools, Suwanee Police Department, Gwinnett Sexual Assault Center, North Gwinnett High School athletics as well as various local families who could use a little TLC (Tender Local Care).
During the past 10 years the SBA has invested more than $54,000 in our community and the need continues to grow. And you can help!
Sponsors will receive significant recognition on the SBA website and all tournament advertising, publications and banners. We'll provide players with goodie bags, breakfast, lunch, refreshments, a host of great new awards and prizes, a silent auction, and a heck of a lot of fun.
The tournament director, John Lowery, said this year's tournament promises to be bigger and better than ever including the birth of the soon to be coveted "SBA Cup" as well as the "Suwanee Banker's Cup."
We're looking for players, teams and sponsors at various levels, prize donations, and people who want to not only get together for a great cause, but get to know their fellow business neighbors in the process!
For more information please visit the SBA website at Suwanee.org or call John Lowery at 770-331-6361
When: April 24, 2012
8:00a.m. Registration / Breakfast
9:00a.m. Shotgun Start
Where: Hamilton Mill Golf Course
The SBA meets the 2nd Wednesday of every month from 6 p.m. to 8 p.m. at different business locations in town.