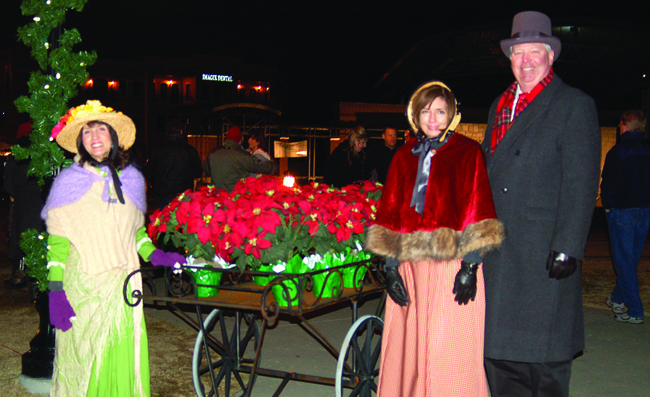 Suwanee Performing Arts 8th Annual Gingerbread Festival
December 1st 1230 pm – 3 pm
The Gingerbread contest is open to all individuals, families, groups, organizations, businesses, so anyone can enter!
The theme for this year's contest is "Songs of the Seasons." Suwanee Youth Ballet and Sounds of Suwanee will perform during the festival, and the event also includes a bake sale to benefit Suwanee Youth Ballet.
2012 Gingerbread Contest Rules:
■ Each entry must be accompanied by a $10 entry fee
■ Entries should be delivered to Suwanee Academy of
the Arts (341 Main Street, Suwanee) between the
hours of 9:00 a.m. and
11:00 a.m. on Saturday, December 1.
■ Any structure – real or imaginary, person, place
or thing – is eligible for the contest.
■ Entries should be original structures, constructed mainly of
gingerbread.
■ Entries may include lighting if desired. Entrant should provide
extension cords to reach electric sockets.
■ Entries must have been constructed in 2012.
Prizes will be awarded in these categories:
■ Best use of candy
■ Most Creative
■ Most edible
■ Best use of theme
■ People's Choice ($100 prize): the winner in this category is
determined by popular vote of the public. Each vote costs $1.
■ Entries must be picked up from the Academy no later than
1:00 p.m. Friday, December 7th. Any structures left after that
time will be thrown away – NO EXCEPTIONS!

2012 Nutcracker Tea Party
Saturday, December 1
10:30 a.m. – 11:30 a.m.
Enjoy a delightful morning ofrefreshments, music, stories, & dancing. And an extra-special performance by the Sugar Plum Fairy! Please dress for Tea. Tickets – $25 each. Reservations: 678-482-6333
5th Annual Christmas in the Park

Experience Annual Christmas Gift to Suwanee community from Shadowbrook Baptist Church
Bring your family and friends to experience the reason for the season from 5:30 p.m. – 8 p.m. Dec. 7 and 8 at Christmas in the Park held by Shadowbrook Baptist Church.
The Christmas village, located in Town Center Park, will consist of 11 Christmas buildings offering children's activities, a children's Nativity, and kids of all ages can climb aboard the train to ride through the village and experience the lights and sounds of Christmas. Carols old and new will be performed by local schools and churches as visitors warm up from the inside out while drinking a complimentary cup of hot chocolate and taking in the sights as they stroll through the Christmas village, stopping fpr photographs with friendly Dicken's villagers along the way. Challenge yourself at "The Great Winter Race" where children and teens will compete for the best time. Gift cards will be awarded at the end of the evening. Canned food, coats and blanket donations to the Caring Hearts Ministry, a Suwanee Community food bank, are appreciated. Donations may be dropped off at the "Hot Spot" locations found at several businesses located in Town Center. In some cases you may receive a discount for making a donation.