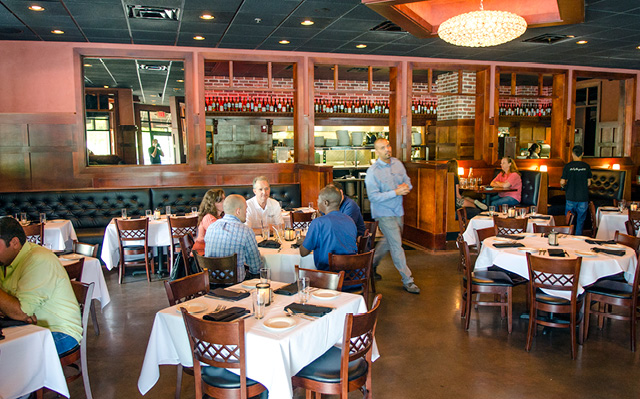 Nestled in the heart of Suwanee Town Center Park, the owners of Suwanee Park Tavern have brought a little piece of the city to our doorstep. Walking into Suwanee Park Tavern you immediately notice the modern feel with a twist of classic elegance. The stained concrete floors mix nicely with the dark wood and white tablecloths lending to that upscale yet approachable vibe.
Owner, Robert Oakley, gave us some insight into what Suwanee Park Tavern is all about. "When my wife, Rhonda, and I were looking to open a restaurant we had envisioned something on a much smaller scale," he said. But when the opportunity came along to work with such a great space- we knew we had to take it!"
Robert and Rhonda are two self-proclaimed foodies who had always talked about opening a family run diner. They are passionate about great food and great service. No strangers to the Food Network- they enjoy all things food related. Their vision of a small town diner has evolved into a large urban restaurant with an open air bar, with indoor and outdoor seating. What they did keep from their original concept, however, was the personalized, family-oriented style which can be seen in the little details throughout the dining experience. "We are very much a family run restaurant," said Robert. "Both my sons, my daughter, and my nephew help to make up the 30 person staff."
The owners have lived in the Suwanee area for many years so they truly know the people and enjoy serving the community. "Many of the customers are my neighbors which is great because they are always the most honest about their experience," said Robert. His goal for each customer is- for them to leave happier than when they entered SPT. "I encourage feedback of any kind," he said, "I want to make sure that the dining experience is always top notch!"
At Suwanee Park Tavern each dish is given the same amount of attention and importance. Whether you order the club sandwich or the Steak del Monaco, you will leave thoroughly satisfied with what you ordered. That is what makes the restaurant such a gem, it is perfect for a casual family night out or a classy date night!
Let's not forget about that fabulous open door bar! Fridays and Saturdays at 9:00PM the flair show begins behind the bar; each bartender stacking countless shot glasses and throwing bottles in the air. If you are in the mood for a cocktail, you have to try their "Bubbles and berries" Citrus Vodka, Creme de Casis, Lemon Juice, Marinated Berries, Prosseco and little bit of smoking dry ice to finish it off- definitely a showstopper!
If you're looking for a new date night hang, family dining spot, or a girls night out- Suwanee Park Tavern has something for everyone!