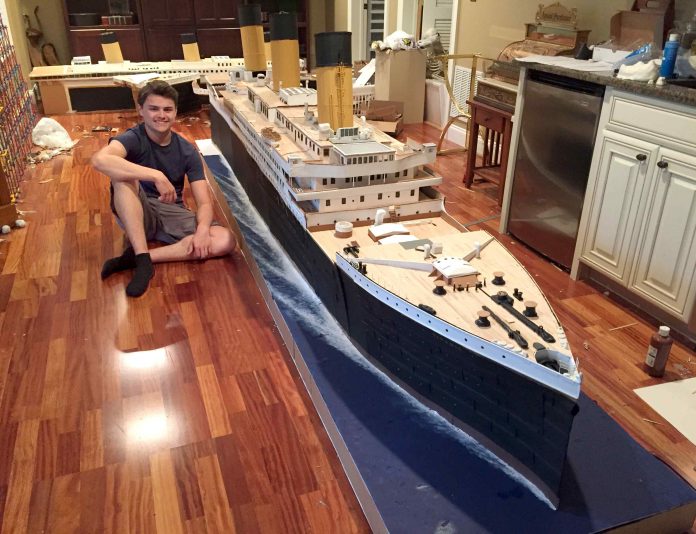 Alex Ross, age 18, just graduated from North Gwinnett High School and is heading to Kennesaw State University in the Architecture Program beginning fall of 2016. Like many other graduating seniors, he is excited to spend this summer hanging out with friends and getting ready for college. But, unlike his classmates, he will be completing a project that has been four years in the making: a 26 foot long model of the Titanic ship. The impressive structure currently resides in Ross' basement but will soon be moving to the new North Gwinnett Arts Association (NGAA) Center for the Arts in mid- July.
NGAA's facility in Suwanee Town Center, is the hub of our art community, offering art school, workshops, classes, space for artists to work and display their creations, summer camps, parents nights out and more. It is dedicated to celebrating and promoting our local art culture and to giving both children and adults the resources to pursue the arts. Vickie Johnson, NGAA President, first heard about Alex Ross from Corey Holdrich, Stylist at Hairllucinations Salon. While Ross was getting his hair cut from Corey he showed him pictures of his Titanic project. Holdrich was so impressed and knew it was something that had to be shared with the community, particularly his friend/client Vickie Johnson. "When Corey first told me about it I had no idea how huge this was until I actually saw the pictures…it's very impressive and I'm so excited to have it in our Center!" Vickie said.
Ross first became interested in the history, magnitude, beauty and tragedy of the Titanic after learning about it in his 7th grade class. At that point his parents bought him a small-scale Titanic model kit; which was admittedly fun to build, but he had much grander plans in mind. During his freshman
year of high school those plans started becoming a reality. Ross built the model from historic blueprints of the actual ship. "One time I threw out the entire front section of the ship (and hours of work) because it wasn't perfect. I want it to be as historically accurate as possible… it'd be really cool if it even ended up in a museum one day," he said. Ross uses everyday resources to construct the display, including tools such as: cardboard, wire, popsicle sticks, wood, LED lights, electrical wiring, modeling clay and paint. He is resourceful and economical with his tools. "I first started building it from a pile of Amazon boxes I found in the basement," he said. "Now whenever my parents get something shipped to the house they throw the box down the stairs for me," he continued. He painstakingly details every aspect of the ship: inside and out. The original ship was covered in rivets, and when his model is complete there will be close to 50,000 hand-created rivets on it… each individual dot made with glue. He has added cracks and splinters in the ship deck in the exact location where the Titanic split before sinking. Inside the model ship he has added tile flooring, staircases, lighting, seats tables, doorways, railings and other details – all based on actual photos of the Titanic.
"It's hard to say exactly how many hours I've spent on this project," Ross said. "But I started my freshman year of high school and during the school year would probably spend 2-3 hours/day on average and much more time during the summers. There were times in the summer when I'd spend all day working on it," he admitted. The hours have already started to pay off. When applying for the Architecture Program at Kennesaw State, Ross submitted photos of the ship and the University staff had never seen anything like it. He is now excited to pursue his passion at the next level. "Hopefully this will evolve into a really cool career…I would love to build buildings or even the inside of ships," he said. The NGAA will be hosting an open house reception when the model ship is moved to their Center for the Arts. For more information about the North Gwinnett Arts Association, visit ngaa4arts.com. ✱