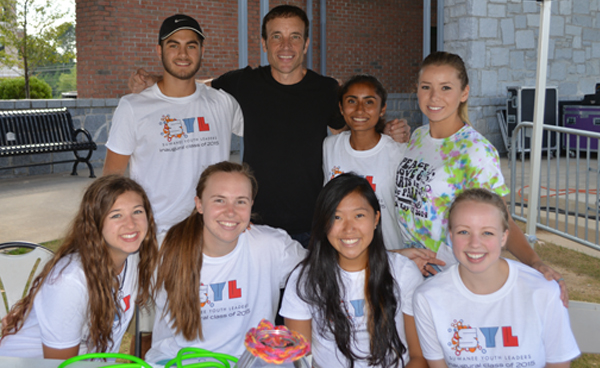 BY: Rachel Fasig
Many Suwanee residents have come to anticipate the first Friday of each month as "Food Truck Friday" in Town Center Park. With live music on stage and Atlanta's best food trucks lining the street, it has been known to draw a crowd, but none quite as large as the crowd seen on Friday, August 1st.
The huge success of this particular Food Truck Friday can be attributed to the hard work, creativity and dedication of Suwanee Youth Leaders (SYL) – the event organizers. With a very limited budget and an unlimited amount of enthusiasm, the Suwanee Youth Leaders set out with a goal to make August's Food Truck Friday, the best that Suwanee has seen yet. And, many
residents believe that they succeeded.
The SYL team secured an excellent food truck lineup, consisting of Freckled and Blue, Mac the Cheese, Nana G's Chicken and Waffles, On Tapa the World, Pressed for Time, Tracey's Tasties, Tex's Tacos, Smiley's Street Eats, MG's Burger Que, and King of Pops, as well as one of the best local music groups around, Rupert's Orchestra– an eclectic party band that rocked the stage with a variety of music, including rock, swing and Top 40 hits.
Already familiar with the power of local networking – one of the SYL students was able to book this in- demand music group because a band member also doubles as her Cross Country Coach at Peachtree Ridge High School.
The overall experience was enhanced with the addition of inflatable slides and rides as well as a raffle consisting of great prizes, donated from local retailers such as: Michel's Salon, Savvy Nails, Mellow Mushroom, Cheeky, Brown Bag Deli, Serious Tennis, Big Peach Running and Suwanee Vision.
The students quickly learned how to be creative on a budget and that the community of Suwanee is filled with generous people, willing to donate their services and time for the greater good of our City.
The Suwanee Youth Leaders organization is new to the City of Suwanee and was established in January of 2014. The program consists of 54 students from North Gwinnett and Peachtree Ridge High Schools, and runs from January through September with regular monthly meetings, and weekly meetings as necessary leading up to an event. One member, Reena Thaker said, "The best part about this group is that it integrates the high schools – and we make friends that we'd probably never meet otherwise." Denise Brinson, Director of Economic and Community Development and Co-Leader of SYL said, "It has given us, as a City, the opportunity to get to know the schools and students in a new way as well."
The program has also given the staff at the City of Suwanee a unique perspective and outlook. Most city events are handled and organized by the same group of people. Those people do a wonderful job, however, they are now able to tap into new insight. "We have been able to use this group to run things by them for a youth perspective," said Brinson. And that perspective is going a long way as the City prepares for Suwanee Fest – the City's largest event that will now be held over a two-day period, September 20-21st.
In fact, SYL is being utilized for much more beyond their insight and opinions when it comes to planning Suwanee Fest. The SYL students are divided into Suwanee Fest
Committees that are handling anything from transportation to entertainment, marketing, social media and writing newsletters. "We are really allowing the youth to be involved with the City
in a direct way…and we are grooming young leaders for local government," said Brinson.
Many of the students in the program aspire to be leaders in their community in some capacity and the City of Suwanee officials see a bright future in this regard. Adam Edge, Downtown and Business Development Manager and Co- Leader of SYL, sang their praise, "Everyone is super engaged, smart, and community-oriented. They are an exceptional group of students."

"They have exceeded my expectations in every category. They are so pleasant to be around and very mature. Their attitude is a testament to the community in general," added Brinson.
The Suwanee Youth Leaders are excited to once again show the fruits of their labor as Suwanee Fest unfolds. The organization will be accepting applicants for 2015 through October 25th. For more information about the program, please visit suwanee.com/community.youthleaders.php.