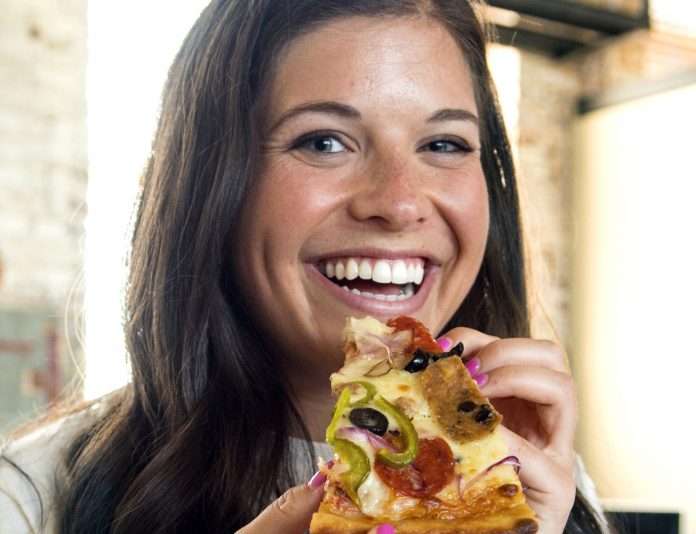 By: Rachel Pillow
From thin crust to thick, stone-baked to oven-baked, pesto sauce to traditional marinara, from meat-lovers to grilled peach, the pizzas in our first-ever "Best Pizza in Suwanee" contest covered a variety of unique styles, toppings and flavors. It's clear that Suwanee has some of the best pizza around. But, only one could be crowned the official champion!
The Contest:
We invited nine local pizza shops to participate in the "Best Pizza in Suwanee" contest. The criteria were that the pizza shop's address must be in Suwanee and that it must exclusively serve pizza or have the word "pizza" in its name. We asked each restaurant to deliver a large pizza of their choice to our office on Friday, June 10th where we also invited several local chefs and renowned food experts to judge the competition. Each pizza was judged based on three categories: pizza appearance, taste and overall impression. Our judges rated each pizza from 1-10 on the crust, cheese, toppings, sauce, overall taste, creativity and chances of ordering again.
Judges:
JOE CONNOR Chef and Managing Partner of Tannery Row Ale House
RICO CUNNINGTON Owner and Executive Chef of Rico's World Kitchen
SILVIO HERNANDEZ-MEDINA Executive Chef of Bare Bones Steakhouse
SKYE ESTROFF Marketing Manager of Atlanta Eats TV and Radio Show
*Nine Suwanee Magazine staff members participated in the process and their score sheets counted for the "People's Choice Award."
THE 2016 WINNERS:
FIRST PLACE: Mellow Mushroom Bakers
Our first place champion is a tried and true, popular pizza joint in Suwanee Town Center Park. Congratulations Mellow Mushroom for winning Suwanee's Best Pizza! Mellow Mushroom won 1st place with their House Special, Mellow Mushroom's unique and flavorful crust is a true original and part of their trademark.
House: Signature red sauce, mozzarella, pepperoni, ground beef, sausage, Applewood smoked bacon, ham, mushroom, green peppers, onions, tomatoes, black olives, EXTRA mozzarella; and butter & parmesan on the crust that everyone loves.
JUDGES COMMENTS: ✓ Great flavor! ✓ Best looking pizza of the bunch. ✓ I like a lot of toppings, so this ✓ Would definitely order again!
SECOND PLACE & People's Choice Award Winner: Suwanee Pizza Tavern 
SPT Special: This wood-fired, handcrafted pizza is made with Suwanee Pizza
Tavern's signature dough and has just the right blend of meat and veggies, then topped with fresh mozzarella and feta cheese. All of these toppings were carefully selected by their pizza Chef to pair perfectly with their homemade Bianco White sauce, and all together it is bursting with flavor with every bite
JUDGES COMMENTS: ✓ Looks as delicious as it tastes. ✓ Love the combination of toppings. ✓ Good ratio of ingredients to crust.
THIRD PLACE: Sid's Pizza & Grill
Supreme Pizza: Stone baked pizza cooked on Vermont Soapstone. The crust is made form scratch using an age-old Italian recipe that takes 48 hours to reach its prime. Sauce is made up of olive oil, rosemary, basil, sugar, salt, onions, garlic and tomatoes. Toppings include pepperoni, mozzarella, onion, mushroom, sauteed green pepper and Italian sausage. Sid's is known for their Sicilian-style pizza with a California-inspired twist. 
JUDGES COMMENTS: ✓ Perfect crust and sauce ✓ Love the fluffier crust of this one!
Check out what our judges had to say about the other contestants!
Deluxe Uno: Green peppers onions, mushrooms, pepperoni, sausage and cheese.
JUDGES COMMENTS: ✓ Great flavor on the crust. ✓ Love the overall taste and the crust. ✓ Love that I got cheese flavor on the crust. ✓ There was a creaminess that I really enjoyed with this piece.
Grandma's Signature: Just like grandma used to make: light cheese, marinara sauce, basil and extra virgin olive oil. The Olluri family has been making this pizza for 50 years starting in New York.
JUDGES COMMENTS: ✓ I enjoyed the crisp crust and the sweetness of the sauce. ✓ Great flavor. ✓ Nice use of basil as topping.
Chicken Spinach Pesto: Basil pesto base, fresh spinach, grilled seasoned chicken, bacon, red onions, feta cheese, chopped garlic and mozzarella cheese. 
JUDGES COMMENTS: ✓ Love the pesto base. ✓ Love chicken pesto! ✓ Unique flavor combo.
Brooklyn Flagship Pizza: Cheese, pepperoni, sausage, beef, mushrooms, onions, peppers, olives, ham and mozzarella cheese.
 JUDGES COMMENTS: ✓ The cheese was delicious. ✓ Crust had a nice texture. ✓ This is a good, classic pizza.
Peach Prosciutto: Olive oil base, mozzarella, ricotta and parmesan cheeses, prosciutto ham, peach slices, honey, balsamic glaze and fresh basil.
JUDGES COMMENTS: ✓ Not something that I would generally order, but enjoyed it more than I thought I would. Very good crust and ingredient combo. ✓ This was a very pretty slice
Johnny's New York Style Pizza:
Johnny's Signature Pizza: Johnny's hand tossed dough, made fresh daily, spun to a thin crust and lathered with a zesty combination of tomatoes and spiced with pizza sauce, sprinkled with a blend of grated cheeses and spices that they call "LOVE." Topped with whole milk mozzarella, a mildly spiced Italian sausage, fresh mushrooms, crisp onions and green peppers and layered with the highest quality pepperoni, then baked to perfection in a hearth stone oven.
JUDGES COMMENTS: ✓ Yum!