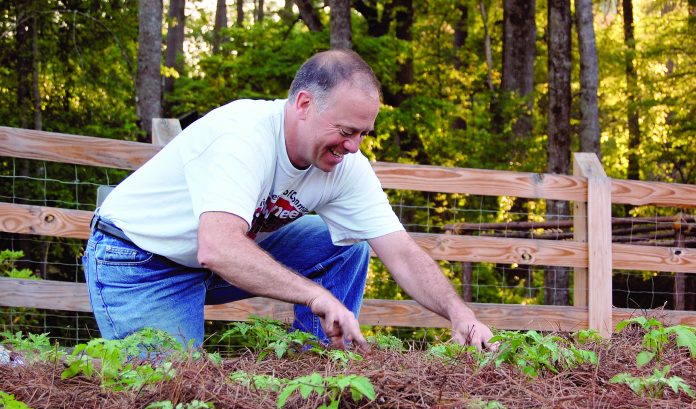 BY: Tana Christian Suggs
Residents of Suwanee have a lot of reasons to get out and see friends and neighbors whether it's at Suwanee Town Center Park for a festival, a meeting at City Hall or playing in the dirt at Suwanee's Community Garden. The community garden opened in spring 2010. Now beginning the third season, it's the place to go to grow plants or a garden as it fosters a sense of community.
Suwanee's Community Garden sits on nearly seven acres of farm property on White Street that was purchased by the city in 2003 with proceeds from the approved open-space bond.
The garden includes 75 plots with about 85 families tending to those garden plots.
Jessica Roth with the City of Suwanee and Manager of the Community Garden project said there are several who are master gardeners and they're a great asset. The day-to-day operations of the garden are overseen by a nine-member managing board that Roth is also a member of.
"We're proud to have been at 100% capacity for our first three seasons, with a small waiting list," Roth said. "I think this shows that we have an attractive and well-maintained garden and that we offer activities that appeal to our diverse group of gardeners. The majority of our gardeners return from year to year and we have a large number of them who have been with us since the garden first opened in 2010."
Roth added that community gardens are one of the hottest trends for cities to undertake right now.
"In just the past six months, I have consulted with about six different cities within a 20-mile radius who are planning community gardens," she said. "We're proud to be a leader in this trend and to share the lessons and experiences that we have had."
While the garden produces food, beautiful plants, foliage and fosters community, Roth said education is one of the biggest benefits. All classes are open to the community, regardless of whether you have a plot.
"We're in the process of developing a website now that will enhance our communications with gardeners and the community and allow us to provide online educational resources," Roth said.
The Community Garden held the first-ever seedling sale April 21, an event to raise funds for the garden. Roth explained that a lot of the garden's long-term plans are dependent on receiving donations, so they're really more of a wish list that includes an outdoor kitchen, a children's tree house, a greenhouse, etc.
Roth said one of the more immediate projects is the launch of a demonstration plot that will be tended by volunteers and used to teach gardeners different techniques, introduce them to plants they may not be familiar with, etc. Roth said they would love to receive donations for the construction of an outdoor kitchen to teach in-garden cooking classes to inspire gardeners to try new recipes and techniques with their harvest
And Roth said one thing that makes them proud is that the community garden helps to support the surrounding community.
"We have one plot that is planted and maintained by volunteers and all the produce from that plot is donated to the Quinn House in Lawrenceville, along with any produce gardeners want to donate from their own plots," she said. "In 2011, we donated 276 pounds of fresh produce to the Quinn House. We also collect other items to donate to other groups – canned goods for the local food bank, coats/blankets in winter, clothing and toiletries for last spring's tornado victims in north GA."
Harvest Farm is so much more than a garden to the Suwanee community. According to Roth, the community has engaged over 3,000 hours in the garden, building it from the ground up, participating in monthly volunteer work days, attending classes and social events in the garden and more.
Roth said it has become a popular place for scout troops to tour, work on environmental badges, or even hold Scout ceremonies in the amphitheater that the Public Works Department built.
In addition, several area schools have been involved, including North Gwinnett HS, Peachtree Ridge HS and Legacy Academy, who have had plots for projects.
"It's a place where the community can truly interact and get to know each other on a neighbor-to-neighbor basis, which isn't something that would traditionally always happen in some of the other parks," Roth said.
"It's as much about gardening, as it is about engaging with the community."
For more information, go to suwanee.com.