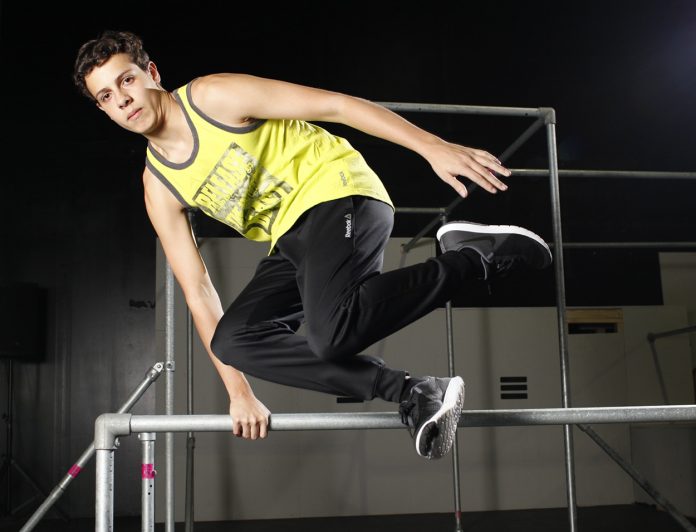 How many times have you said, "This will be my year! The year I lose weight, eat healthily, fit into my "skinny" jeans?" Well, we want to help you make it your year and mean it this time. Sometimes all it takes is a little extra motivation, so we found some of Suwanee's best success stories to help inspire you.
Photos by: PAUL PERDUE & WALT WOODEN
---
Whether you are needing to lose a lot of weight due to a health scare or want to start working out to combat stress and anxiety, these next few pages showcase three individuals who have been transformed, physically and emotionally, from working out…
Holly Campbell
FITNESS RESULTS SINCE MARCH 2016:
Lost 28 pounds / 8 inches off waist
7 inches off hips / 3 inches off each arm and leg
TRAINER: Daniel LeBlanc, Stage 3 Fitness
In her own words, Holly has decided to share her weight loss journey with our readers in order to encourage others to take action and achieve a healthy lifestyle…
We have all been there… thinking you look okay, until one day someone takes a picture, you look at it, and begin to cry. That is exactly what happened to me. I decided to make a change, and began to work out again. I was able to lose a few pounds on my own, but knew I was going to need professional help. That is when I found Stage 3 Fitness. On March 23, 2016 I took my first class at Stage 3, and within a month or so lost five pounds. I was ecstatic! But not long after that, I hit a plateau. I sought help from Daniel LeBlanc. He taught me clean eating habits and encouraged me to continue to strive after my goal, day in and day out!
Dan taught me that with a lot of discipline, dedication and by getting out of my comfort zone, using heavier weights, running faster and staying focused, that anyone can reach their goals. He even encouraged other trainers to push me just as hard in their classes (shout out to Angie Timmerman Willett and John Kim). They kept me motivated and Dan is the man!
Within 6 months I lost 28 pounds, which equals about 8 inches in the waist, 7 inches in my hips and 3 inches off each arm and leg and I have even gained some muscle! I owe it all to Dan and the staff at Stage 3 Fitness.
I hate to say it, but there is no magic pill! It's just old-fashioned working out and eating sensibly. This took me 6 months to achieve. Do not expect overnight results. Lately, I have been taking care of myself, maintaining my fitness goals and my doctor has even reduced my blood pressure medication with hopes of totally being off it soon.
Everyone has challenges in life, I just had to decide that my challenges were no longer a reason to avoid the gym. When I have a particularly challenging day, that is the day I go in, bust my butt and leave it all on the floor. No more excuses!
---
Lynn Mace
SEPTEMBER 2013: 550 Pounds
DECEMBER 2016: 247 Pounds
TRAINER: Dustin Chovanic, Georgia Fitness
Over the past three years Lynn Mace has lost an average of over 100 pounds a year without any surgeries or diet pills: simply from pure hard work and dedication! Weighing 247 pounds today, Lynn, age 38, made the decision to start working out in September of 2013 when she weighed 550 pounds. Weighing 575 at her heaviest, she had realized just how detrimental her weight was to her health. In early 2013 a torn meniscus in her knee could not be operated on because she exceeded the hospital weight limit for surgery. But, another health scare is what really set the change into motion. One night Lynn woke up thinking she was having a heart attack, but it was that the fat in her belly had shifted on top of her ribs and cracked them. "It was such horrible pain and it was so scary to me to think that the fat in my own body could crack a bone," she said.
Meeting Her Trainer
Lynn's life began to turn around after she met Dustin Chovanic, her personal trainer and President of Georgia Fitness in Suwanee. When they were introduced, Dustin had a gym in North Carolina, where Lynn still lives today. Dustin has had such an impact on Lynn's life though that when he relocated to Suwanee, she decided to continue working with him. He will give her workouts each week over the phone and has trainers in North Carolina that still help hold her accountable. He also still holds her accountable for what she is eating. He has never put her on a strict diet, but rather has taught her healthier ways to eat and prepare food while also allowing for sweets in moderation. "It's crazy how your body starts to crave healthier foods though and how your tastebuds change – years ago I hated dark chocolate (which is healthier for you than milk chocolate), but now that
Lynn was in a dark place when she first started working out. Her husband passed away from cancer in 2011, she was taking anti-depressants three times a day and blood pressure medication twice a day. When she first set foot in the gym she could not even walk without a cane. Today, she is completely off her anti-depressants and blood pressure medications, and is running, lifting weights, doing squats, kick-boxing and more. "Lynn likes doing the hard stuff that nobody else wants to do: like burpees and mountain climbers," said Dustin. "It's because I couldn't ever do those things before and always wanted my body to be able to," Lynn continued.
But, it has been a very long and very difficult road and the journey is still continuing today. "She will always have to work hard to keep this weight off, this is a complete lifestyle change," said Dustin. The very first "work-out" that he
gave Lynn was simply to step up and down an 8-inch step. When she fell he knew that this was unlike any other client he had ever worked with. "But the first thing I told her was," Lynn, there's no easy way to do this, you're going to have to get through it," he said. Lynn said that her life has completely changed for the better and that there is no stopping what she can do now.
Athletic Accomplishments
Lynn visits Suwanee as often as possible (about every month) to workout with Dustin and most of her athletic feats have been accomplished in Suwanee. Since 2014 Lynn has completed nine 5Ks, walking the first three or four races, but now running them. On February 26th she will also run her third half-marathon at the Suwanee Gateway Half Marathon Presented by Georgia Fitness.
Psychological Well-Being
The dedication of Lynn's trainer is evident in just how invested he is in her life: in not only her physical progress, but also her emotional and psychological well-being. The day before her first half-marathon Lynn was trying every excuse to get out of it, so Dustin. had her spend the night at his house so that he could make sure they went together in the morning; and he did the entire half-marathon right by her side too. "The mind quits before the body does and she can do this," he said.
---
Mathew Stuart
During the summer of 2015, Mathew Stuart decided to try out Parkour with his younger brother, who had happened upon KSG Parkour in Suwanee by chance after his birthday party at the park got rained out. He and his friends stopped into KSG Parkour and ended up having the party there. They had a blast! When Stuart came with his brother, he had seen Parkour videos on Youtube and loved it after trying it for the very first time. We sat down with Stuart to find out how Parkour has impacted his life:
Q: In what ways has Parkour positively influenced your life?
A: It's given me almost like a community I can come to. I'm very tight knit with all my friends here. It's a place I can come to after school to get any stress out. I'm very passionate about it. I've also become more confident, more sure of myself around other people. I guess a little less awkward. I've relaxed a little bit more because I have somewhere to go.
Q: Parkour seems like more of an individual training, is that right?
A: Parkour is a team-oriented sport also. If you are in there by yourself you are limited to what you know. If you are working with other people, you can learn from them and help inspire each other. It's really a friendly environment, everyone working together and building off each other's skills, not working against each other.
Q: How do you like teaching?
A: I definitely like it. One student in particular, I have taught and watched him progress. He has gotten to the intermediate class and has learned all sorts of new moves and is getting creative. It's amazing because he's only around 10 or 11-years-old and is developing his own Parkour style this early on. I also really like helping
with birthday parties. They are two hours and every time they have a blast.
Q: Are there competitions in Parkour?
A: Yes- we have what we call Parkour Jams. The goal is to make the most creative free run you can. Get from point A to point B as creatively as possible using the gym and equipment. There are judges and awards.
Q: Do you get a good workout when you are here?
A: Yes. I go home tired every day. It helps with coordination and spacial awareness, plus it really builds strength. It works almost every part of your body, especially your core.
Q: What advice do you have for people wanting to try Parkour or start a new sport?
A: To not get frustrated. At first you will struggle and it will be difficult because you will see people that are way better than you, but you will progress. You can go at your own pace. You don't have to worry about what other people are thinking, you just have
Parkour has had such an influence on Mathew, he wrote a college admissions essay about what it means to him:
The Freedom of Movement by Mathew Stuart

The feeling of confinement within my own head is one I despise. I have always had the urge to express creativity in a physical way where the creativity can be seen visually. I do not do this through interpretive dance or painting. Instead, I express this creativity through an art form known as Parkour. Describing Parkour to people has always been a challenge but I have decided the best description would be, getting from point "A" to point "B" as creatively as possible. This means using obstacles instead of avoiding them, by doing vaults, wall runs, flips, and moves that do not even have official names. The gym, KSG Parkour, has formed a talent and identity so meaningful to me, that neglecting to share about it would be leaving out a crucial part of who I am.

KSG Parkour is not just a gym to me; it is far more meaningful. I remember walking into the gym for that first time, meeting my coach, not knowing what I was getting myself into. Parkour simply sounded fun. My Coach and I were complete strangers, but as I continued going to the gym, my relationship with him grew. As I showed up with more frequency, Coach David and I began to form a strong bond. Yes, that sounds extremely cheesy and cliché, but that cheesy, cliché bond is what kept me coming back. I enjoyed having a coach who I could have a good time and laugh with, but when I failed a dash vault and landed face first on a mat, would still train me so it wouldn't happen again. When I first arrived at the gym, it was a brand new business with very few obstacles for training. Over the next year I watched as the gym grew with more obstacles and people. I remembered seeing the Parkour classes teeming with students and Coach David began to talk of hiring new coaches. One day I was on top of a wooden tower when coach called me down. I jumped off and Parkour rolled to brace my fall and ended up right next to him. I do not recall exactly how he asked me, but I remember that I left the gym that day as the latest coach at KSG Parkour.

Parkour is often referenced as the art of motion, and I believe this is completely true. At the gym, I create what is known as a free run, which is essentially a demonstration of the techniques I have learned and mastered put together into one continuous sequence. When I create my free run, every single movement is thought out and meaningful. Like a painting, the individual movements create a bigger picture that is visually appeasing. No two free runs are exactly the same and often reflect the personality and style of the artist. It is this freedom of movement that not only allow me to express who I am to the world, but serve as a crucial part of my identity and who I am as a person.