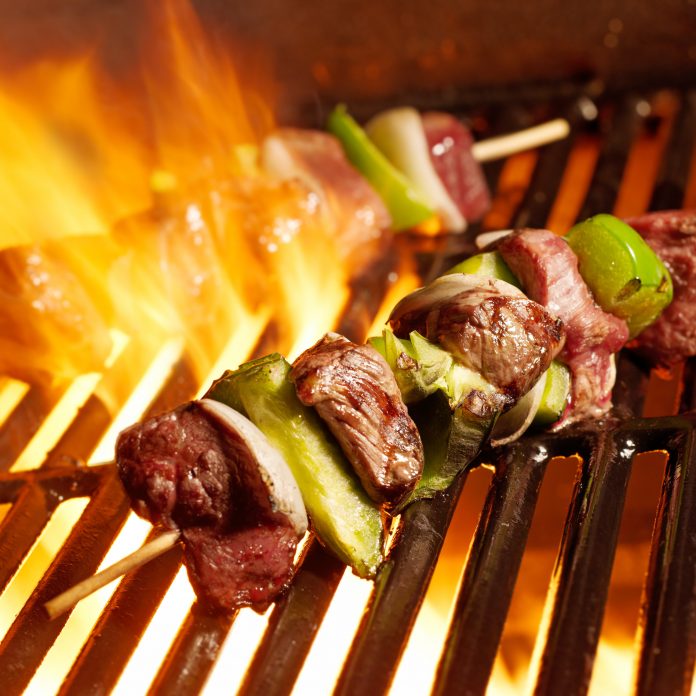 The sun is out, the days are long, and grilling season is upon us once again. There's something magical about gathering around an open flame with those closest to us, conjuring images of ancient past, when a tribe gathered around a fire and cooked that day's quarry while telling stories of the hunt. Indeed, grilling is a technique as old as mankind, and there are many reasons it has endured. Grilling, beyond being a wonderful communal experience, is one of the tastiest ways to cook and is also one of the healthiest since the fat drips away from the meat while adding loads of flavor. And, the lack of substantial amounts of oil in the grilling process means less calories and fat without sacrificing taste. With that in mind, let's explore some tips and tricks for getting the most out of your grilling experience.

Safety First
Grilling and the handling of raw meats can be dangerous, so it is important to remember a few simple rules to keep everyone safe. If you are grilling multiple types of meat, be sure to separate them to avoid cross contamination.
Marinate the meat in the refrigerator or a cooler at 40 degrees Fahrenheit or below to keep bacterial multiplication to a minimum.
Grills can get extremely hot. If you have children around, make sure their curiosity does not get the better of them. Grilling should always be done outdoors in well-ventilated areas.
Lastly, keep a squirt bottle of water handy. This will tame any flare-ups and keep your food from getting too charred.
Charcoal vs. Gas
Charcoal or gas is an age old debate. Gas burns cleaner and is therefore better for the environment, but does not provide the same flavor level as cooking over hot charcoal. For many avid grillers, it's that smoky, rich flavor that charcoal imparts that's quintessential to grilling and is therefore the only choice for those seeking to reach their grill's maximum potential. An additive-free, lump charcoal is recommended, as it is the most environmentally and user-friendly option available to the charcoal griller. The easiest and most efficient way to start a charcoal grill is with a chimney starter, which uses crumpled paper in the bottom to light a stack of charcoal on top. These usually take 15 to 20 minutes to heat. When your coals are covered with a thin layer of grey ash, they're ready.
Hot! Hot! Hot!
To get the best performance, it is important to preheat the grill to the proper temperature. Lighting or starting your charcoal 20 to 25 minutes before you plan on cooking is typically sufficient. The hottest area should be around 400-450 degrees Fahrenheit, medium areas at 300-400, and low areas at 250-300 degrees, and can be checked with an infrared thermometer or by the hand test, placing your hand about six inches above the grill rack (be careful). If you have to move your hand in two seconds, you have a high-heat area, all the way up to 10 seconds for a low heat area.
Clean, Oiled Grates
Once the grill is heated properly, be sure to give it a thorough brush to remove any charred food particles and to provide a clean grilling surface, and when done, using a pair of tongs to run an oiled towel dampened with vegetable oil over your grill racks to help prevent sticking and to achieve grill marks. As a side note, grill marks are best achieved by placing your meat at a 45 degree angle to your racks, then when ready, turn the meat 90 degrees clockwise. Moving the meat anymore than that will run the risk of uneven cooking and decrease the food's aesthetic value.
Is it done yet? …A question which is often asked around the grill.
The best way to check is with an instant-read probe thermometer inserted into the thickest part of the meat, near the bone if one is present. Poultry and pork are safe to eat at 165 degrees Fahrenheit, while beef is safe from 150 degrees, and fresh fish from 145 degrees. Avoid cutting your meat to check doneness as you will lose much of its moisture. When done, place on a clean platter and tent it with foil for 10 minutes to allow the moisture to redistribute. Resting your meat is an often overlooked step, but it is very important to keep your meat tender, juicy, and succulent.
Most importantly – have fun!
Now let's put the fundamentals of grilling into practice with a couple of great recipes that will please any crowd, from the most steadfast carnivores to the cleanest, greenest vegetarians.
Escalivada
The Catalan word escalivar means "to roast over ashes or embers", and is one of the most delicious grilled vegetable recipes from Spain. There are vegan and vegetarian variations of this, and both are provided here to suit either lifestyle.
Vegan Escalivada
4 small eggplants
4 spring onions or large scallions
2 green and 2 red bell peppers
`           2 tomatoes
1 bunch asparagus
3 cloves garlic, sliced thinly
Olive oil for brushing, plus one third cup
Optional:
6 ounces goat cheese, crumbled
1 Fresh Market French baguette, sliced diagonally, ½ inch thick
Prepare the charcoal and preheat the grill to between 450 to 500 degrees Fahrenheit.
Wash and dry your vegetables, then brush them with olive oil before placing them directly over the fire.
Grill, turning the vegetables frequently until the skins are blackened and vegetables are tender. Be careful to mind the tomatoes and asparagus, as they will finish cooking first and need to be removed promptly. Traditionally escalivada is served at room temperature. To cool the vegetables while roasting them, wrap them in newspaper and placed in plastic bags, then allow to cool for one hour. The vegetables may also be served hot off the grill. Remove the outer layers of the onion and discard them along with the skins of the eggplant, tomatoes, and peppers. Also discard the seedy core of the peppers. Slice vegetables into one-inch wide strips and add them to a bowl with ¼ to ⅓ cup of olive oil, garlic, and salt and pepper to taste. Toss to mix well and serve. Alternatively we can place the prepared vegetables upon lightly grilled slices of baguette bread, or melt goat cheese crumbles on top of these for a flavorful touch.
Ribeye Kabobs with Pineapple Balsamic Glaze
2 rib eye steaks cut 1" thick
1 large red bell pepper
1 large sweet onion
1 lb. white button mushrooms
1 pineapple, peeled and cored
8 ounces pineapple juice
4 ounces balsamic vinegar
½ cup cornstarch slurry (1 part cornstarch 1 part cold water) for thickening
Soak wooden skewers in cold water for an hour before making your kabobs. Dice the bell pepper, onion, and pineapple into 1" pieces. Slice whole mushrooms in half. Trim excess fat from steaks and cut into 1" by 1" cubes. The ingredients can be placed on skewers in any order, but remember the flavors of each ingredient will marry heavily with those next to them. Place pineapple juice and balsamic vinegar in a small saucepan and bring to a boil, then slowly add the cornstarch slurry a little at a time. The sauce will thicken almost instantly, so be careful not to add too much at a time. When desired thickness for the glaze is reached, set aside and keep warm. Prepare the charcoal and preheat the grill between 450 and 500 degrees Fahrenheit. After basting each kabob thoroughly with the glaze, place on the grill rack and cook, turning to cook all four sides, until vegetables are tender and meat reaches the desired doneness. The glaze can also be used as a dipping sauce, just make sure to keep the dipping sauce separate from the basting liquid. This recipe is great served over saffron rice, or with Sabra hummus and fresh flatbread.
* All ingredients listed in these recipes are available at Fresh Market
By: Nicholas Mann, Assistant Deli Manager, The Fresh Market