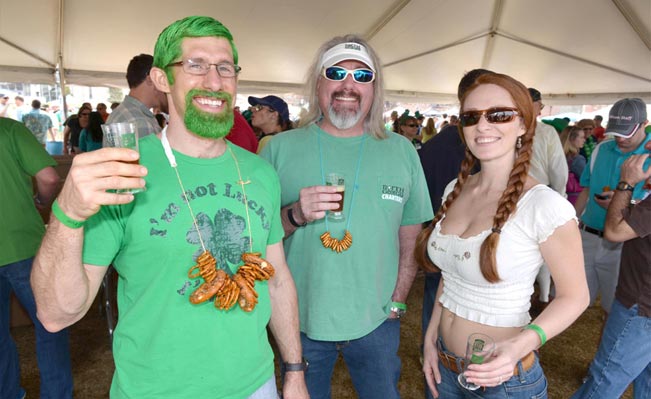 BY: Michael Lundmark
Nothing is better than the sight of a craft beer festival's beer tents, the sound of festival music, the delicious aroma from the food vendors, and the thousands of people passionate about one great craft: BEER! Craft beer festivals put a spotlight on craft brewers. They are a great way to discover local, state and regional breweries.
What exactly is a craft brewery?
■ Small – Craft breweries have an annual production of 6 million barrels of beer or less.
■ Independent – Less than 25 percent of a craft brewery is owned or controlled (or equivalent
economic interest) by an alcoholic beverage industry member that is not itself a craft brewer.
■ Traditional – A brewer that has a majority of its total beverage alcohol volume in beers whose
flavor derives from traditional or innovative brewing ingredients and their fermentation.
Beer was designed to bring people together in a communal way and should be celebrated in this spirit. The craft beer world can seem intimidating; "beer geeks" enjoy all the qualities of beer just as much as the taste, but craft beer festivals tear down all social barriers and invite all types of people to taste, laugh and learn. From the expert to the first-timer, these festivals are just that: festive. It celebrates what beer is to the community, the state and the nation.
The history of beer in this nation, and in Georgia, was a key component to the survival of our thirteen colonies. Early colonists consumed beer for hydration. Since the water made everyone sick, low ABV beer was safe because it was boiled during the brewing process. In fact, colonists arriving to the New World were greeted with a deed to their land, a bag of tools and a barrel with 44 gallons of ale! It wasn't until 1853, when Louis Pasteur discovered pasteurization, that people understood water needed to be boiled to be safe.
Alpharetta's Jekyll Brewing has dedicated most of its branding to the history of beer in Georgia and the Deep South. From their flagship beer Hop Dang Diggity® to the American Brown Ale, to Cooter Brown, there is a southern story behind each beer! You can learn about all the great history through a brewery tour.
Let us all come together to celebrate everything about the history of this great beverage. Smile, raise your glass and remember Ben Franklin's most famous quote, "Beer is proof that God loves us and wants us to be happy!"