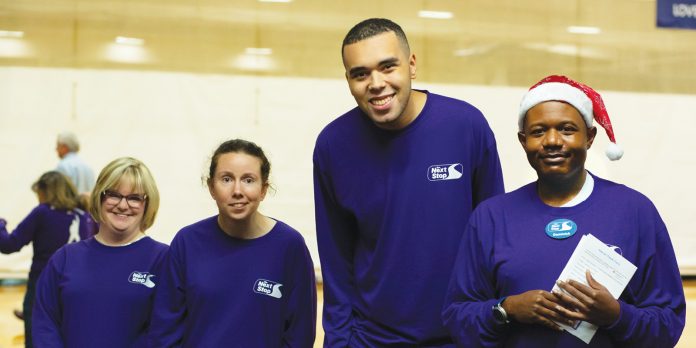 When people with special needs turn 22 years old they age out of special education services. The school bus stops coming and they are faced with limited opportunities and a tough transition into adulthood. That's where The Next Stop steps in. Located in Suwanee, Georgia, The Next Stop provides opportunities for adults with special needs to socialize, enjoy recreation, and continue to learn three afternoons a week.
"My husband and I founded The Next Stop in 2006 and opened our doors inside Suwanee Sports Academy in September 2007," says Vicki LaRoche. "We love that our members meet inside a 'community' building. We serve adults with special needs who can participate successfully within small groups and meet the set requirements. We have four invaluable employees, but most importantly, we have 4-5 devoted volunteers each day who facilitate activities and mentor our members."
On December 9, The Next Stop hosted a dinner where members prepared 24 pans of lasagna along with cookie bars for dessert. That night, they served 273 lasagna meals for family and friends. According to LaRoche, the highlight of the evening was a musical performance presented by The Next Stop's members titled "Believe" that was written, choreographed, and directed by The Next Stop's music therapist.
"It's amazing what can happen when someone believes in you," LaRoche says. "Recognizing this, The Next Stop always encourages our members to attempt new things, respond to questions, and express their thoughts. We model patience and engage without judgment. We believe that when in a safe and secure environment, our members can thrive."
For more information about The Next Stop, visit TheNextStop.org.