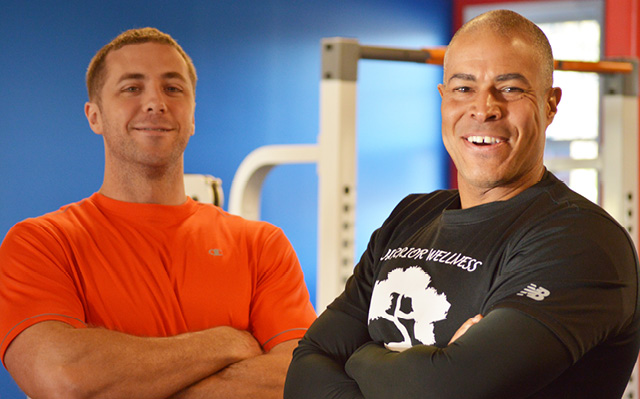 Trainer based gym embraces total body wellness approach
By: Rachel Fasig
If you have ever been to Golds Gym in Sugar Hill (now Georgia Fitness) in the past decade, then chances are high that you know, or have seen, Terence Mills. He spent ten years as an independent trainer there and was constantly seen on the gym floor talking, smiling and helping people – even those who weren't his clients.
On June 3rd, 2014, he and his wife, Christina, opened the doors of Warrior Wellness & Rejuvenation– a trainer-based gym located on the back of Jubilee Shopping Center (by The Fresh Market). After years spent as a trainer, Mills decided to fulfill a career goal and open his own facility. What makes the gym unique is that everyone works out with a personal trainer. There are no contracts or memberships. His clients, rather, work individually or in small groups with professional trainers that Mills hand-selects and interviews. "My trainers have multiple certifications or degrees in Exercise Science – it is critical that they have a good understanding of the science behind the movement," Mills explained.
In fact, it was this ability to understand the science behind movement that was a literal turning point for one of Mills' clients, Bernie Schaknowski. A self-proclaimed "gear head" – Schaknowski has always been more interested in cars and technology, than sports or fitness. "Terence gave me a nuts and bolts understanding, and explains the importance of WHY I'm doing particular movements," he said. And, at age 63, recently-retired Schaknowski made a promise to "make life last longer." But, when asked what truly motivates him, he suddenly got a clever glint in his eye, and laughed, "I just bought a new boat and I'm going to look good in it this summer!"
Whatever the motivation and whatever the end goal, Mills and his expert trainers will meet you there. For Pat Olson, at age 65, it was less about losing weight and more about "wanting to be able to do things with my grandkids…to get down on the floor with them, to play with them at Sims Lake Park," she said. Olson started training with Mills three years ago and said others constantly comment on her strength and ability to move and lift things with ease. In fact, during the interview, Olson hit a personal record with 25 leg press reps at 175 pounds. "Change that number to 175!" she excitedly announced as Mills high-fived her.
Mills seems to have an innate perception when it comes to individual's capabilities and limitations, but he also works with his client's physicians to ensure safety. "Our main focus is wellness! I will personally reach out to my clients' physicians to obtain their medical background and discuss their goals," he said. He then works with them directly to formulate a comprehensive fitness and nutrition plan that not only targets weight loss, strengthening and overall health; but aides in the rejuvenation and restoration o f injuries as well. "We work on weaknesses first, strengthen them, and then move to the next muscle group, in a biomechanical and intentional order," he said. Pat Olson sang praises to this approach, "I actually had a torn rotator cuff. But, Terence worked closely with my chiropractor at Apex on my treatment so that he knew the things I could and couldn't do [in workouts]."
Mills also has a deep background in martial arts training and a rich appreciation of the culture, traditions and principles that surround it, primarily that of the Shaolin Warrior Monks in ancient Chinese history. The Shaolin style of Kung Fu is built on a foundation of discipline, overall health, pain-endurance, strength and flexibility. Mills incorporates this philosophy at the gym, especially in the kickboxing classes he teaches, which are open to everyone who trains there.
Elena Vlasoff, 47-year-old mother of two, attends his kickboxing classes a few times each week, in addition to daily cardio workouts and three training sessions with Mills per week. Nearly eight years ago when Mills met Vlasoff, he noticed that she frequently did cardio workouts but never weights. Understanding the importance of incorporating strength training
into any fitness routine, he offered her a training session. "And, now I'm addicted, but it's a good addiction!" she professed. Since then, Vlasoff has lost 15 pounds and has muscle definition she never could see before. And, while confident in her abilities, she continues to stress the importance of working with a professional trainer, "Even after working out all these years, Terence will still correct my form at times. You need a trainer to supervise you, so that you don't hurt yourself!" she insisted.
At Warrior Wellness and Rejuvenation, people of all walks of life are welcome and trainers are dedicated to meeting their goals: whether they want to gain muscle, play with their grandkids, strengthen and heal an injury, eat a clean and balanced diet, lose weight, be a better athlete, or just look great on Lake Lanier this summer!
Warrior Wellness & Rejuvenation
1500 Peachtree Industrial Blvd.
Suwanee, GA 30024
770-932-6913
facebook.com/pages/Warrior- Wellness-and-Rejuvenation