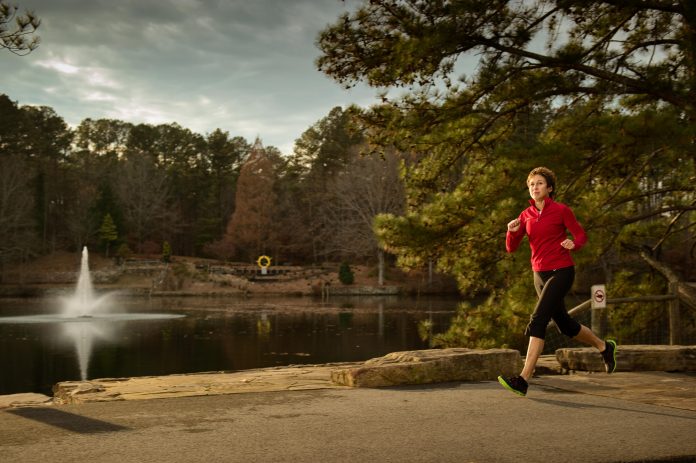 BY: Rachel Fasig
Photos by: Steve Glass
Christine Maynard: Take one day at a time and breathe
Christine Maynard is a Certified Fitness Trainer and Yoga Instructor, and while she embraces many of the philosophies that accompany yoga, she does not consider herself the 'cookie-cutter yogi' that we tend to see glorified in media. In other words, not all people who practice yoga look like Madonna, wear expensive spandex and eat only raw, vegan foods…sometimes they eat cheeseburgers and travel in quest of new craft beers, like Maynard.
As a wife and mother of two young boys, Maynard uses yoga and meditation to prepare her mind for the busy day ahead. She incorporates yoga into her fitness regimen, which also includes weight training and cardio. "I love going to White Street Park in Suwanee, there is a nice open field there," she said, of her favorite places to practice yoga or meditate.
Maynard discovered yoga at age 23 when she stumbled across the book: Yoga Mind and Body by Sivanada Vedanta Center. Intrigued by the five main principles of "exercise, breathing, relaxation, diet and meditation," she purchased the book and began the journey of teaching herself the practice.
The discovery could not have come at a better time! "Literally four months after finding yoga, my brother passed away," Maynard confided. "I really felt meditation was my guide. I learned to just take one day at a time and breathe!" she continued, "It has helped me to live in the present. The past is there for me to enjoy and encourage me to grow, but not to dwell on."
Maynard has undergone professional yoga training and certification, including two months spent at Sivanada Ashram in the Bahamas and Level 1 Baptiste Power Yoga Training in Hawaii; but admits that it is still a continual process of learning, growing and finding balance in life. For those interested in yoga or meditation, but unsure of where to begin, Maynard suggested reading up on all the different styles before choosing the best one for you. "And, do not judge yourself with the person next to you, thinking you are not strong or limber enough," she advised. "Yoga has changed my life in so many ways and continues to change it every day," she said. So, as with any new health or fitness routine, the process might not be easy, but the result is definitely worth it.
Mandy and Conner Volpe: "We lost over 170 Pounds"
Conner and Mandy Volpe began their weight loss journey in June of 2013 with the goal of creating a healthy lifestyle for their marriage and out of "disgust for what I had allowed my body to become," Mandy admitted. Mandy jump-started her fitness plan with Conner following two days later. "My competitive nature kicked in and I was determined after stepping on the scale and realizing I had ballooned up to 260 pounds," he said.
Since that time they have lost over 170 pounds combined, and have discovered new interests together in the process. "Fitness is now a hobby, whereas before our hobby was going to the movies," Mandy said. "Our date nights are more active in the sense that we might try a new fitness class and then hit up the local frozen yogurt shop after our workout," she explained.
They even found new favorite local restaurants with healthy options. "At Friends American Grill we love the turkey sandwich and veggie burger and Gulf Coast Grill is perfect for grilled chicken tenders and fresh fish," Conner said.
The Volpe's credit much of their weight loss success to living in a community that supports healthy lifestyles. "We have really embraced our surroundings in Suwanee to help us achieve our goals. We love using the Suwanee Greenway to run and walk, as well as the Collins Hill Aquatic Center for swimming during the colder winter months," Mandy said.
And, while health and fitness have become an integral part of their lives, they will tell you it still isn't always easy. We would "not have lasted this long without the support, encouragement, and commitment to each other," Mandy said.
Lynne DeWilde: Running Suwanee's trails
"Seasons of life will affect how you exercise," said Lynne DeWilde, Public Information Officer at the City of Suwanee, "But, as I get older and am feeling good… that's motivation!" she continued. DeWilde works out almost everyday: "It's a habit, part of my daily routine." She switches up her workouts to keep them interesting, and in order to strengthen different parts of her body. Her workout regimen normally includes running, yoga, and group classes at Georgia Fitness such as Power and Zumba. DeWilde loves to run outdoors and is grateful that she and other runners can feel safe running through Suwanee parks and neighborhoods. "There are lots of sidewalks that run to Sims Lake Park, and The Greenway has a lot to offer as well…I love discovering new trails!" she said. Her advice for anyone looking to start a healthy, active lifestyle: "Find something you enjoy doing. There are so many different ways to be active. And find someone who will do it with you. It keeps you accountable and makes it more enjoyable."

Lieutenant Bryan Hickey: Tips from the SPD Training Director
As Training Director of the Suwanee Police Department, Lieutenant Bryan Hickey understands the importance of being fit and healthy, in order to excel at his job. Beyond instructing officers in tactical firearm and defensive training, his healthy lifestyle also serves as a model within the Suwanee Police Department.
Hickey is a Certified Bike Officer, but does not bike for work on a regular basis – however, that might change as he is hoping to become an Instructor of Police Cycling later this year. At least once a week, he meets with a cycling group out of Suwanee Creek Bicycle and does a 24-mile loop that weaves through Buford, Lake Lanier and Peachtree Industrial Boulevard. Biking through the City of Suwanee and The Greenway is one of his favorite forms of working out, but between running, swimming, HIIT (high intensity interval training), hiking and weight training at the gym, Hickey often "changes up workouts to keep it interesting," he said.
"I have always been an active person," Hickey said, "It has been part of my life for so long, but when I turned 40 it really kicked in," he continued, "I wanted to be in the best shape of my life." And his goal manifested! The year Hickey turned 40 he competed in two bodybuilding competitions. The most important thing for him was setting specific and measurable goals, "You need to actually put a goal into place, and have a way to measure it," he advised. He also suggested working out "with a friend that can give you a nudge when you don't feel like doing it!"
Beyond fitness, Hickey stresses the importance of making healthy choices in your diet. "Eating is a huge component that people fail to realize, probably even more important than actual exercise," he said.
For those who are just starting out, Lieutenant Hickey has some advice for you. And, who better to "nudge you" in the right direction than Suwanee Police Department's very own Training Director?
• Portion control
• Omit sugars such as high fructose corn syrup, soda and sweet tea
• Be conscious of what you are putting into your body
• Be sure you are eating lean proteins (chicken breast, turkey and fish), healthy fats (like avocado), proper carbohydrates and starches (such as sweet potato) and plenty of green vegetables (like asparagus and green beans).
• Set SMART Goals: Specific, Measurable, Attainable, Realistic and Timely.
Hickey also advised, "easing into it," even if that means taking the stairs over an elevator or mowing the lawn. It takes time to get out of shape, but much more time and work to get back into it.