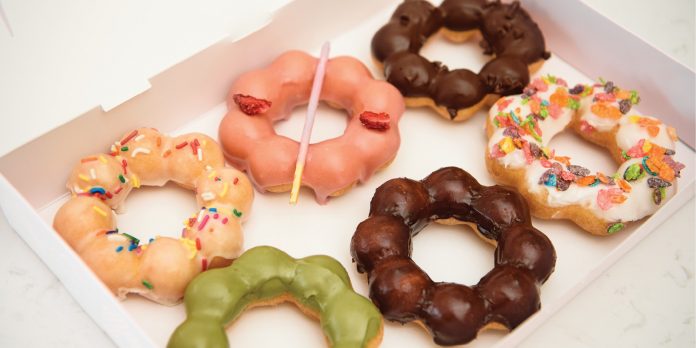 Since opening in July, Suwanee's newest donut shop, Mochinut, has served up a delicious rotating selection of mochi donuts along with Korean corn dogs and boba tea.
By Jessica Dacey | Photos by Karl Lamb
What do you get when you cross an American donut with Japanese mochi? The resulting combination yields a light, sweet ring of deliciousness that's fluffy yet crispy, otherwise known as a mochi donut. Originating from Hawaii, mochi donuts' popularity is rapidly increasing across the United States, from California all the way down to Georgia and everywhere in between.
That brings us to the newest, up-and-coming mochi donut shop, Mochinut! Move over Dunkin' Donuts, you've got a new kid on the block who is blowing your regular cake donuts out of the fryer. Lucky for us, Suwanee has been graced with the presence of a brand-new Mochinut located on Peachtree Industrial Boulevard, so now we can all indulge in the tasty, bubbly rings of rice flour dough balls right here at home.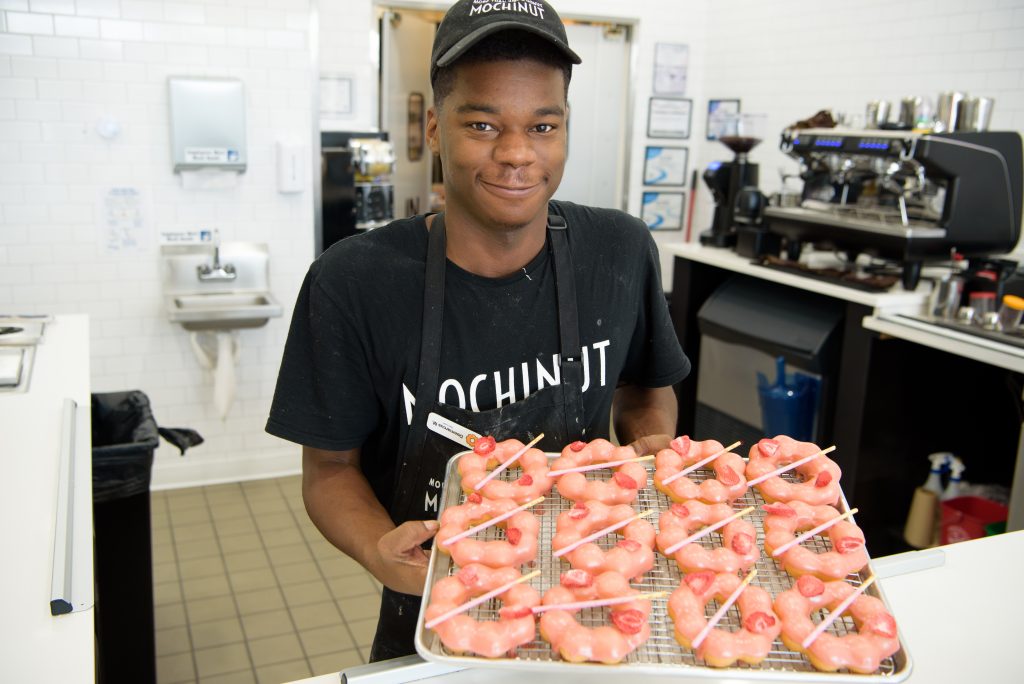 Phone Eats First
Everyone open up Instagram and get the boomerang feature ready, because each and every Mochinut location is an Instagram foodie's dream. Mochinut is decked out in neon signs, greenery walls, and high-tech self- order stations so you're guaranteed to capture the perfect food-in-the- air shot for your feed. Mochinut unveils six new donut flavors weekly, ranging from classics such as cookies 'n' cream, original, and strawberry funnel cake to more diverse flavors like ube (a purple yam originating from Southeast Asia), matcha, and black sesame. Each week's new flavors are posted on Instagram at @MochinutSuwanee, so be sure to follow them for updates and exciting limited- time holiday flavors.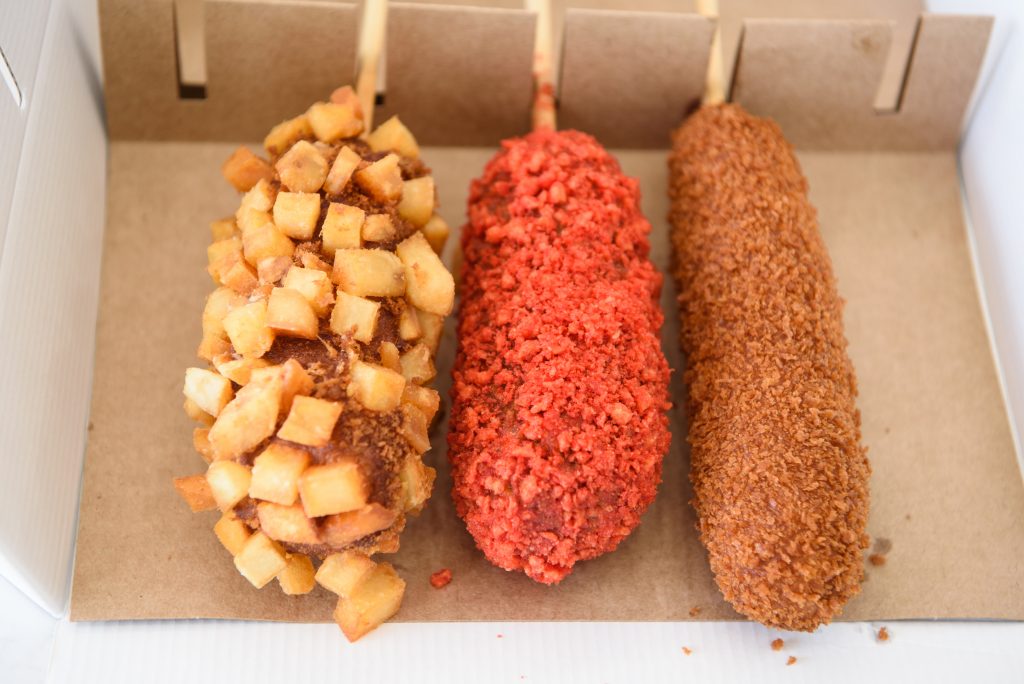 From Donuts to Corn Dogs
Not only is Mochinut serving up rotating flavors of delicious mochi donuts each week, it's also delighting our palates with a Korean take on an old-school American classic: corn dogs. Mochinut offers Korean rice flour hot dogs… on a stick! Think of a light, sweet, fluffy mochi donut wrapped around a hot dog or mozzarella cheese, but the fun doesn't stop there. Diners have the choice between original, potato, crispy ramen, or Hot Cheeto-coated goodness on a stick, plus an assortment of dipping sauces. Best of luck choosing between them because they're all great combinations and it's nearly impossible to decide!
Sarah Cha, owner of Mochinut Suwanee, suggests topping your corn dog with mayo, the traditional Korean way. "You may be surprised, but spicy mayo is the traditional way we eat them over there," she says.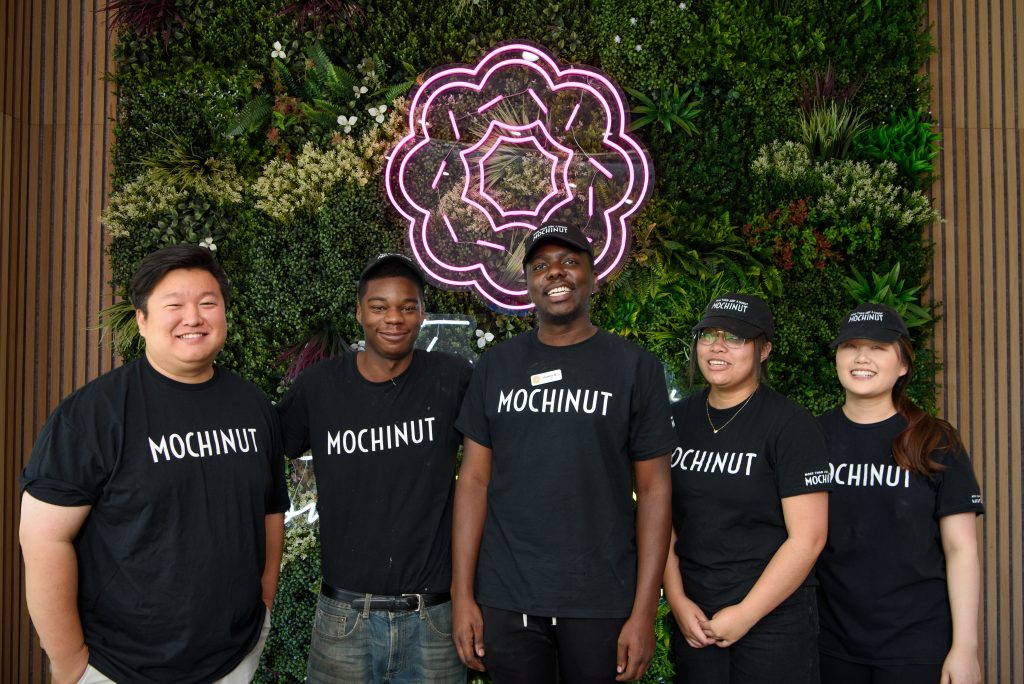 Sip, Chew and Enjoy
Once you've polished off your mochi donuts and corn dogs, round out your meal with a refreshing boba tea that tastes even better than it looks — hello, Instagram worthy! Brown sugar is among the crowd favorites, but with other flavor options like coffee and Thai tea, you're in for a treat no matter what you choose. So sip it, chew it, and enjoy it!
With four locations already in operation and gaining popularity in Georgia, it comes as no surprise that four more are in the works! Cha says Mochinut's next location will soon open in Duluth. So, get your phones and taste buds ready for more sweet and savory combinations. After all, more Mochinut equals more happiness!
Mochinut is located at 315 Peachtree Industrial Blvd., Suite 106, in Suwanee. For more information, call 470-238-3116 or visit Mochinut.com.