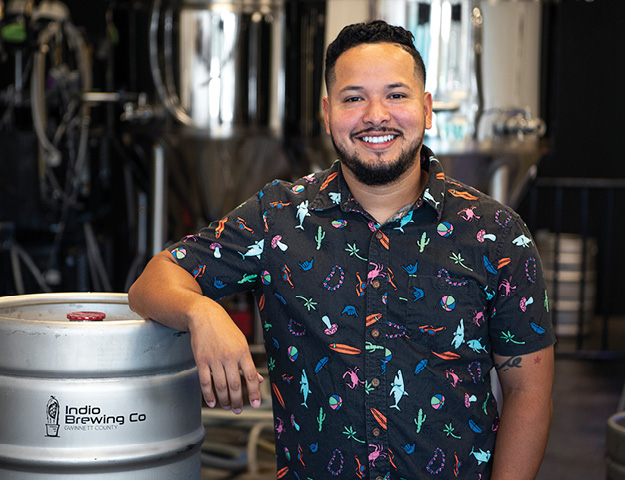 Jonathan Martinez brings the craft beer scene to Sugar Hill's SHINE District
By: Lizzy James | Photos by Karl Lamb
Jonathan Martinez has officially made his dreams of opening a brewery a reality. Marking himself as the first Hispanic to open a brewery in Georgia, Martinez is not only breaking down barriers but also pushing the boundaries on creating a community-oriented gathering place for homebrewers and beer enthusiasts alike. The brewery's quaint location in Sugar Hill's SHINE District embraces Martinez's culture with live cactuses spread out throughout the brewery and long communal tables that encourage conversation. We had the chance to sit down with Martinez to learn more about the experience that Indio Brewing is bringing to Sugar Hill and how it's leaving its mark on the local craft beer scene.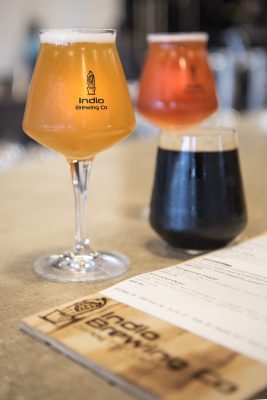 What made you want to open your own brewery?
I had been homebrewing for six years, and my friends and family would tell me that they really loved my beer and thought I should pursue opening a brewery. So I did some research and figured out what I wanted as far as equipment. I knew I wanted it to be similar to my homebrewing equipment, so I met with the BREWHA team and ended up realizing they were the perfect fit! We placed an order and got our equipment flown in from Canada. The rest just kind of fell into place!
Why did you choose to open in Sugar Hill's SHINE District?
When we started discussing the idea of opening a brewery, my wife and I immediately knew we wanted to be in Gwinnett County. We then learned of Sugar Hill's expansion, and as soon as this location became available we jumped on it. It is so convenient for our customers to grab a beer and enjoy a concert at the Bowl or stop by after having dinner at Central City Tavern.
What sets you apart from other local breweries?
I don't want to compete with the big guys. We want to stay local and keep the brewery as a location where homebrewers and beer enthusiasts can come together to connect, share and hang out.
Tell us a little bit about your head brewer.
Our head brewer's name is Matt Williams. He has been in the craft beer industry for over 20 years, and has over 10 years of actual brewing experience working at places such as Grumpy Troll Brew Pub in Wisconsin, Dogwood Brewing Company, Five Seasons Brewing, and has even done consulting for multiple breweries on a project basis. He is a very talented brewer, and his main focus is on creating and brewing innovative IPAs, stouts and sours.
How many beers do you currently have on tap?
We currently have eight beers on tap. Our beer menu features a 19-hour yogurt sour with wild strawberry and raspberry called Sour Patch; a double dry-hopped IPA with Idaho 7 and Citra called DDH; and even a Mexican IPA called Frida which mixes a traditional German lager malt with flaked wheat, orange spice and white fruit.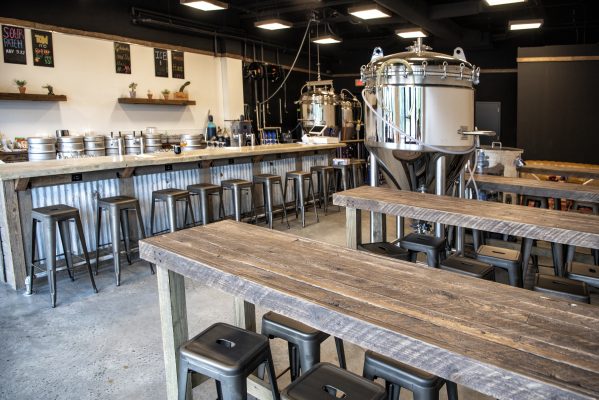 What is the current favorite beer in the taproom?
Sour Patch is definitely our most popular beer in the taproom to date. Our Frida Mexican IPA is another favorite and sold out before we even had our grand opening.
If you could recommend a seasonal beer, what would it be?
Our Sour Patch for sure! It has been a fan favorite no matter what time of year it is!
Do you host any special events?
We try and host restaurant pop-ups twice a month, and we are looking forward to getting a Peach State Cornhole league every Wednesday. We also host trivia, salsa classes, and have salsa bands come and play outside as well.
What are your current hours?
We are currently closed on Mondays and Tuesdays, open from 4-10 p.m. on Wednesdays and Thursdays; 3-10 p.m. on Fridays; noon-11 p.m. on Saturdays; and 2-8 p.m. on Sundays.
Indio Brewing is located in Sugar Hill's SHINE District at 5019 W. Broad St., M15. For a complete beer list and to stay up to date on everything Indio Brewing, visit IndioBrewing.com or follow them on social media.