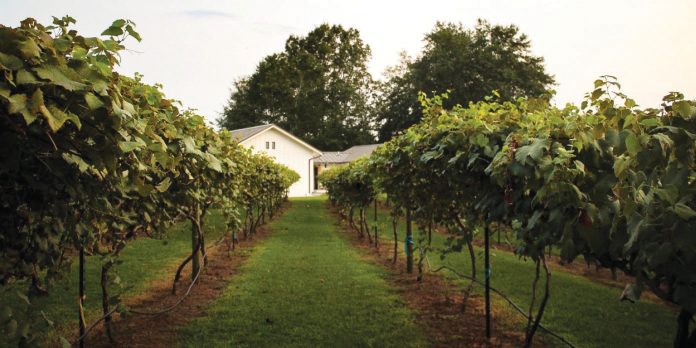 Cloudland Vineyards + Winery brings a taste of Georgia wine country to Buford.
By Jaya Lord | Photos Courtesy Cloudland Vineyards + Wineyard
Buford's neighborhood winery, Cloudland Vineyards + Winery, is the product of passion and hard work. Owner Sean Wilborn dreamed of owning and operating a vineyard, and in 2011 he found the ideal place to build it.
"I was driving and saw this property with a barn that had trees growing up around it and out of it and thought, 'This is the most epic scene right here,'" Wilborn says. "But it wasn't for sale."
The land that Wilborn pictured his vineyard on had many interested buyers over the years, but the owner couldn't let it go — until he spoke with Wilborn. After coming to an agreement and closing the deal, Wilborn's dream was closer to becoming a reality. He spent six months gutting the house that was left on the land to make it livable for him and his family while also envisioning the potential future of the property.
"I'd look out my kitchen and think, 'I could plant grapes and maybe that shed could be a tiny place where I could sell wine,'" Wilborn says.
Like all good things in life, Cloudland took time. After purchasing the land in 2011 and planting the first grapevines in 2015, Cloudland officially opened for business in October 2020. Nestled in one of metro Atlanta's busiest suburbs, the vineyard and winery is a short two minutes from I-985, and visitors often describe the location as "an amazing spot in a place you would never expect to see a winery."
Truth be told, Buford isn't considered a part of Georgia Wine Country, but you'll think twice once you step onto the property. The moment your feet touch the gravel, your eyes are met with rows and rows of grapevines, a cozy tasting room, and Georgia's big blue sky — weather permitting, of course. Wilborn refers to his land as "sky country" because of how it lays on the ridgeline.
"In Georgia, it's really rare to see the horizon because there are trees everywhere, so to get a panoramic view anywhere around the area is super rare," Wilborn says. "Whereas up here we see the horizon, from sunrise to sunset, you can feel breezes that are passing by because we are up in the air. From a grape- growing standpoint, it's awesome because the airflow is good."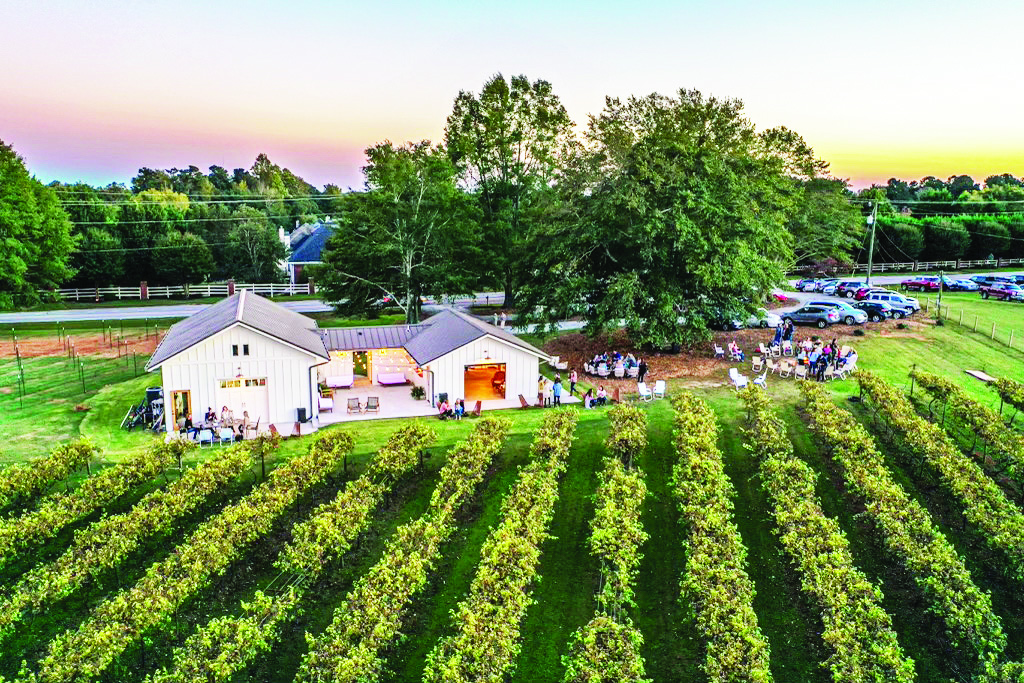 A DREAM GROWING ENVIRONMENT
At the time of purchasing, Wilborn knew that the land was special but he didn't know just how impeccable it was. In addition to its elevated state, Cloudland is in the middle of the Eastern Continental Divide, where rainfall on one side of the vineyard will make its way to the Atlantic Ocean while I wanted you to come in and feel comfortable, relaxed, and at home so that you can get engaged with the experience and our staff. – Sean Wilborn, Owner Cloudland Vineyards + Winery showers on the other side of the property travel down the Gulf of Mexico. Combine vast air circulation, sunlight, steady rainfall, and natural drainage and you have a dream growing environment.
As the pieces came together, the next step was to find a grape that he could grow in an organic program.
"I did a lot of research, digging, and tasting. I came across a lot of wine, a lot of bad wine but also some good wine," Wilborn says. "I ran across this grape that nearly became extinct due to Prohibition. The grape had some really good potential so I planted it and several other grapes. Of all the grapes I planted, I chose that one."
The grape that Wilborn speaks so passionately about is the Lomanto, a Pierce's Disease-tolerant red wine grape. Pierce's Disease is a deadly disease of grapevines and is prevalent within the United States. Wilborn is very passionate about having a small environmental footprint and, although the winery does not have organic certification, all of its growing techniques and sprays are organic-centered.
After finding the perfect grape, Wilborn started planting grapevines one by one with his own hands. Wilborn has been a part of some of the best winemaking programs including nearby Château Élan and Asheville's Biltmore Estate. Through his time at both establishments, he learned a lot about winemaking, of course, but he also realized how he wanted his vineyard to be different.
"I started to see that certain styles can be very intimidating and therefore really hard for you to be comfortable," he says. "I wanted you to come in and feel comfortable, relaxed, and at home so that you can get engaged with the experience and our staff."
From the Scandinavian, minimalist-inspired tasting room to the lawn furniture dispersed within the vines, Cloudland evokes a familiar warm, homey feel. Wilborn and his staff pride themselves on the immersive experience they offer. There are 10-12 rows that work as sitting nooks where guests sit at the head of the vineyard row, but guests are allowed and even encouraged to move deeper into the rows for a more intimate experience.
"It's all right here. The vineyard, the production area, the tasting room, the winemakers, the growers — you're sitting in the middle of all of it," Wilborn says.
Whether you are a seasoned sommelier or new to the wine scene, Cloudland has a place for you. The winery, which recently celebrated its first anniversary in October, is open five days a week and offers various red and white wines by the glass or bottle, staff-guided tastings, and winery tours. Bring your friends, family, and furry companions to experience the fruition of all of Wilborn's hard work.
Cloudland Vineyards + Winery is located at 3796 N. Bogan Road in Buford. For more information, call 678-765-7945 or visit Facebook.com/cloudlandwines.