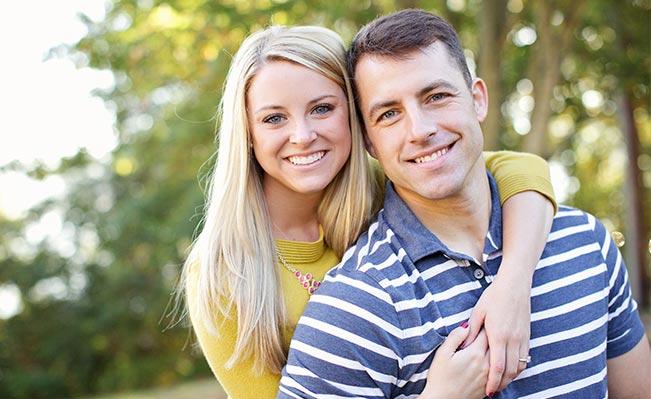 In honor of Valentine's day this year we wanted to spread the love and share some of our readers' most treasured memories. Personal accounts of their proposal stories are sure to warm your hearts and put a smile on your face! Congratulations and best wishes to each of our contributing couples whether recently engaged or married for decades. Happy Valentine's Day!
Laura & Jesse
Submitted by: Laura Lane
My future husband and I met in college at The University of North Georgia, in Dahlonega, a little over 4 years ago. Shortly after we met, he graduated and commissioned into the United States Army, which took him to Missouri for training. Our relationship continued to hold strong through the years of long- distance and a 9 month deployment to Afghanistan. Through all of the obstacles we have overcome, I know we can get through anything! Finally, this past summer, he planned a week-long trip
to Georgia. I thought something was up but was excited he was coming to visit for that long! He and my dad said they were going to "play golf " one morning. Usually after a day of golf, I hear every detail but when he returned he was very quiet. I assumed he hadn't played well and left it at that. He then asked if I wanted to go to Dahlonega to visit what we like to think of as our "hometown."
We went to dinner at our favorite Italian restaurant. Afterwards, we walked around the square and he took me to the very center where we first met back in 2010. We sat on the bench, which I thought was definitely out of the ordinary, but still had no clue! As I was looking at the mountains, I could see him out of the corner
of my eye, trying to say something but unable to get the words out! He started to laugh, as did I. At that point, I knew something was happening! He started to speak while reaching into his back pocket. I had no idea what he was saying, I was too focused on what he was taking out of his back pocket! He then pulled out the box, got on one nee and asked me to spend the rest of my life with him. Someone appened to be walking by and took our picture with sheer joy on our aces! We didn't want to leave Dahlonega right away so we went to the drill field, the center of campus, and enjoyed the moment!
Later in the car, I found out that he and my dad had gone together to choose the beautiful ring! No golf had been played that day they just had to trick me!
We're getting married at the end of March, and will begin our w journey with a move to Fort Leonard Wood, MO!
Kevin & Kelly
Submitted by: Kelly Pierannunzi
Kevin and I started dating when we were 14 and 15-years-old: high school sweethearts. The longer we dated, we knew we were going to end up getting married and spending the rest of our lives together. A little background information on me, Kelly. I love surprises but Kevin…not so much. We joked many times that when that special proposal day would come that it would need to be a surprise, but nothing extravagant and never at a restaurant, because I just think that's cheesy. We dated for 8 1/2 years before we got married, and the day he proposed, on July 26th, I hit the ground running in planning my perfect wedding.
At the time, I had just finished taking my boards for officially becoming a Registered Nurse, and we wanted to celebrate almost every weekend. One weekend when I wasn't working at the hospital, we decided to go out to dinner. I thought nothing special was going to happen that night because we were just going out to dinner and he knew a dinner proposal was off limits. Little did I know, when I pulled up to his driveway and opened his garage door my SURPRISE dream proposal was about to unfold. There in front of me was a path of rose petals with candles guiding me into the house. Every few steps there were signs he had made that built up to the final big question. They read. "You are my past. You are my present. You are my future." As I turned the corner to walk into the living room
I was surrounded by countless candles and rose petals with "our song" playing in the background (soon to be our first dance song). The last sign read, "Will you…" and there he was on one knee, holding his rose and the ring for me with a sign below him that read "Marry me?" I had been waiting so long for this moment… 8 1/2 years to be exact and I could not have planned it better myself.
Our wedding day was January 11, 2014. We got married at Perimeter Church Chapel, the church I grew up going to, many times accompanied by Kevin. We had our reception at Sugarloaf Country Club, the neighborhood I grew up in for 15 years of my life. It was very special to me to have the reception there, for Kevin and I spent countless dates attending their Sunday brunches, and basically grew up within this community. The entire evening was a night to remember with friends and family celebrating our marriage. Today we are coming up on our one year anniversary, and I couldn't be more excited for what the future has in store for us.
Megan & William
Submitted by: Megan Shipplett
My husband William and I had been dating for almost five years before he proposed. It happened on our annual trip to visit my family in Kentucky for Christmas. (I had always told William that I wanted my family to be around to witness the big question.) My grandparents mean the world to me, and that's what makes our story so special. With my sister, brother-in-law and both of my parents, William and I traveled the seven hours to Lexington to celebrate Christmas with my family. We stay at my grandparents house every year and have a fun family gathering.
This particular year, we were rushing to get ready to go to a Christmas brunch and I was running behind, as usual. My sister and mother were yelling at me to hurry up – we needed to leave ASAP. With my hair still wet, makeup half applied, I grabbed my makeup bag and purse and flew into my grandmother's living room. It was one of those "less than perfect" appearance days… Oh well. I walked into the living room to my entire family waiting on me to be ready to go. I was already frustrated when my grandmother turned to me and asked me to "put an ornament back on the tree that had fallen off." I huffed and puffed and insisted she hand it to me quickly so that we could leave. She handed me the crystal heart ornament and I promptly dropped it on the hardwood. Thank God it didn't break! As I bent down to pick it up, I read the "Will you marry me?" engraving on the heart. I stood up and looked at everyone and asked, "Who the heck is getting engaged?!" Blonde moment. As I turned to the tree, my Prince Charming was on one knee! With the entire family watching with tears in their eyes, I said yes! We were then able to announce our engagement to the extended family at brunch. Being able to share that moment with my parents and grandparents made his proposal perfect.
The champagne and wedding planning started flowing immediately and we were married nine months later in October of 2013. This past fall, we celebrated our first anniversary, and this Christmas (and every future Christmas), I have a keepsake proposal ornament to hang on our tree! That is, if I don't break it. 
Shay & Adam
Submitted by: Shay Harbaugh
July 3, 2009 (Adam's Birthday), to visit my parents. Well, I am very competitive and the show "Are you Smarter Than a Fifth Grader" came on. For fun, we all decided to play along (me, my mom, my dad and Adam). We each got a sheet of paper and pen and as the questions were asked we would each write down our answers to see who was right. Well one question was a math problem and Adam said he couldn't figure it out and asked me to help him. I'm hinking, "How could he not get his?" so I'm showing him step-by-step how to solve the problem and wasn't even paying attention to what was written at the bottom of the page. My mom had to say "Shay look at the bottom!" Written on the paper was "Shay, will you Marry Me?" As I turned around, he was on one knee with the ring. I started crying and of course I said yes! Adam said that me saying I would spend the rest of my life with him was the best birthday gift he could have hoped for!