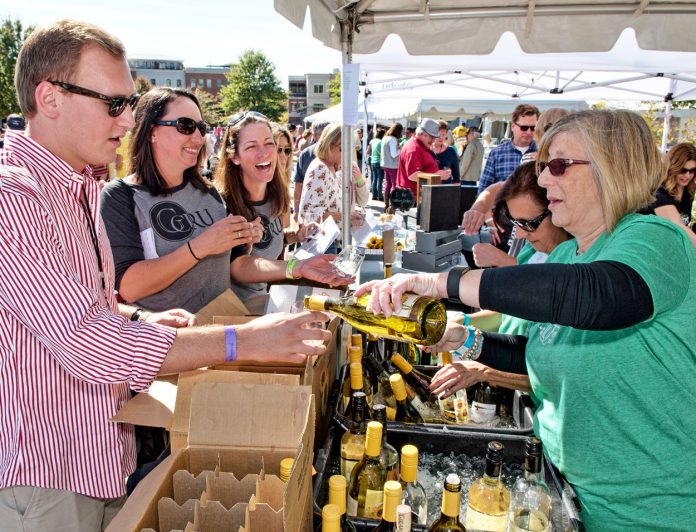 So, if you are at the Suwanee Beer Fest on Saturday, March 18th, you will notice an added attraction this year. At the Beverage Superstore tent, there will be a Suwanee Wine Fest preview.
[ngg_images source="galleries" container_ids="26″ display_type="photocrati-nextgen_basic_slideshow" gallery_width="320″ gallery_height="240″ cycle_effect="wipe" cycle_interval="5″ show_thumbnail_link="0″ thumbnail_link_text="[Show picture list]" order_by="sortorder" order_direction="ASC" returns="included" maximum_entity_count="500″]By: Karl Furem, Wine Expert at Beverage Superstore
That's right Suwanee Wine Fest and Suwanee Beer Fest are joining forces. We will have a sampling of four extremely popular wines from last year, and four new wines that will enter the fray this year. All wines are available for purchase at Beverage SuperStore in Suwanee.
ZOLO SIGNATURE WHITE
This wine performed extremely well at the last two Suwanee Wine Fests. Made in the foothills of the Andes Mountains in Argentina, Zolo Signature White is a refreshing blend of Torrontes, Sauvignon Blanc and Chardonnay. This wine portrays loads of tropical fruit upfront, with grapefruit following and just a hint of jasmine. Slightly effervescent and just a little sweet makes this an amazing springtime choice. $10.99 a bottle.
SEXUAL CHOCOLATE
From last year's festival is a red blend from Slo Down Wines. Sexual Chocolate was immensely popular at last year's wine fest. The nose presents aromas of dark fruit and cherry; hints of clove and other rich spices follow. The first sip will bring layered flavors of plum, blackberry, cola, cherry, and a bit of dark chocolate (hence the name). The soft silky finish has just a hint of earthiness that really makes the rich fruitiness standout. $22.99 a bottle.
BURIED CANE CABERNET SAUVIGNON
This wine from the Columbia Valley in Washington State is: 80% Cabernet, 16% Merlot, and 4% Petite Verdot. Its dark purple color leads you to a nose full of red fruit and an earthy coffee aroma. This full-bodied red then fills your mouth with black cherry and raspberries, with a nice spice lingering on the finish. $14.99 a bottle.
WHITE KNIGHT PROSECCO
Another hit from last year was this great sparkling wine that presents a bright straw color, with plenty of bubbles. It has a nice floral nose with a hint of apple. Once you take a sip you will be hit with apple and peach followed by cascading citrus flavors through the crisp finish. It is definitely an altogether pleasing experience. $14.99 a bottle.
MOOBUZZ CHARDONNAY
Moobuzz? Yes, Moobuzz, because it's from California – the land of milk (cows go moo) and honey (bees buzz). It has a very citrusy nose with prevalent lemon and key lime aromas. Its crisp acidity allows the apple, pear, and honeydew melon to pop out before the buttery, creamy oak finish rounds out the experience. $13.99 a bottle.
STARS LIKE OURS ROSE
Well, it wouldn't be springtime without a Rose', so I present you a great wine from Tank Garage Winery. Watermelon, strawberry and a hint of jasmine fill your nose as full flavors of melon, honeysuckle, and hints of spice lead to a crisp satisfying finish. $13.99 a bottle. #RoséAllDay!
ZOLO SIGNATURE RED BLEND
A delightful Argentinian wine with a combination of Merlot 30%, Bonarda 30%, Cabernet Sauvignon 25%, and Malbec 15%, that creates a medium-bodied, easy drinking red that straddles the line between dry and fruity. Its nose is full of cherry and berry aromas. These flavors are bolstered on consumption with pepper, coffee, and chocolate flavors, trailing off with a hint of cranberry and raisin on the finish. $12.99 a bottle.
DOMAINE DES VERCHERES BOURGOGNE PINOT NOIR
A nice, French Burgundy that pours a light garnet color, with aromas of fresh cherry and strawberry on the nose. You will notice flavors of red fruit along with cherry, plum and a bit of licorice. The finish is earthy with a hint of oak. $15.99 a bottle.
Hopefully, these selections have enticed you to stop by and sample some vino with us at Suwanee Beer Fest. We hope to see you there! And don't forget to go ahead and save the date for Suwanee Wine Fest on Saturday, November 4th!