Part distillery, part craft brewery, part Euro Bistro, Sugar Hill Distillery, Apparition Brewing and Wunderbar Bierhaus bring a unique experience to Sugar Hill's Shine District.
By Jaya Lord | Photos by Jessica Dacey and Jaya Lord
Located in the heart of Sugar Hill's Shine District is the nation's first dual-permitted craft distillery and brewery with a full-service Euro bistro. Sugar Hill Distillery is truly one of a kind and has a place for everyone of all ages. The power couple behind Apparition Brewing, Sugar Hill Distillery, and the Wunderbar Bierhaus are Keri and JD Liebrock, who are always working hard to serve their community.
Tell us about your head brewer.
JD is our head brewer and distiller and is a former federal officer and Director of Intelligence for the U.S. Army. He learned to distill in foreign countries by fermenting fruit cups. After getting out of the military, he went to receive formal training at the University of Kentucky and has worked with many people in the industry, including a Jack Daniel's expert. Fast forward to 2014, JD started his hobby of beekeeping and we wanted to use the delicious honey to make whiskey and shine. After Sugar Hill Distillery, LLC was born in 2016, he did a lot of one-on-one training with Nathan, owner of Brewha Equipment Co., to create a system that could both brew and distill. He did a lot of research to create recipes and we've invested a lot on water filtration systems to mimic European water profiles because water truly makes a difference in flavor profiles.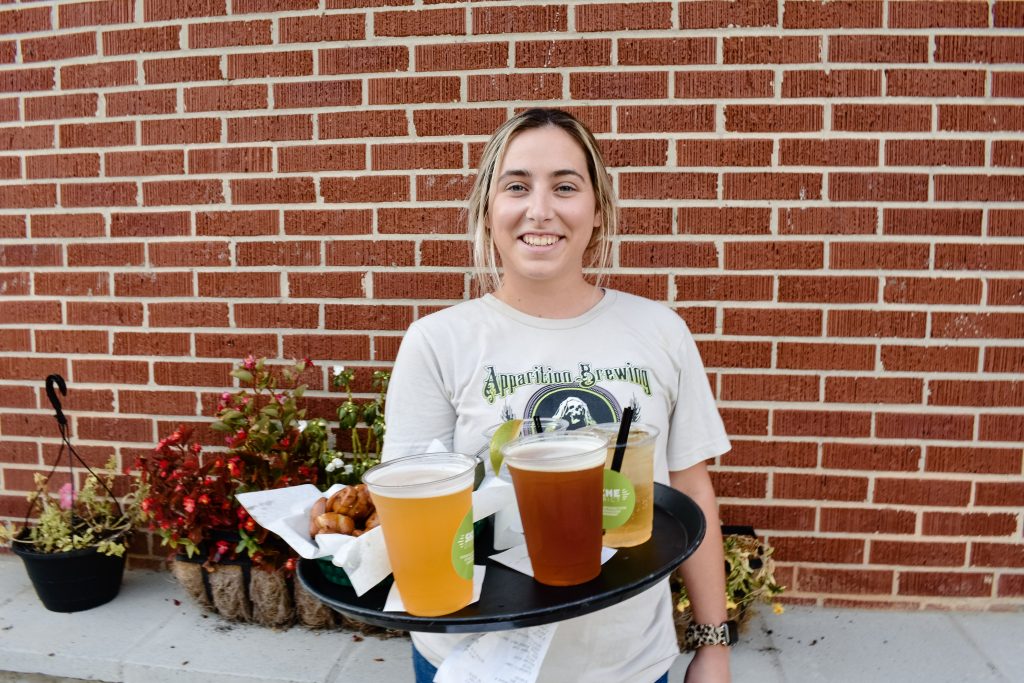 How did you get involved in the craft beer industry?
This isn't what we originally envisioned, we were content with setting up a few small stills in our backyard and making spirits and beers just for ourselves and for our friends. JD originally applied for a small batch, federal experimental license but our application was denied because they stated that there were enough of those out in the industry. We came back with a business plan and the next thing you know, Sugarhill Distillery LLC was born in January of 2016.
The City of Sugar Hill heard about us through the grapevine and invited us to be a part of their downtown vision and growth. We ended up where we are now and went back to the drawing board to figure out more ways to serve our community. We've got the distillery covered but not everyone is a spirit drinker, so how about beer? Well, if we are going to have spirits and beer, what about food? We had a great working kitchen so we decided to make it a Euro bistro, too.
What are some perks about being in the heart of Downtown Sugar Hill?
It's the Shine District! It's open container down here and encourages the "live, shop, play" mentality. Parking has been difficult in the downtown area but the City is working on that and is currently in the process of building a parking garage. Overall, the City of Sugar Hill is very supportive!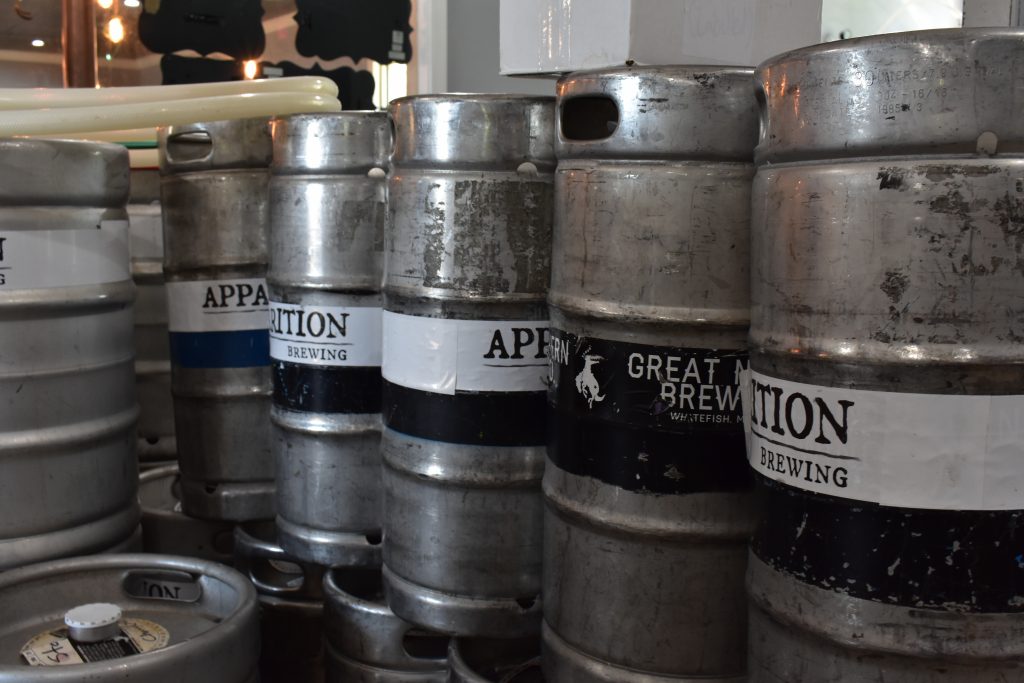 How has the response been since opening?
It's been great. We are Sugar Hillions and we love our community, so we take pride in producing high-quality beer, spirits, and food! We are veteran-owned so we do discounts for all veterans, military, and first responders. We also have a Drink It Forward Board where you can buy beers and drinks for veterans you know, and our Founders Club has been fantastic. If you join you get great benefits like free cocktails, beers, and discounts on your food.
What inspired the interior and overall theme of Apparition Brewing?
It's a mixture of both of us! In the beginning stages, everywhere we would go we would see something and just say, "What if we did this or what if we did that?" We just wanted it to feel homey. Traditionally, when you think of German anything it's dark and heavy, so we really wanted to liven it up and have a different view. In here you'll see tables that JD and his brother handmade, a fan system we found while on a family trip in Chattanooga, and copper accents to give that industrial and "I'm in a brewery/distillery" type of feel. In our beer garden there is tons of comfortable seating with string lights all around that make people feel like they are enjoying a night in their friend's backyard.
What sets you apart from other breweries and brewpubs?
There are a couple of things that set us apart. First, we have professional chefs and our food is phenomenal. Since our beers are primarily European, German, Irish, Scottish, etc., our chef can come up with dishes that complement and work with our beers and vice versa. Second, we're not a brewpub so you will only consume alcohol that was manufactured here. Our lead mixologist, Emory, has been in the industry for practically forever. And since we're a federal manufacturer, we can't use cointreau or any other liqueurs so she makes all of our syrups, mixes, and anything that goes into our cocktails in-house. Third, you will find comfort in our consistency. A lot of breweries are constantly tweaking their product, but because JD is so methodical in the way that he brews and distills, once you try something and you come back months later, it will still taste as great as it did the first time.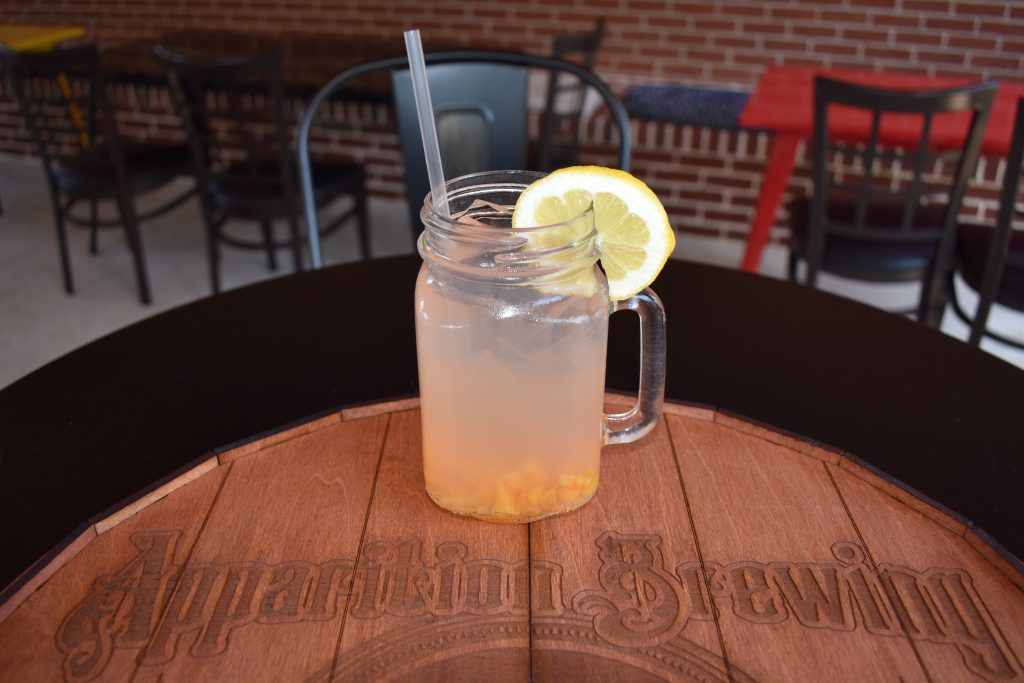 What is your top seller?
Our top seller for beer is either our Glückspilz Lucky Devil Kölsch or our Alice Hazy IPA. On our cocktail side of things, our Georgia Peach is a top seller. It's made with our peach-infused vodka, fresh peaches, and house-made peach syrup and lemonade.
Do you host any community events?
Yes! In addition to being open daily for breakfast, lunch, and dinner we have trivia every Monday night, kids eat free all day on Tuesdays, five dollar pints all day on Wednesdays, bingo and Thirsty Thursday specials on Thursdays, and live music on the weekends. We also do live, free comedy shows and will be celebrating Oktoberfest September 30-October 2, where we will be offering a collectable 32-ounce stein, hosting a pretzel eating contest, live music, and more!
Sugar Hill Distillery, Apparition Brewing and Wunderbar Bierhaus are located at 1166 Church St. in downtown Sugar Hill. For more information call 470-589-1775 or visit SugarHillStills.com or ApparitionBrew.com.