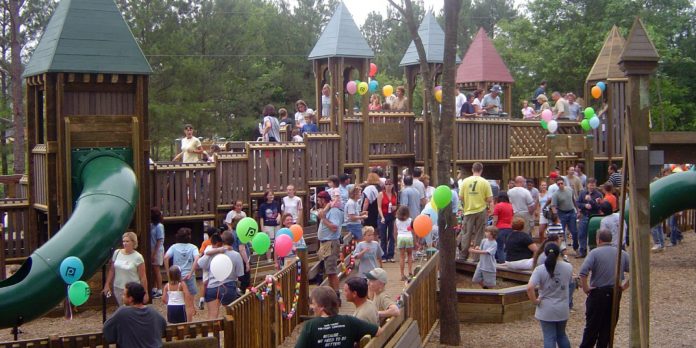 Suwanee's iconic PlayTown Suwanee playground to be rebuilt by community volunteers for a new generation of children to enjoy.
Interview by Alicia Carter | Photos courtesy City of Suwanee
PlayTown Suwanee has long stood as a cherished symbol of community spirit and childhood adventure. Nineteen years ago, the Suwanee community banded together to construct the original PlayTown Suwanee, a beloved old-school wooden playground that captured the imaginations of our kiddos. Now, with the city's plans to develop the new Town Center on Main, an exciting chapter unfolds as PlayTown Suwanee prepares to be rebuilt, rejuvenated, and reimagined.
The vision for PlayTown's revival is set in motion by the City of Suwanee and an enthusiastic volunteer committee, collaborating closely with Leathers & Associates, the very same designer and project management team that spearheaded the original community build. Their expertise and passion promise to honor the spirit of the original playground while introducing new elements that will thrill a new generation of children.
Currently, the City of Suwanee is collaborating with volunteers and Leathers & Associates to design the new playground. Then in October, Suwanee will once again gather as neighbors, friends, and volunteers to bring the new PlayTown Suwanee to life. This community-build event will not only forge lasting memories but also reinforce the essence of what makes Suwanee such a remarkable place to live. In anticipation of the unveiling of the new PlayTown Suwanee design, we spoke with Kimberly Towne, Suwanee's Events Coordinator, to learn more about the decision behind the rebuild and the process for bringing new life to PlayTown Suwanee.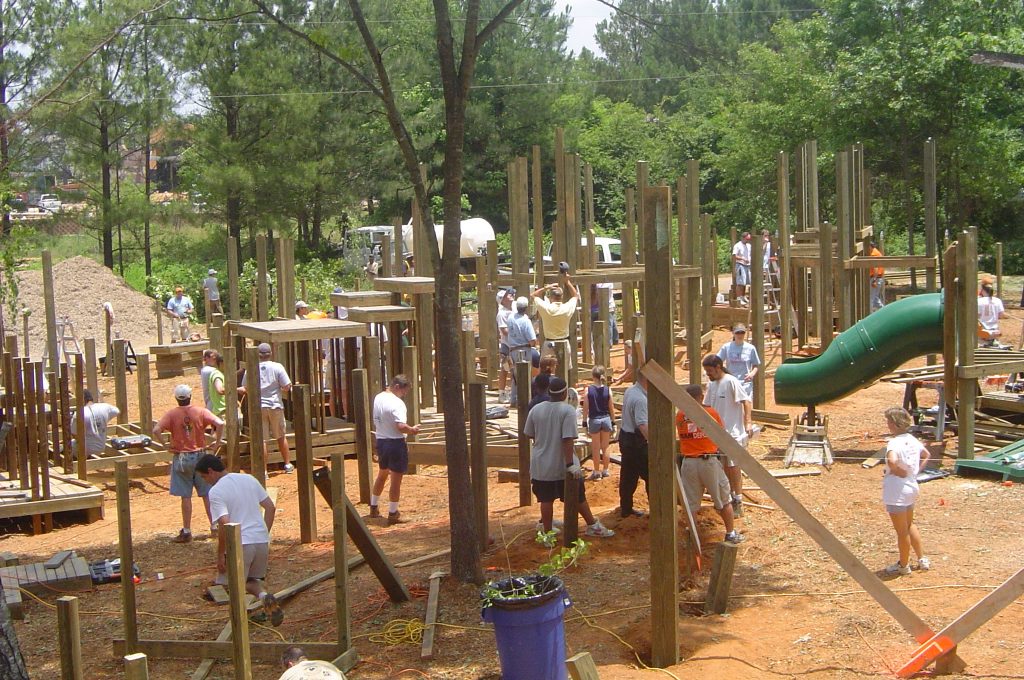 Tell us about the original PlayTown Suwanee. When was it built? What was the process?
The original PlayTown Suwanee was built in 2004 over a five-day period by 1,000 community volunteers. Much like the rebuild of version 2.0, the city solicited input from local children and the design team incorporated their suggestions into the creation of PlayTown. The designers are adept at interpreting the big ideas of kids into actual structural elements. For example, "I want to fly!" translates to incorporate swings, slides, and bouncy components.
Why not renovate the current playground? What led to the decision to build a brand-new playground?
We explored rehabbing it, but ultimately it made even more sense to rebuild PlayTown Suwanee with modern, durable materials and incorporate some new features. (Playground trends have come a long way in 20 years!) We are committed to using environmentally friendly construction materials, including recycled structural plastic and recycled composite lumber. Both are earth-friendly, long lasting, and virtually maintenance-free.
With the construction of Town Center on Main, this seemed like the perfect time to give our beloved PlayTown a much-needed facelift, while also providing a new generation of parents the opportunity to be involved in a truly impactful project.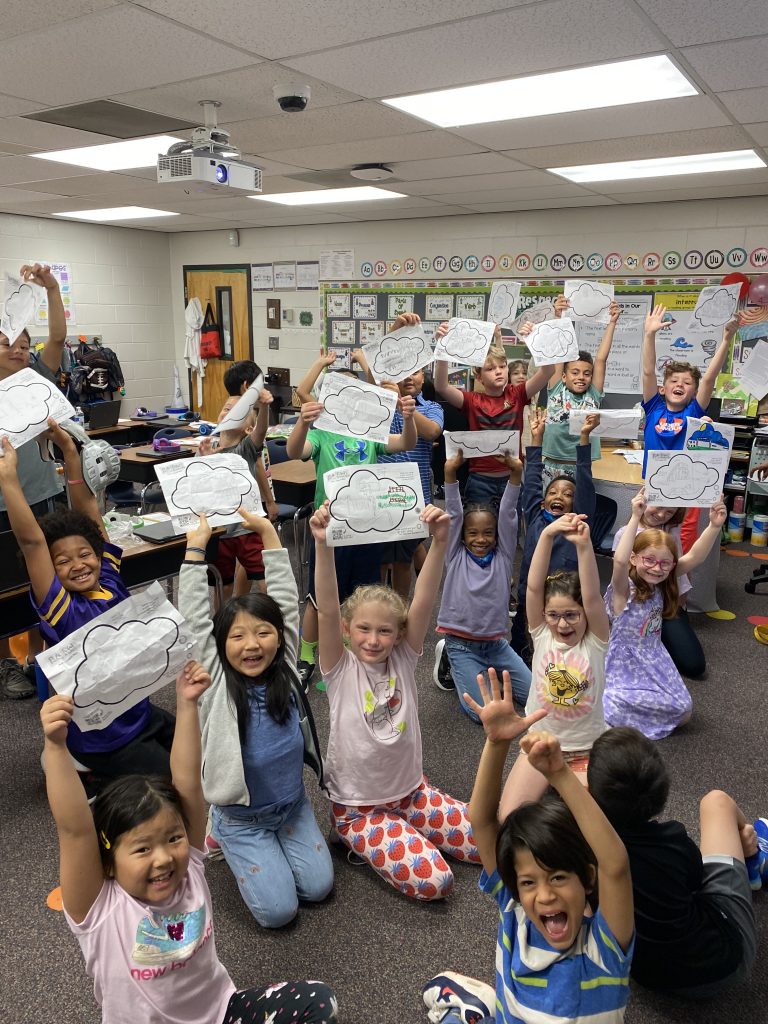 What is the process for building and designing the new playground?
The city has contracted with Leathers & Associates – the designer and project management team behind the original community build – to return to Suwanee to help modernize PlayTown Suwanee for a new generation. Since 1971, Leathers has helped build more than 3,800 playgrounds across all 50 states (and in seven other countries, too!). Leathers has helped guide us through the entire process, including facilitating visits with over 300 kids from 20-plus elementary school classrooms within the Suwanee city limits to gather ideas from playground experts! We also received drawings and ideas from lots of other children through our website.
Tell us how this will fit into the new Town Center on Main?
PlayTown Suwanee is located in the southwestern corner of the 25-acre Town Center on Main site. Town Center on Main, along with PlayTown Suwanee and the DeLay Nature Park, will transform the area, creating a cohesive "neighborhood" to encompass the Suwanee library and Fire Station 13. We will also be rerouting Main Street, which will shift around the park and exit onto Suwanee Dam Road at the traffic signal and the fire station. This shift will close the existing median break on Suwanee Dam Road at the existing Main Street, greatly improving the safety and traffic flow at that intersection.
Once completed, Town Center Park and Town Center on Main will function as a unified space, linked by Station Park (located next to the police station) and the pedestrian tunnel under the railroad. The topography of the new park will allow it to overlook Town Center, further enhancing the relationship of the two spaces.
When will the new playground design be introduced to the public?
The hope is to unveil the design in mid-July. Much like the original, PlayTown Suwanee version 2.0 will be completely unique and reflective of our community. All designs created by Leathers & Associates meet or exceed ASTM International Playground Safety Standards, CPSC Safety Guidelines and ADA. Every one of their designers and construction consultants are certified playground safety inspectors – PlayTown 2.0 will be inspected and certified upon completion.
What is a community-built playground?
A community-built playground is when the community comes together to install a commercial- grade playground with the supervision of a professional installer. The experience offers a rare opportunity for individuals to collectively give something back to their community, resulting in a beautifully constructed, unique expression of shared pride. We're looking for volunteers who aren't afraid to roll up their sleeves and get their hands dirty (or covered in paint, or cement, or whatever else we may need). We need volunteers of ALL abilities and interests – whether you are a construction expert, a little bit handy, or have never even held a hammer – we've got a place for you! Shifts will range from 2-3 hours up to the full day (or week)! Kids ages 10-13 years can volunteer alongside a parent. Volunteer opportunities for committee roles and workday sign-ups will be announced soon.
When will the new build take place?
October 9-15, 2023 (weather permitting).
Anything else readers should know?
Participating in a community-built playground is such an incredibly unique and "Suwanee" experience. It builds not just a play structure, but friendships and memories!
Learn more at www.suwanee.com/explore-suwanee/parks/playtown