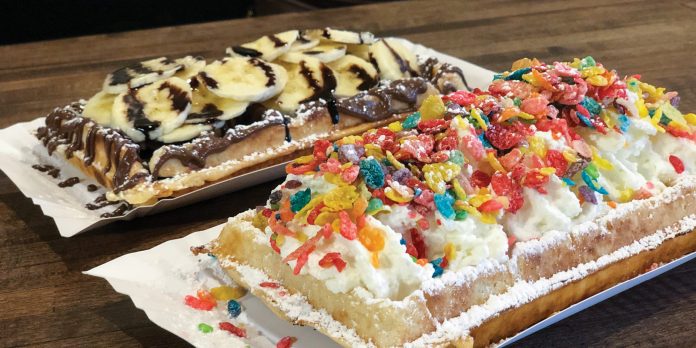 From cookies to cupcakes to waffles — yes, waffles! — we went bakery-hopping in Suwanee to find our favorite sweets.
By: Lizzy James | Photos by Gary Dowd
On a particularly chilly day back in February, a sweet tooth that couldn't be satisfied swept through Suwanee Magazine HQ. Finding ourselves tempted by Instagram photos of sprinkle-covered doughnuts, homemade waffles and cosmic-colored macarons, we decided to bakery-hop through Suwanee. The following are the goodies we couldn't resist.
Drēm Waffle + Coffee Bar
3590 Old Atlanta Road, Suite 200
678-807-7346
DremWaffles.com
Drēm Waffle + Coffee Bar is a popular Suwanee coffee shop and restaurant that serves up a variety of European waffles, pastries and desserts for both breakfast and lunch. Their menu is filled with delicious sweets, including the Banella Waffle (topped with Nutella, banana, and powdered sugar), the Waffle Parfait (featuring yogurt, fresh fruit, and granola), and even breakfast waffles topped with over-easy eggs and bacon or smoked salmon, cream cheese, capers, and dill. We recommend trying a Fruity Pebbles waffle topped with whip cream and delicious fruity cereal. 
---

Luna's Cookie Studio
2870 Lawrenceville-Suwanee Road, Suite C1
678-717-9965
Lunas-Cookie-Studio.business.site
If you're a macaron lover, look no further than Luna's Cookie Studio. The French cookie and coffee shop specializes in nothing but French desserts. Their cakes and macarons are made fresh daily with ingredients like nuts, almonds, pecan, dried cranberries and so much more. We recommend trying the cookies and cream, hazelnut Nutella, or chocolate macarons the next time you're craving something sweet! 
---

Cafe Mozart Bakery
2790 Lawrenceville-Suwanee Road, Suite 120
678-482-9645
CafeMozartBakery.com
Cafe Mozart Bakery blends European-style breads and confections along with unique Asian flavors and ingredients. Their pastries, cookies and other baked goods can be enjoyed in a relaxed atmosphere with oversize booths, soft lighting and inviting decor. We recommend trying a slice of red velvet cake paired with a specialty tea or coffee. 
---

Freezing Moo
991 Peachtree Industrial Blvd., Suite 122
678-765-0663
FreezingMoo.com
Freezing Moo has taken the city of Suwanee by storm with its delicious Thai fried ice cream rolls. The ice cream rolls are handmade with milk in a flavor of your choice, then poured over an ice grill where the ingredients are then mixed in and rolled together. We recommend trying the Strawbella roll that features Nutella, freshly sliced strawberries, graham crackers, and topped off with Pocky sticks. 
---

J & J Donuts
415 Peachtree Industrial Blvd.
678-926-3763
JandJDonuts.com
J&J Donuts crafts freshly made donuts every morning and features everything from the simple, but delectable glazed donuts to sausage rolls and breakfast sandwiches. The bakery will even do custom donuts with certain colors, toppings and shapes upon request. We recommend trying the s'mores, vanilla frosted or chocolate and cake crumb donut! 
---

8Sweet Treats
864-477-9049
8sweettreats.com
Krishna Dalia, owner of 8Sweet Treats, serves delicious baked goods with a twist to the Suwanee community. Aside from offering regular bakery items such as custom cakes, cookies and brownies, she has also perfected the art of making alcohol-infused baked goods. Krishna also offers catering and dessert bars for parties, bridal showers, corporate events and more. We recommend trying the boozy margarita cupcakes!