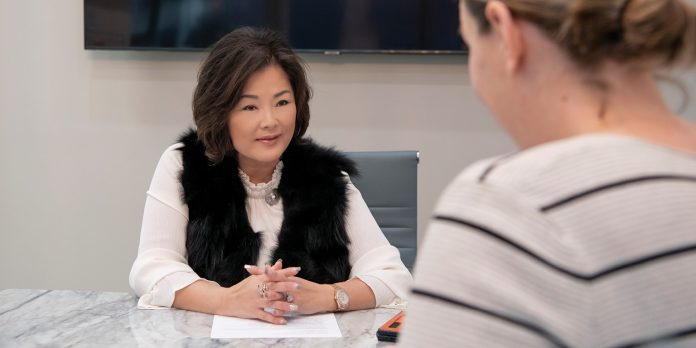 One of the area's top realtors, Kelly Kim, opened her Suwanee office in July 2021.
By Alicia Carter | Photos by Karl Lamb
As everyone knows, location is everything. Which is why it's no surprise that Kelly Kim chose Town Center, the city's bustling downtown area, to open her real estate company's new satellite office. Located next to Bottles and Bones, Kelly's office is as chic and sophisticated as she is. The front room welcomes guests with a bright white interior and a shiplap accent wall adorned with her logo. The comfy sitting area is impeccably decorated for the season and leads to a more formal office area in the back. It's an inviting space that will calm any nerves, especially since those who walk through these doors will be making one of the biggest decisions in their lives: buying or selling a home.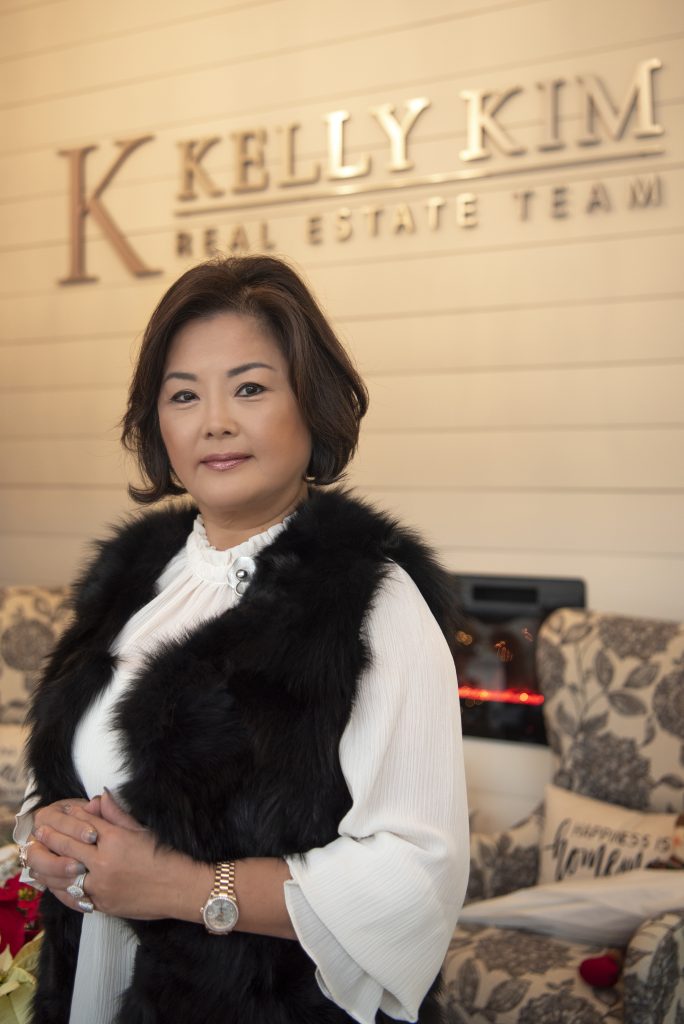 Kelly grew up in the Stone Mountain area and attended college at Boston University, where she studied communications. After completing school, Kelly traveled to Korea, where she worked as an actress for a little over 10 years. Family needs, including her father's ailing health, eventually brought her back to Georgia, and Kelly and her husband officially planted roots here in Suwanee four years ago. "When I was building my home, everyone would ask me, 'Why Suwanee? Why not Johns Creek or Alpharetta?'" Kelly says. "I just knew Suwanee was going to grow, and it's grown tremendously." Suwanee is now an in-demand location with amazing parks, a great school district, and a burgeoning shopping and restaurant scene.
Kelly has dedicated herself to the real estate business ever since getting her license in 2013, and she's seen tremendous success in the field. "I think God gave me a gift to become a realtor," she says. "Working in real estate, you have to have devotion. You have to have patience. You have to have dedication. And you also have to make sacrifices. For instance, on weekends, I want to stay home. But you know what? People are off on the weekends. It's when they need to look at homes. So I'm available to them. I basically work 24/7. I am available for holidays, you name it. I worked on Thanksgiving Day, Christmas, New Year's, New Year's Eve. But I also enjoy what I'm doing, and I think that's very important. When I take on a client, I treat their home-buying process, or selling process, as if it's my own." For nearly 10 years, Kelly has worked hard to make a name for herself in Atlanta, and she now brings those years of experience and dedication to the Suwanee market. Not only does Kelly and her team represent buyers and sellers alike, but she also helps her clients with additional needs such as renovations and upgrades once they purchase their home.
"I can help change out the light fixtures, shiplap, accent walls. I mean, you have to dress it up and make it what you want and enjoy it," she says. "Most people only fix up their home when they're ready to sell, but you know what? You're spending all this money and you don't get to enjoy it. I advise my buyer, if you have some budget, you need to dress up your home. It's going to add value."
When asked what sets her team apart from other realtors in the area, Kelly says it's all about finding the right person who fits your needs. "You have to find the right person to represent you, someone who's knowledgeable and dedicated," Kelly says. "We also have a diversity of agents. I call my agents the United Nations because of our diversity. We have Indian agents, Chinese agents — we cover a lot of demographics. I think that's very important."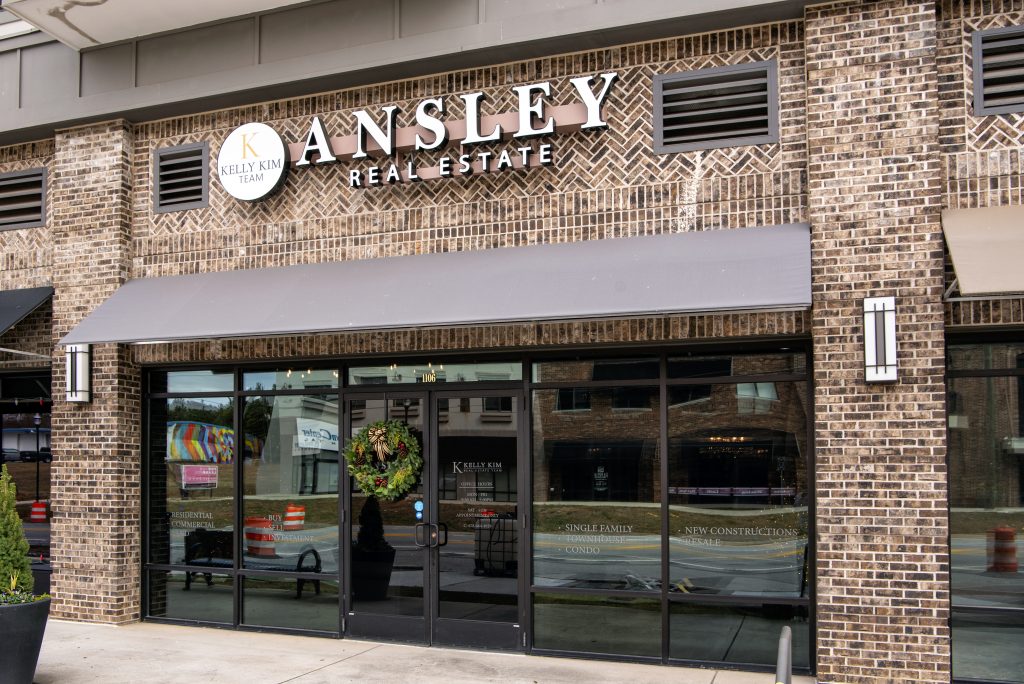 If you're interested in working with Kelly Kim and her team, she reiterates that she's available any time. "My phone is open 24/7, and my office doors are open," she says. Kelly also says she doesn't foresee the market slowing down any time soon. "I don't have a crystal ball in front of me, so I can't really tell you exactly what's going to happen, but as far as I'm concerned, I think this market is going to stay very strong. And I think it's both a seller's and buyer's market because, for instance, we have a very good interest rate right now. I have a lot of people who are calling me and saying, 'I think the market's going to crash and prices are going to go down.' But you know what? I don't think that's going to happen any time soon. So if you wait for that, you're going to lose out on a lot of things and you're going to regret waiting."
One thing you won't regret is choosing Kelly Kim and her team to represent you during your home-buying or selling journey. Kelly's knowledge, dedication, and the care she has for her clients is sure to lead you to your best possible outcome no matter if you're selling your current house or buying your forever home.
For more information about Kelly Kim, visit Facebook.com/kellykimrealestateteam, email her at kellykim@ansleyre.com, or call 678-464-4929.