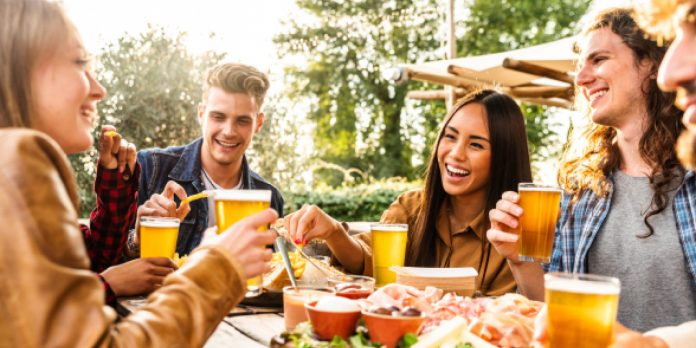 Sweet, sweet summertime! There are few things I enjoy more than feeling the warm sunshine on my skin and hearing the satisfying sizzle of a grill. The one thing that makes it that much sweeter though – sharing this seasonal bliss with friends and family. Whether you're bonding in the swimming pool or engaging in some friendly yard game competition, there's no doubt about one thing — we can all agree there WILL be food involved. So keep reading, because when it comes to drinks and dessert, I've got you covered. Wherever your crew (and cravings) lead you this summer, gather around that patio table and soak it all in!
By Natalie Garrett
Backyard Beverage Hacks
Keepin' it Cool
We all know it can be a challenge to keep drinks cold during those sunshiny shindigs. And while a traditional cooler is always a foolproof solution, it doesn't tend to add much personality to your backyard barbecue. If you want to elevate your drink display – while maintaining that ice cold status — consider one of these more creative options:
Watermelon Punch Bowl: You can always count on a big, juicy watermelon to unite people over a hot summer day. But, are you truly getting the most out of your melon? Unless you're repurposing the rind as a punch bowl, I'd bet not! Don't miss out on this clever opportunity to shine your hosting skills bright. Just chop off one end of a watermelon, completely hollow out the inside, then refill it with a refreshing spritzer of your choice. Not only have you successfully nailed an impressive DIY serving piece, but you also have crisp bites of watermelon as a snack or garnish.
*PRO TIP: Pay attention to the shape of your watermelon. You don't want to choose one too oblong that will have trouble standing up. You can also keep the watermelon rind in the freezer (after hollowing it out) until right before serving to help keep the refreshment extra cold!
Water Balloons: As an alternative to ice, try filling small balloons with water and freezing them overnight. Then just toss the frozen balloons into your preferred beverage bucket along with the drinks. Not only does this add a pop of color, but these larger spheres won't melt near as quickly as your standard ice chips.
Kiddie Pool: With the wide selection of kiddie pools available, you're guaranteed to find a color that matches your party. Throw in your bottles or cans, load it up with ice, and let guests enjoy sifting through the pool of drinks.
---
The Berry Best Salad
Since this
is our annual food issue and the highlighted dish is salad, it's only fitting that I contribute a salad recipe, right? Done. Allow me
to introduce you to my personal favorite: the
dessert salad. Yup, we're trading a bed of greens
for a foundation of sugar, then folding in freshly sliced fruit. With a light and airy texture — and (surprisingly) not overly sweet — this dessert pairs perfectly with any spread on a hot, summer day. I like to use strawberries, blueberries, and blackberries — particularly for those patriotic holidays — but bananas and grapes would work well, too! This recipe yields a pretty large batch, so it's ready to be indulged with a crowd at your next backyard barbecue.

Berry Cheesecake Salad
– 5 ounces (1/2 a bag) of miniature marshmallows
– 16 ounces vanilla yogurt
– 1 (8-ounce) tub of Cool Whip, softened at room temperature
– 1 (3.4-ounce) box of Cheesecake Jello-O Instant Pudding and Pie Filling, plus 2 cups of milk
– 16 ounces of fresh strawberries, sliced
– 16 ounces of fresh blueberries
– 12 ounces of fresh blackberries, halved
Directions:
1. In a large mixing bowl, prepare the instant cheesecake mix per the package's instructions.
2. Stir in the yogurt, then fold in the Cool Whip.
3. Add the marshmallows and berries, then stir again.
4. Refrigerate for at least one hour. Garnish with any extra berries and serve cold!

Recipe adapted from SavvyMamaLifestyle.com