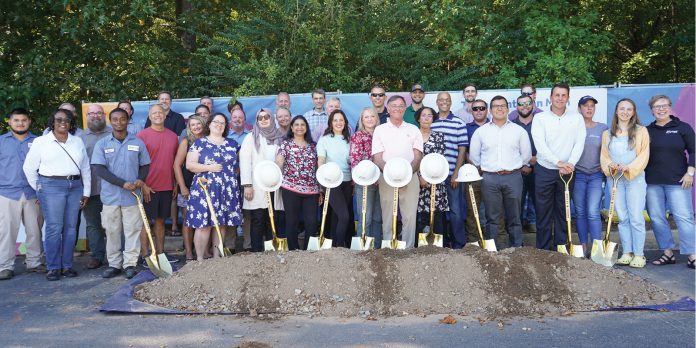 The City of Suwanee broke ground on September 26 on the long-awaited expansion of Town Center Park on Main and the DeLay Nature Park. Mayor Jimmy Burnette, the City Council, representatives from Reeves Young, Clark Patterson Lee, Gwinnett County Library, and other community members were on hand for the ceremonial groundbreaking.
The dual parks, totaling 25 acres, will transform the area, creating a cohesive "neighborhood" encompassing the Suwanee Library, PlayTown Suwanee, Fire Station 13, and resulting in the rerouting of Main Street and median closure on Lawrenceville-Suwanee Road.
Town Center on Main will be an urban-style greenspace with a unique character, personality, and purpose, similar to but separate from the existing Town Center Park. The Suwanee Library will serve as the anchor for this new space much like the way City Hall relates to the existing park. The majority of the site — roughly 15 of the wooded 25 acres along the existing Brushy Creek Greenway — will remain largely undisturbed as the DeLay Nature Park.
Once completed, Town Center Park and Town Center on Main will function as a unified space, linked by Station Park (located next to the police station) and the pedestrian tunnel under the railroad. The topography of the new park will allow it to overlook Town Center, further enhancing the relationship of the two spaces.
The park plan features a mixture of urban and rural environments, including an elevated bridge for pedestrian and bicycle use, an open terrace plaza at the peak of the park's elevation with large-scale pavilions, sand pit volleyball courts, and a public art piece.
"The success of Town Center Park has exceeded all expectations," said Mayor Jimmy Burnette. "The park draws over 300,000 visitors annually to events, as well as regularly serving our 20,000 citizens. The new park will help ease the demand on the existing park and surrounding community."