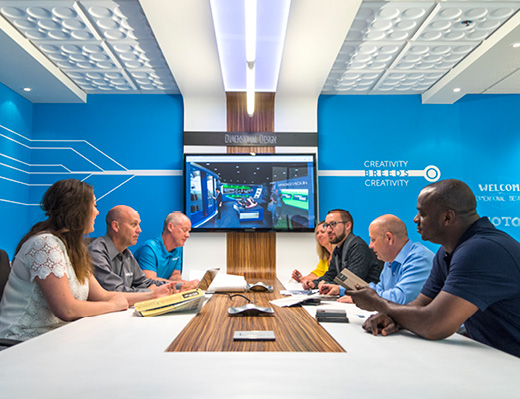 Duluth industrial design company integrates marketing strategy, design and execution to create engaging consumer experiences.
Good design is created with emotion and implemented with logic. This is the premise that Dimensional Design was built on and continues to live by today. Headquartered in Duluth, GA, Dimensional Design was founded in 1988 by Grant Perry, with the goal of building an industrial design firm capable of integrating four of the critical aspects of corporate and consumer marketing products: graphics, displays, exhibits and marketing interiors. Dimensional Design is one of the few design firms in the nation that combines graphic design, 3D design and manufacturing under the same roof; and not just for the sake of convenience, but also with a purpose. Rather than a company outsourcing their marketing needs to separate entities: an ad agency, industrial design firm, trade show exhibit manufacturer, etc. Perry decided to bring it all in one 42,000+ square foot production house.
"There was too much disconnect between marketing strategy, design and execution," he explained. With Dimensional Design being able to offer most core services, they are able to ensure that a company's brand identity is consistent across all levels and that the customer is able to work with one core team. Perry stresses, that whether it's a vendor-facing tradeshow exhibit, a client-facing retail display, or an employee-facing lobby structure, the design should speak to the company's culture and all are equally important.
"One of the things that sets us apart from other industrial design teams is that we have an extreme business understanding," said Perry. "We apply a true logic to everything we do." One such example is the Atlanta Motorsports Park (AMP), of which they had a hand in nearly every design element of the clubhouse. Working hand-in-hand with the General Contractor and Architect, Perry and his team of designers were able to execute the vision of AMP's owner and executive team. "Every detail is meant to tell their story, to bring their brand to life," said Perry. This is evident in elements such as the curvature of the reception desk in the lobby – designed to resemble each curve of the motorsports track; or the graphic display in the clubhouse which might look like a cool, modern piece from a distance, but is really a piece of art that mathematically depicts each level of elevation change throughout the race course.
"What we build conveys a culture, conveys a story and is meant to be a conversation starter," explained Perry. "All of our clients have a story, but sometimes they have trouble telling it. Our job is to find the magic in the details and then make it pop – without them having to spend a fortune," he continued.
Dimensional Design was one of the top sponsors at the 6th Annual Suwanee American Craft Beer Fest this past March and was responsible for the addition of new signage, displays, entrance structures, VIP decor and the all-new Social Lounge. Sponsors, vendors and event attendees alike reported that this year's beer festival was the best yet, and that the experience was truly elevated to a new level. Event organizers attribute much of that success to Dimensional Design – for the way they were able to bring the brand to life and connect with attendees on a more personalized level through the design experience.
Kevin Miskewicz, Senior Manager of Commercial Marketing at Mitsubishi Electric US Cooling & Heating, can attest to Dimensional Design's expertise as well. "The first projects were small-scale product demonstrations and displays; but based on their expertise in design and construction, along with their excellent customer service and support, we expanded the scope of projects drastically over the last few years. They are a very capable, multi-faceted firm and we have not had a project they could not handle, no matter the complexity level," said Miskewicz.
With 25 employees and 3 key designers, Dimensional Design's team brings a wide variety of expertise, from craftsmanship to 3D design to marketing strategy. It's hard to imagine that nearly 30 years ago, the fresh-out-of-college, Auburn University graduate, Grant Perry, was building his company's vision – all from the basement of his mother's house. With a degree in Industrial Design and a minor in Graphics, Perry knew that he wanted to focus on synchronizing the two.
His first big project was the renowned butterfly exhibit at Callaway Gardens in Pine Mountain, Georgia. "From that point on the company grew naturally, each year, just like a company should," said Perry. It wasn't long before Perry hired a team of industrial designers and engineers into a Decatur office, which they soon outgrew into a downtown Atlanta space, again outgrowing that office several years later.
With businesses only continuing to grow outside the Atlanta perimeter, it made sense to relocate headquarters to Gwinnett. "A lot of people didn't realize how great this area was doing, business-wise," said Perry, about his choice to headquarter in Duluth. "We travel all over the world for business, but love being tied into the
community here," said Grant. And with a handprint in many Atlanta-trademarks: Phillips Arena, Home Depot and "Taste of Speed Week" to name a few – there is a sense of local pride at the Dimensional Design offices and a buzz around their involvement with helping other metro Atlanta businesses succeed and tell their unique stories.
For more information about Dimensional Design, visit DimensionalDesign.net