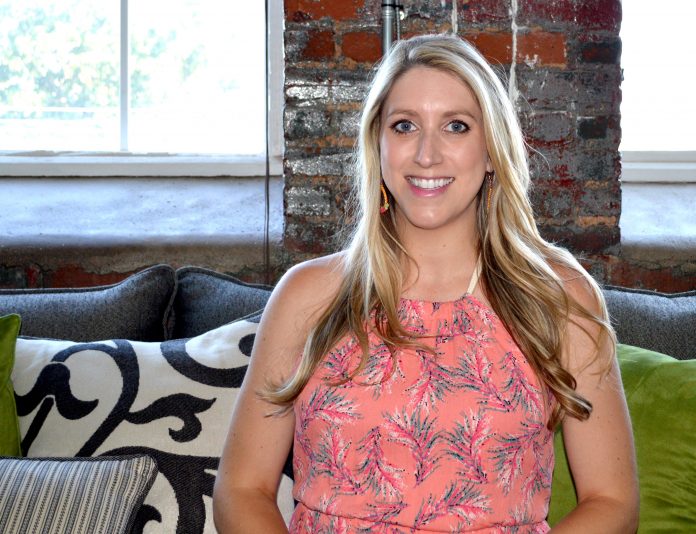 Rachel Pillow
Managing Editor
At the time I'm writing this I am expecting to have our first baby any day now. And by the time you are reading this I will, hopefully, be holding our sweet, healthy baby girl. Of course I'm filled with a million emotions as we embark on this new adventure – mainly excitement, but a little fear too. I just know my world is about to change in so many big ways that I can't even predict right now – but I'm thankful to have the support of my loving husband, family, friends and coworkers who are just as excited as I am!
A lot of people have been asking me if I'm coming back to work after having a baby and the answer is a big, resounding YES. I love my job – I mean who else gets the opportunity to climb to the very top of the new Mercedes-Benz Stadium in 95 degree Georgia heat at 8 months pregnant?! (Ha ha, yes, seriously – you can see photo proof on Page 17.) Or when else do you get to have an amazing spa-style pedicure for the sake of the job (thank you Vitality Med Spa for indulging me when I came in to interview you for the story – Page 33.)
But in all honesty, I feel very fortunate to be raising our daughter in a place that truly does embrace the "live, work, play" mentality: a place where we are encouraged to have a healthy work-life balance and support one another as a community – both in our business/professional lives as well as our family/social lives. Our parent company/publisher, Veugeler Design Group, was recently awarded Finalist in the Gwinnett Daily Post Reader's Choice Awards for "Best Employer in Gwinnett" – not much to our surprise! We are pretty proud of the fact that our 17-person team was only beat out by a (well-deserved) giant like Gwinnett Medical Center. So, yes, I am very happy to be able to come back to such a great place like this one after maternity leave.
And speaking of awards, Veugeler Design Group is also the marketing team behind some of your favorite local festivals: Suwanee Wine Fest, Suwanee Beer Fest and Gwinnett Beer Fest and is proud to announce that for the third year in a row Suwanee Beer Fest won "Best Festival in Gwinnett" in the Reader's Choice Awards. We know that Suwanee Wine Fest comes a close second, or even tops the list, for all of you wine-lovers out there and they have some pretty exciting things in the books for this year's event – set to take place on Saturday, November 5th. Mark your calendars – especially if you're trying to snag VIP – tickets go on sale Friday, September 16th at noon at suwaneewinefest.com. You can read more about this amazing festival and some of our other top picks like Suwanee Fest, Duluth Fall Fest and Alive Expo in our exclusive festival section on Page 40.
Fall is always an exciting time here in the South – the weather begins to shift from unbearable to manageable and we have so much to look forward to: festivals, football, a new school year, tailgating parties and more football! Our Suwanee schools are some of the top in the county and we asked each coach for the players to watch this season. Make sure you follow these four rising football stars – featured on Page 26 because we know they have big careers ahead of them!
Now, go grab one of our top tailgate beers (Page 56) and enjoy flipping through the following pages, dreaming of cooler weather ahead! Contact Rachel at rachel@suwaneemagazine.com.