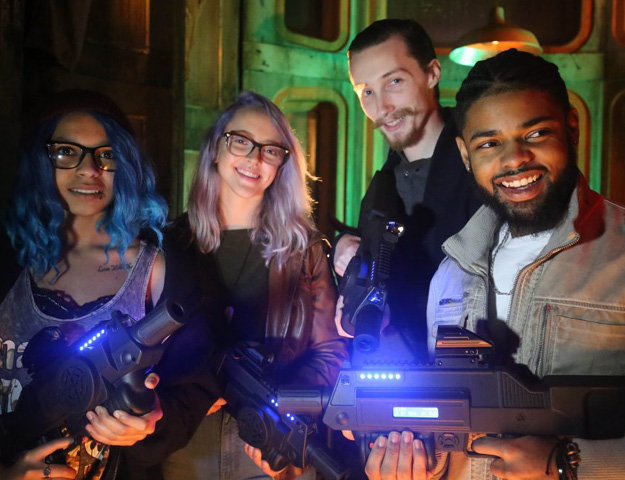 With Halloween right around the corner, we met up with Netherworld Co-Founder, Ben Armstrong, for a behind-the-scenes look at one of the top haunted houses in the nation.
By: Lizzy James | Photos Courtesy of Netherworld Haunted House
For more than two decades, Netherworld Haunted House has remained a rite of passage for thrill seekers throughout Gwinnett County and beyond. After all, the huge, fear-inducing attraction is consistently voted one of the top haunts in the nation, and rightfully so. Even after packing up and moving its reign of terror from Norcross to Stone Mountain last year, one thing remains the same: On any given night in October, terrifying monsters, haunting special effects, and blood-curdling screams can be found at "the scariest place on Earth." Featuring over-the-top special effects, transformative make-up, elaborate costuming and skilled stunt actors, Netherworld upholds its legacy as a tried-and-true Halloween destination thanks to the hard work of founders Ben Armstrong and Billy Messina.
"I have a background in TV production and when I made the move to Atlanta I connected with Billy," Armstrong says. "He has a background in the film industry and special effects, so we decided to team up and bring the idea of an unconventional haunted house to life. And now we've been doing it for 23 years."
Even after two decades, the duo still works year-round to create an immersive experience that's unlike anything guests have seen before. From building ever-more-complicated sets to investing in new technology and special effects, Netherworld has evolved into a Hollywood-like production with approximately 20 full-time employees working throughout the year to bring the haunt to life.
When the doors open for the 2019 season on the weekend of September 27th, more than 400 seasonal actors and employees will invade one of the most highly acclaimed haunted houses in the world with the common goal of terrifying hundreds of thousands of unsuspecting souls.
"It takes a variety of people to carry out these productions," Armstrong says. "Returning actors, of course, get more complex roles, but since we open almost every night in October we need a lot of people. Every year we rely on our casting director to discover great new talent."
The majority of the actors who take part in scaring the pants off of visitors go through auditions with casting directors, training with professional stunt teams, and even take classes on how to effectively scare guests. This year's actors went through puppeteer training in order to handle the giant puppets that will be present throughout the haunts. Hundreds of thousands of horror fanatics will visit Netherworld this year in hopes of leaving with an adrenaline rush, and Armstrong promises this season's production will do just that.
The New Haunts
"This year's main house is titled Night of the Gorgons, a take on the Medusa legend in which a female icon character has managed to get a magic mirror that shows the image of a gorgon and turns people into stone," Armstrong says. "The second house, Cold Blooded, will feature a Jurassic Park-like science fiction theme. Here scientists are splicing the DNA of reptilian aliens and creating dinosaur hybrids. The house is going to be overrun with lizard people and isn't for the faint of heart."
On top of its seasonal haunted houses, Netherworld has expanded to offer four year-round escape rooms and a laser tag arena giving guests the opportunity to have a thrilling Netherworld experience beyond the Halloween season.
"Our plan has always been to own a bigger venue and create an ever-growing entertainment complex for our guests. Now that we've been in our space for a year, we have been able to expand our year-round activities and offer even more options," Armstrong says. "We saw the massive amount of space and thought it'd be perfect to create the ultimate laser tag arena. There's everything from complex mazes, abandoned buildings, video gamestyle reward boxes and a huge variety of different battle modes that visitors are going to love! As we near haunt season, we just might add some of our live monsters to the mix to up the scare factor. I think it'll truly be a great addition to the Netherworld experience."

The new Laser Adventure Battle Arena will be open every Saturday night and is available for special advanced bookings and events seven days a week. During haunt season, the hours will shift to be the same as those of the haunted house, and there will be a shorter 15-minute version of the laser tag attraction, which will be first come, first served. The post-apocalypse themed game will feature advanced laser tag battle rifles and a complex outdoor arena complete with mazes, forts, and other interactive elements designed to challenge players. Each battle can hold up to 24 participants and competitions will primarily be held in the evening, which will enhance the eeriness and add to the thrill of the game.
This past August marked the official opening of a brand-new escape room at Escape the Netherworld. The new experience, Tiki Island: Attack of The Shark God!, will be the fourth escape room at the venue and joins the trio of award-winning rooms that have already become highly respected in the escape game industry – Sasquatch: Bigfoot's Revenge, Nosferatu: Van Helsing's Secret, and Haunted: Curse of The Night Hag.
In Tiki Island: Attack of The Shark God!, participants will forget they're in Georgia as they're transported to a beautiful island paradise, perfect for anyone who wants a different way to experience the retro tiki resurgence that has been growing throughout the country. Players will have one hour to solve uniquely themed puzzles and discover the many secrets of Tiki Island.
With each passing year, Armstrong and Messina have worked to expand the footprint of Netherworld's offerings, creating the ultimate horror destination. "With all the new creatures, all the new scares, and everything you can experience at Netherworld, I think guests are going to be blown away by the number of things to do here," Armstrong says. "The haunted house is incredible, but there is also so much more entertainment and activities you can do." Just be sure to not fall prey to the lizard people lurking around the corner.
The Netherworld Haunted House season kicks off the weekend of September 27th and 28th and runs through November 9th. For more information and the full schedule, visit fearworld.com or call 404-608-2484.
---
Follow Suwanee Magazine on Facebook for an exclusive behind-the-scenes video from Netherworld Haunted House.