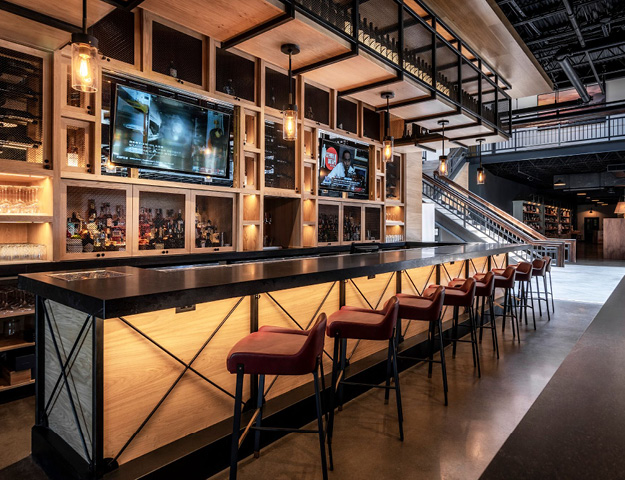 Château Élan's Southern-inspired bar and chophouse, Marc Bar & Restaurant, gets a revamp
By: Natalie Stubbs | Photos by Chateau Elan
Beautifully nestled on 3,500 acres in Braselton, Georgia, lies one of metro Atlanta's most treasured destinations, Château Élan Winery & Resort. Open to the public since 1985, Château Élan has been pleasing the palates of wine lovers with its award-winning wines and creating a unique experience for visitors near and afar. As part of its currently ongoing multi-million-dollar renovation, the resort recently celebrated the opening of Marc Bar & Restaurant and welcomed new Winery Chef, Jarad Blanton, who eagerly brings more than 20 years of experience in the food and beverage industry to Château Élan.
Part of the restaurant renovation focused heavily on completely refreshing the Marc menu. Chef Blanton meticulously updated the menu until it had the seamless selection of hand-selected premium aged steaks and Southern-inspired dishes, spread across both small and large plate options. He also takes great pride in the assortment of artisanal cocktails (and mocktails!), invented and handcrafted himself, along with a divine selection of beer, wine and champagne. Our team at Suwanee Magazine had the exclusive opportunity to visit the restaurant and indulge in its Grand Opening Tasting Event this past July – and it was an indulgence like no other!
The evening began with scrumptious hand-passed amuse-bouche: smoked salmon mousse on brioche, a pimento cheese crostino topped with bacon jam, and an olive tapenade with goat cheese on a glutenfree cracker. We then transitioned to four plated features: a refreshing watermelon salad made of arugula, feta cheese, and a peach vinaigrette; the most tenderly braised Kurobuta pork cheeks accompanied by pepper jelly, farmers cheese, and pickled fennel; hearty shrimp and grits paired with a twist — Southern succotash; and perfectly prepared filet mignon with foie gras butter and leekwhipped potatoes and asparagus on the side. To end on a sweet note, we relished a rustic triple berry tart filled with vanilla pudding and sautéed Chambord berries. Along with this abundance of savor, we also tried a variety of beverages ranging from spritzy cocktails to wine to robust cocktails.
The other part of the restaurant renovation focused on the setting, an undertaking led by Atlanta-based interior and architectural design firm, BLUR Workshop. Designed to complement the winery's spacious property, the restaurant effectively eludes a comfortable yet intimate atmosphere. Boasting ornate details such as industrial lighting, French oak accents, local artwork, and a grand entrance from the winery's immaculate tasting room foyer, BLUR succeeded in its task of leading this remodel into an ambiance filled with upscale and luxurious Southern hospitality. Guests can find themselves socializing over libations around the lustrous soapstone bar located toward the back of the restaurant or situated in one of the nearly six-foot-tall booths for a more romantic and private affair.
To assist in overseeing the overhaul completion, and to carry out the restaurant's new legacy, Marc also welcomed Ed Walls as general manager to work alongside Chef Blanton as they pour their dedication into this accomplishment. "Known for being one of the most awarded wineries on the East Coast, Château Élan has an established history for creating exceptional wine. As we continue to excel in this area, we're pleased to revive the former Marc Bar & Restaurant and invite guests and locals alike to shake things up and go beyond the vine," said Walls. "With our modernized design, combined with Chef Blanton's revamped menu and craft beverages, Marc sets the tone for a true destination dining experience."
Marc Bar & Restaurant is open daily to locals and hotel guests for dinner from 5:30 to 9 p.m. Enjoy lunch service Friday through Sunday from 11:30 a.m. to 3 p.m. Bar service is also open daily beginning at 3 p.m. and ending at 10 p.m. Sunday through Thursday and 11 p.m. Friday and Saturday. Groups, happy hours, private parties and business mixers can also be accommodated. For more information, visit MarcRestaurant.com.